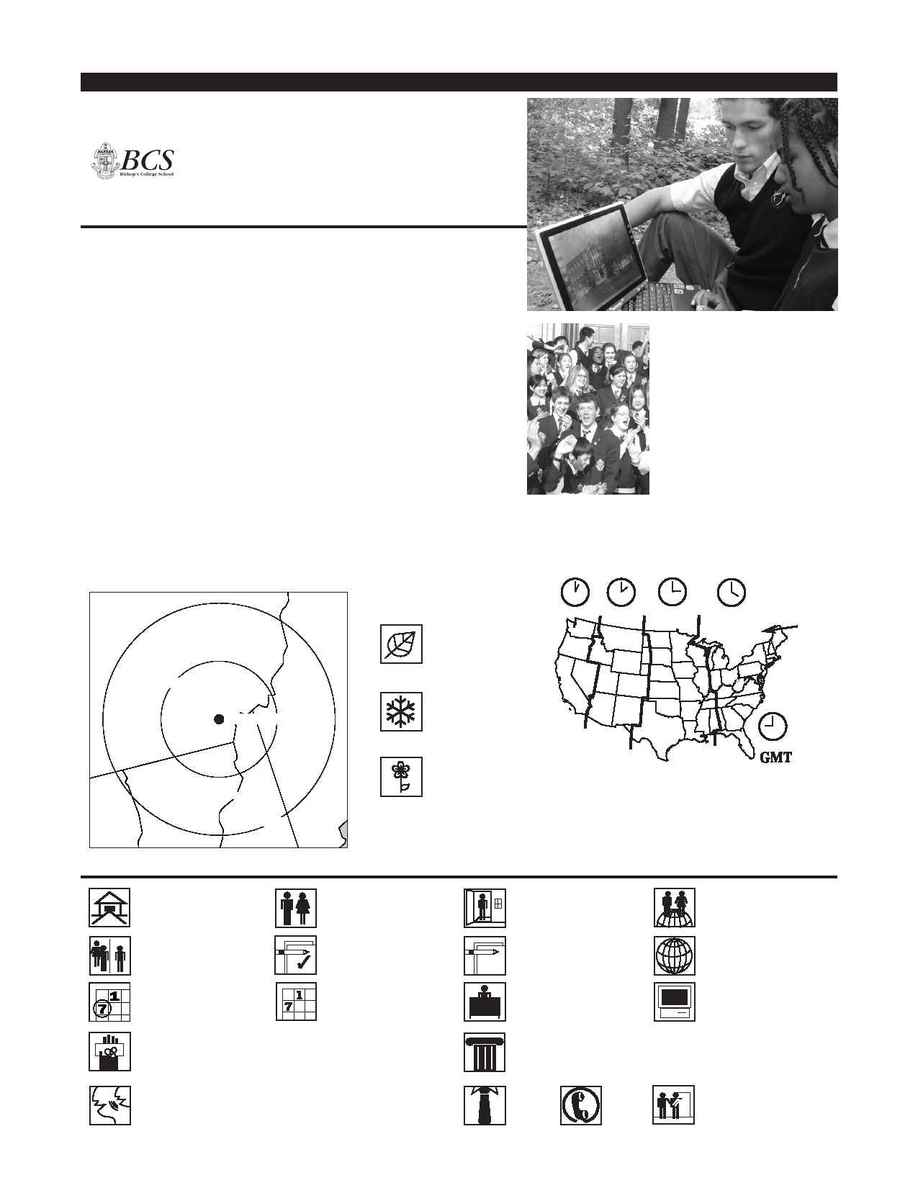 VERMONT
80 km
160 km
NEW
HAMPSHIRE
QUEBEC
MAINE
Bishop's College School
Founded 1836
150 km from Dorval Airport; 8 km from Sherbrooke, PQ
A 150 km del aeropuerto de Dorval; a 8 km de Sherbrooke, PQ
A 150 km de l'aéroport de Dorval ; à 8 km de Sherbrooke, PQ
150
8
Dorval 150 Sherbrooke 8
Coeducational 7­12 / Mixto / Mixte
$32,500 (CDN) (Canadian students)
$37,700 (CDN) (International students)
Columbia University, Dalhousie University,
Harvard University, Queen's University,
University of Toronto, University of
Waterloo, University of Ottawa, University
of Western Ontario, Yale University
Bahamas, Bermuda, FWI,
Germany, Japan, Korea, Mexico,
Taiwan, United States
CANADA
BCS is dedicated to providing students with an exceptional academic
experience in an environment fostering personal growth and development.
Multiculturalism and international understanding are hallmarks of the campus
community at BCS.
BCS se dedica a proveer a los estudiantes con una experiencia académica
extensiva y un ambiente que fomenta el desarrollo y crecimiento personal. El
multiculturalismo y la comprensión internacional son distintivos de la
comunidad del recinto de BCS.
BCS a pour mission d'apporter à ses étudiants un enseignement
exceptionnel dans un environnement mettant en avant la croissance et le
développement personnels. Le multiculturalisme et l'ouverture internationale
jouent un rôle clé dans la vie communautaire sur le campus de BCS.
Theo Brinckman, Director of Advancement
P.O. Box 5001
Lennoxville, Quebec J1M 1Z8
Canada
Phone: 819-566-0227 Fax: 819-822-8917
URL: http://www.bishopscollegeschool.com
The 350-acre campus includes a fitness center, climbing wall,
indoor skating rink, ski trails, tennis/squash courts, and numerous
sports fields, as well as a brand-new student center with a state-
of-the-art music facility, a new Black Box theatre with a digital
filmmaking studio, a 22,000 volume library, and a spacious
student lounge.
El recinto de 140 hectáreas incluye un centro de ejercicios, pared
para escalar, una pista para patinar bajo techo, caminos de esquí,
canchas de tenis y numerosos campos de deportes, así como un
nuevo centro de estudiantes con las facilidades más modernas de
música, y un nuevo teatro Black Box con un estudio de filmación
digital, y una biblioteca que alberga 22,000 volúmenes y una
espaciosa sala estudiantil.
Le campus de 140 hectares comprend un club de fitness, un mur
d'escalade, une patinoire couverte, des pistes de ski de fond, des
terrains de tennis et de squash et de nombreux terrains de sport.
Le campus abrite également un centre pour étudiants tout nouveau
comprenant des installations audio ultra-modernes pour la
musique, une nouvelle salle de projection Black Box avec un studio
de production numérique, une bibliothèque contenant 22 000
ouvrages et un salon pour les étudiants très spacieux.


Black Box 22ooo
Rolling / Continuo / Continuelles
Rolling / Continuo / Continuelles