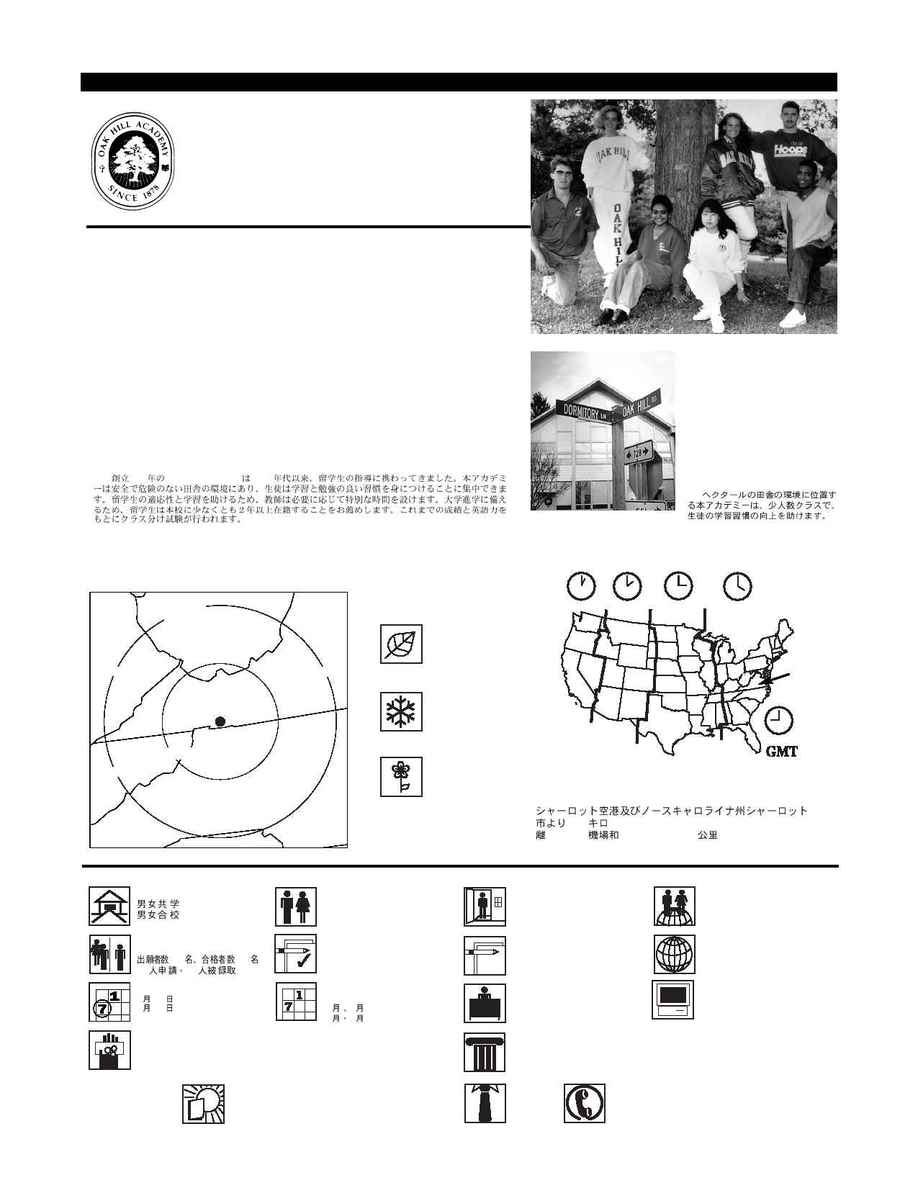 VIRGINIA
NORTH CAROLINA
80 km
160 km
WEST
VIRGINIA
KENTUCKY
TENNESSEE
Oak Hill Academy
TABS, NAFSA, SACS, VAIS member
Founded 1878
The Academy, located on 300 acres in a rural
mountain setting, offers small classes and helps
students develop good study habits.
La Academia se encuentra en 122
hectáreas de terreno en un ambiente rural
montañoso, ofrece clases con pocos
alumnos y ayuda a los estudiantes a
desarrollar buenos hábitos de estudio.
Oak Hill Academy, située sur 122 hectares dans
un cadre rural montagneux, offre des classes
restreintes et permet aux étudiants de
développer de bonnes habitudes de travail.
160 km from Charlotte Airport and Charlotte, NC
A 160 km del aeropuerto de Charlotte y de Charlotte, NC
A 160 km de l'aéroport de Charlotte et de Charlotte, NC
Coeducational 8­12 / Mixto / Mixte
83, 57 / solicitaron admisión, fueron
aceptados / candidats, admis
August 15 / 15 de agosto / 15 août
8
September, June / septiembre, junio /
septembre, juin
9
James Madison University, University of North
Carolina, North Carolina State, University of North
Carolina at Charlotte, East Carolina University
Egypt (4), England (2), Japan (2),
Korea (2), Senegal (2)
UNITED STATES
Oak Hill Academy is 123 years old and has worked with international students since the early
1950s. We offer a safe, secure, rural environment where students can focus on learning and
developing good study habits. Teachers provide extra time as needed to help international
students adjust and learn. We prefer international students to attend at least two years in order to
adequately prepare them for college admission. Grade placement is based on previous work and
English proficiency.
Oak Hill Academy tiene 123 años de fundada y ha atendido a estudiantes extranjeros desde
los años cincuenta. Ofrecemos un ambiente rural seguro donde los estudiantes pueden
concentrarse en el aprendizaje y en el desarrollo de buenos hábitos de estudio. Los profesores
están disponibles el tiempo adicional que sea necesario para ayudar a los alumnos extranjeros a
ambientarse y aprender. Preferimos que los estudiantes extranjeros asistan a nuestro colegio al
menos por dos años para poderlos preparar adecuadamente para su ingreso a la universidad. La
colocación en los grados se basa en el trabajo anterior y en los conocimientos del inglés.
Oak Hill Academy, fondée il y a 123 ans, accueille des étudiants étrangers depuis le début
des années 1950. Nous offrons un environnement rural parfaitement sûr au sein duquel les
étudiants peuvent se concentrer à leurs études et développer de bonnes habitudes de travail. Les
professeurs sont disponibles après les cours afin de faciliter l'adaptation et l'apprentissage des
étudiants étrangers. Nous conseillons aux étudiants étrangers de passer un minimum de deux ans
dans notre établissement afin de nous permettre de les préparer au mieux à l'entrée dans les
universités. L'admission dans les classes s'effectue par rapport aux résultats précédents et à la
maîtrise de l'anglais.
Ed F. Patton, President
2635 Oak Hill Road
Mouth of Wilson, Virginia 24363-3004
Phone: 276-579-2619 Fax: 276-579-4722
E-mail: info@oak-hill.net
URL: http://www.oak-hill.net
Oak Hill Academy 123 1950
122