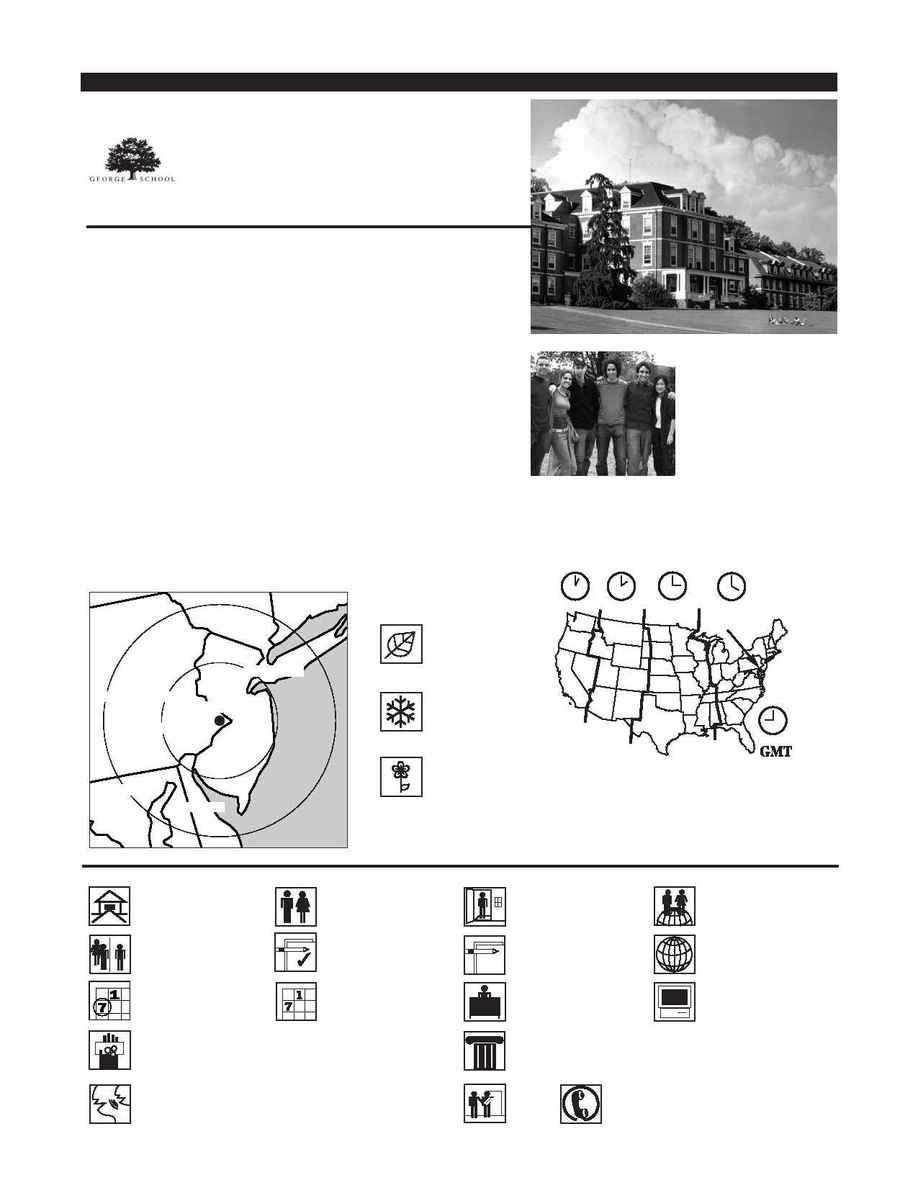 PENNSYLVANIA
NEW
JERSEY
Atlantic
Ocean
80 km
DELAWARE
160 km
NEW
YORK
MARYLAND
George School
Founded 1893
The campus is set on 265 park-like
acres.
El colegio se encuentra en 107
hectáreas de terrenos estilo parque.
Le campus se trouve sur un parc de
107 hectares.
107
48 km from Philadelphia International Airport; 40 km from Philadelphia, PA
A 48 km del aeropuerto internacional de Filadelfia; a 40 km de Filadelfia, PA
A 48 km de l'aéroport international de Philadelphie ; à 40 km de Philadelphie, PA
48
40
Philadelphia 48 Philadelphia, PA 40
Coeducational 9-12 / Mixto / Mixte
555, 230 / solicitaron admisión, fueron
aceptados / candidats, admis
Rolling / Continuo / Continuelles
Intermediate, advanced ESL / Cursos de inglés como segundo idioma
(ESL) intermedios y avanzados / Anglais comme langue étrangère
(ESL) niveaux intermédiaire et avancé.
ESL
ESL
September 4 / 4 de septiembre /
4 septembre
9 4
9 4
Boston University, Brown University,
George Washington University,
Guilford College, New York University,
Tufts University, University of Pennsylvania
Germany, Japan, Korea, Latin
America, Southeast Asia, Taiwan
UNITED STATES
ounded as a Friends boarding and day school, George School provides a broad college-
preparatory curriculum including the ESL and International Baccalaureate (IB) programs.
Quaker values such as tolerance, equality, and social justice create a diverse community
where academics, sports, arts, and service learning share emphasis.
El George School que fue fundado como un colegio para estudiantes cuáqueros internos
y externos, ofrece un amplio plan de estudios de preparación para la universidad, que
incluye el programa de inglés como segundo idioma (ESL) y el de Bachillerato Internacional
(IB). Algunos de los valores de los cuáqueros como la tolerancia, la igualdad y la justicia social
crean una comunidad diversa en la que se hace el mismo énfasis en los programas
académicos, los deportes, las artes y el servicio.
George School, un externat/internat fondé par les Quakers, propose un vaste cursus
scolaire préparant à l'entrée en université, y compris un programme d'anglais comme langue
étrangère (ESL) et des cours préparant au baccalauréat international. Les valeurs des Quakers,
comme par exemple la tolérance, l'égalité et la justice sociale, créent une communauté
diversifiée, axée sur les études, le sport, l'art et l'enseignement du service communautaire.
International Baccalaureate (IB)
Karen Hallowell, Director of Admissions
Route 413, P.O. Box 4460
Newtown, Pennsylvania 18940
Phone: 215-579-6547 Fax: 215-579-6549
E-mail: admissions@georgeschool.org
URL: http://www.georgeschool.org
ESL (IB)