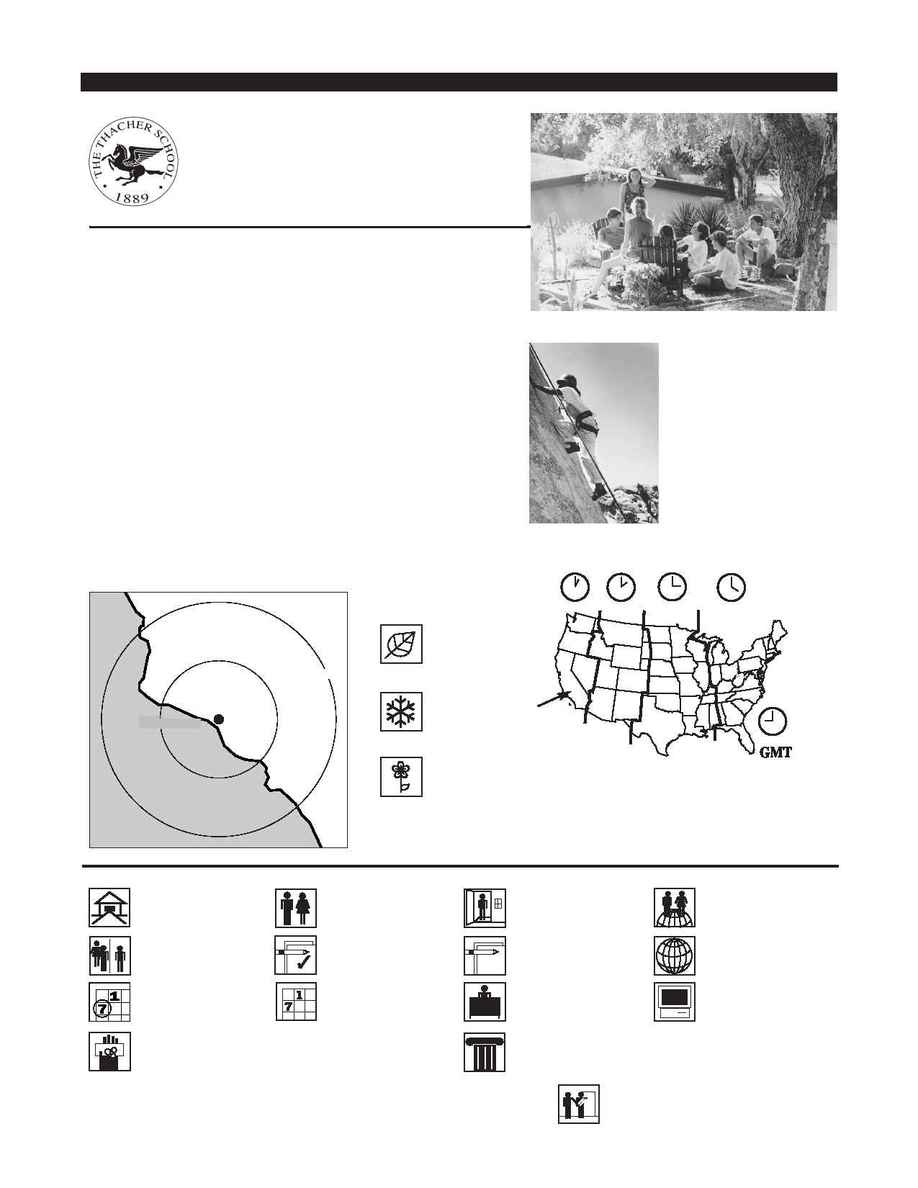 CALIFORNIA
80 km
160 km
Pacific
Ocean
The Thacher School
Founded 1889
Direct T-1 Internet connections in
every dorm room.
Conexión T-1 directa a la Internet en
cada habitación.
Accès direct T-1 à l'Internet dans
chaqu'une des chambres.
T-1

73 km from Santa Barbara Airport and Santa Barbara, CA
A 73 km del aeropuerto de Santa Bárbara y de Santa Bárbara, CA
A 73 km de l'aéroport de Santa Barbara et de Santa Barbara, CA

73
Santa Barbara Santa Barbara 73
Coeducational 9­12 / Mixto /
Mixte
400, 90 / solicitaron admisión, fueron
aceptados / candidats, admis
February 1 / 1 de febero / 1
2 1
2 1
September / septiembre / septembre
9
9
Brown University, Colombia College,
University of California at Berkeley,
Princeton University, Stanford University
Australia (2), Hong Kong (2),
Japan (2), Kenya (1), Korea (5),
Saudi Arabia (2)
UNITED STATES
Cited as an Outstanding Boarding School by U.S. News & World Report, Thacher
offers challenging academics, caring faculty, competitive athletics, performing
arts, and outdoor programs. 92% enroll at one of top 3 college choices.
Destacado por la revista U.S. News & World Report como un internado
excepcional, Thacher ofrece un estimulante programa académico, profesores
que se preocupan por sus alumnos, deportes competitivos, música y teatro, y
programas al aire libre. El 92% de sus egresados entran en una de las 3
universidades de su elección.
Citée comme une école préparatoire exceptionnelle par le magazine U.S.
News & World Report, Thacher School offre un programme d'enseignement
rigoureux, un corps enseignant attentionné ainsi que des sports de
compétition, de la musique, de théâtre, et des activités de plein air. 92% des
élèves entrent une des trois premières universités de leur choix.
U.S. News & World Report

92 3
William P. McMahon, Director of Admissions
5025 Thacher Road
Ojai, California 93023
Phone: 805-640-3210 Fax: 805-640-9377
E-mail: admission@thacher.org
URL: http://www.thacher.org
T-1