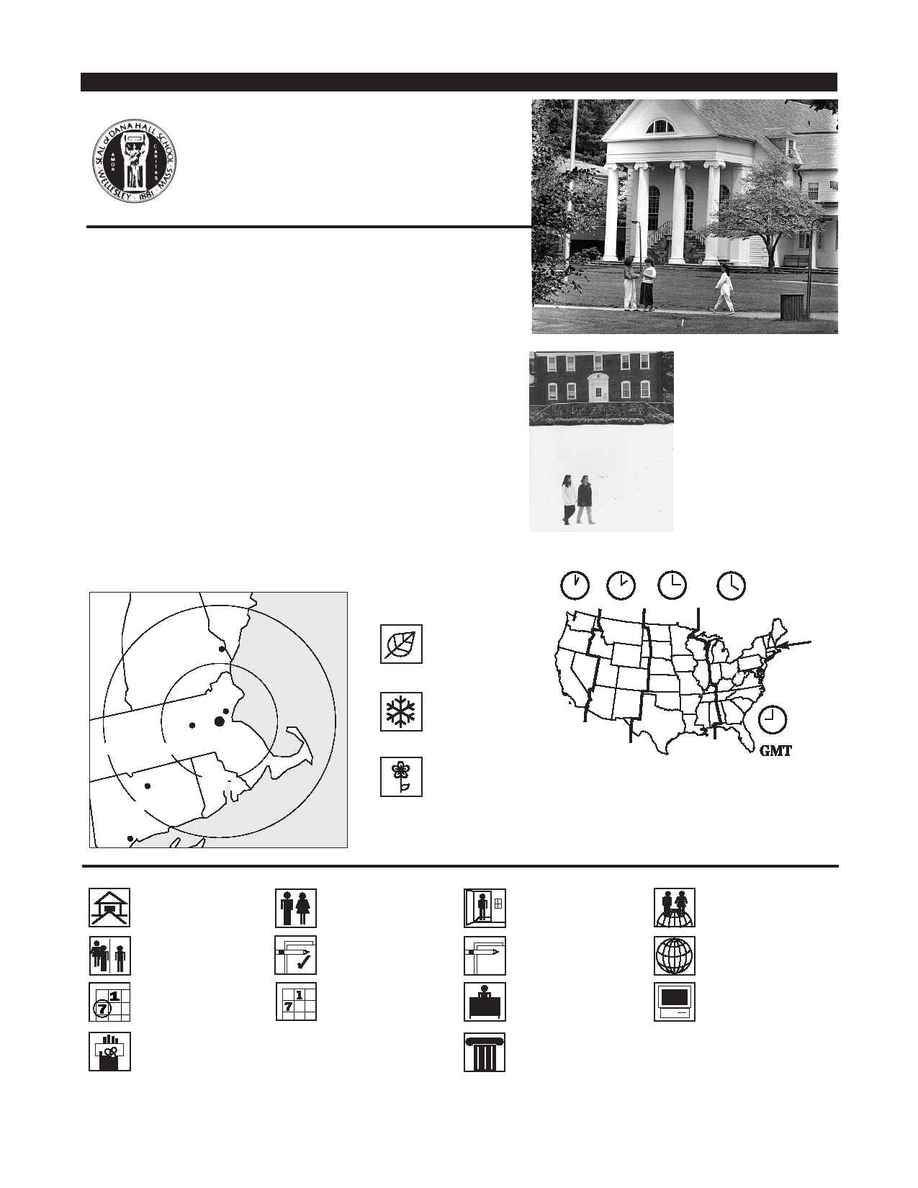 NEW HAMPSHIRE
MASSACHUSETTS
80 km
160 km
ATLANTIC
OCEAN
RHODE
ISLAND
MAINE
CONNECTICUT
Dana Hall School
NCGS, NAIS, TABS, NAFSA member
Founded 1881
The 50-acre campus is located in the
suburban college town of Wellesley.
En el pueblo suburbano universitario
de Wellesley se encuentra un recinto
privado de 20 hectáreas.
Un campus privé de 20 hectares,
situé dans la banlieue de la ville
universitaire de Wellesley.
24 km from Logan International Airport; 21 km from Boston, MA
A 24 km del aeropuerto internacional de Logan; a 21km de Boston, MA
A 24 km de l'aéroport international de Logan ; à 21 km de Boston, MA
Girls 6­12 / Niñas / Filles
475, 100 / solicitaron admisión, fueron
aceptadas / candidates, admises
February 1, rolling / 1 de febrero,
continuo / 1
September 1 / 1 de septiembre /
1
Boston University, Princeton University,
Stanford University, Syracuse University,
Wellesley College
Canada, China, Ecuador, Hong
Kong, Israel, Japan, Korea,
Mexico, Philippines, Sweden,
Taiwan, Thailand, West Indies
UNITED STATES
Founded in 1881 as a preparatory school for Wellesley College, Dana Hall is the only all-girls boarding
school in the greater Boston area. Dana Hall is committed to fostering excellence in academics, the arts, and
athletics as students prepare to enter college. Girls from 13 countries and 18 states represent a diversity of
talents and interests. An International Student Advisor along with the International Student Association
provides support for students from overseas. No ESL program is offered.
Fundada en 1881 como escuela preparatoria para el Wellesley College, Dana Hall es el único internado
de señoritas en la zona del Gran Boston. Dana Hall tiene un profundo compromiso con la excelencia
académica, artística y atlética de las estudiantes que se preparan para entrar a la universidad. Estudiantes de
13 países y 18 estados conforman una gran diversidad de talentos e intereses. Un Asesor de Estudiantes
Internacionales, junto con una Asociación de Estudiantes Internacionales, brindan apoyo a las estudiantes
que provienen del extranjero. No se ofrece ningún programa de inglés como segundo idioma (ESL).
Fondée en 1881 en tant qu'école préparant à l'entrée au Wellesley College, Dana Hall est le seul
internat pour jeunes filles dans la région de Boston. L'établissement stimule l'excellence aussi bien au niveau
du programme scolaire que des arts et des sports lors de la préparation à l'entrée à l'université. Les jeunes
filles provenant de 13 pays et 18 états différents représentent une mosaïque de talents et d'intérêts divers.
Un conseiller chargé des étudiants étrangers ainsi que l'association destinée à ces mêmes étudiants offrent
un soutien aux élèves venant d'un pays étranger. Aucun programme d'anglais comme langue étrangère
n'est offert.
1881 Wellesley College Dana Hall
Dana Hall
13 18
ESL

Heather A. Cameron, Director of Admission
45 Dana Road
Wellesley, Massachusetts 02482
Phone: 781-235-3010 Fax: 781-235-0577
E-mail: admission@danahall.org
URL: www.danahall.org
Dana Hall
13 18
ESL
20
Wellesley