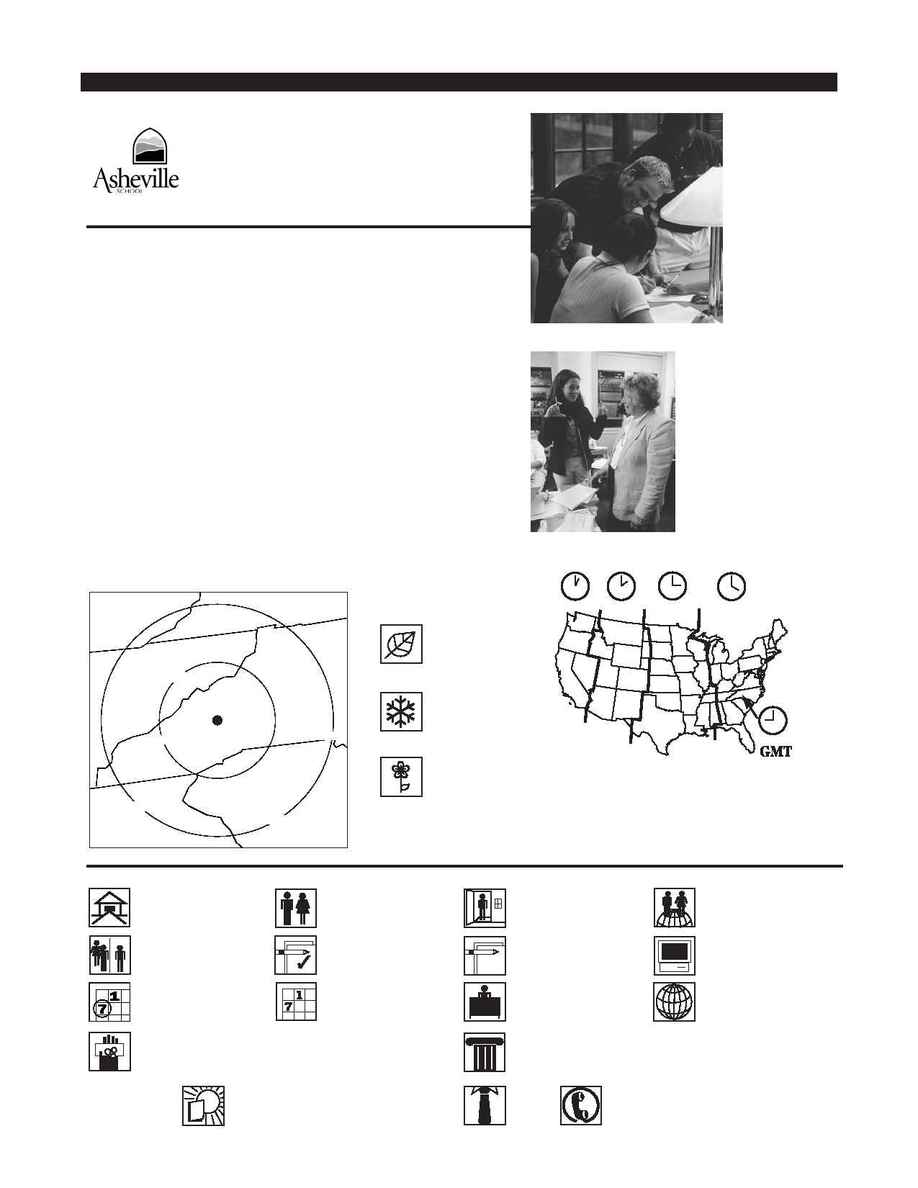 VIRGINIA
NORTH CAROLINA
SOUTH CAROLINA
GEORGIA
TENNESSEE
80 km
160 km
Asheville School
Founded 1900
Asheville School is set on
300 acres overlooking the Blue
Ridge Mountains.
Asheville School está situado en
122 hectáreas con vista panorámica
de las montañas Blue Ridge.
Asheville School est située dans un
domaine de 122 hectares avec vue
sur les monts Blue Ridge.
20 km from Asheville Airport / A 20 km del aeropuerto de Asheville / À 20
km de l'aéroport de Asheville
Asheville 20
Asheville 20
Coeducational 9­12 / Mixto / Mixte
February 1 / 1 de febrero /
1 février
2 1
2 1
TOEFL (500 Paper)
Computer (173)
August / agosto / août
8
Appalachian State University, College of
Charleston, Davidson College, Duke University,
North Carolina State University, Rhodes College,
The University of North Carolina at Chapel Hill,
University of Virginia, Vanderbilt University
Bahamas, Bulgaria, Canada, Germany,
Greece, Jamaica, Korea, Morocco,
Philippines, Saudi Arabia, Scotland,
Thailand, Zimbabwe
UNITED STATES
Academic excellence is the primary emphasis of Asheville School.
Opportunities in afternoon athletics, mountaineering, horseback riding, art,
music, and drama are available.
El logro de los objetivos académicos es el principal énfasis de Asheville
School. Se encuentran disponibles actividades deportivas en las tardes,
montañismo, equitación, arte, música y clases de actuación.
Pour Asheville School, la priorité est d'obtenir d'excellents résultats
scolaires. Cependant, les élèves peuvent aussi faire du sport après les cours,
ainsi que de l'alpinisme et de l'équitation, et participer à des programmes d'art,
de musique et de théâtre.
Vicki Wright, Director of Admission
360 Asheville School Road
Asheville, North Carolina 28806
Phone: 828-254-6345 Fax: 828-210-6109
E-mail: admission@ashevilleschool.org
URL: http://www.ashevilleschool.org
222, 139 / solicitaron admisión, fueron
aceptados / candidats, admis
Summer Academic Adventures