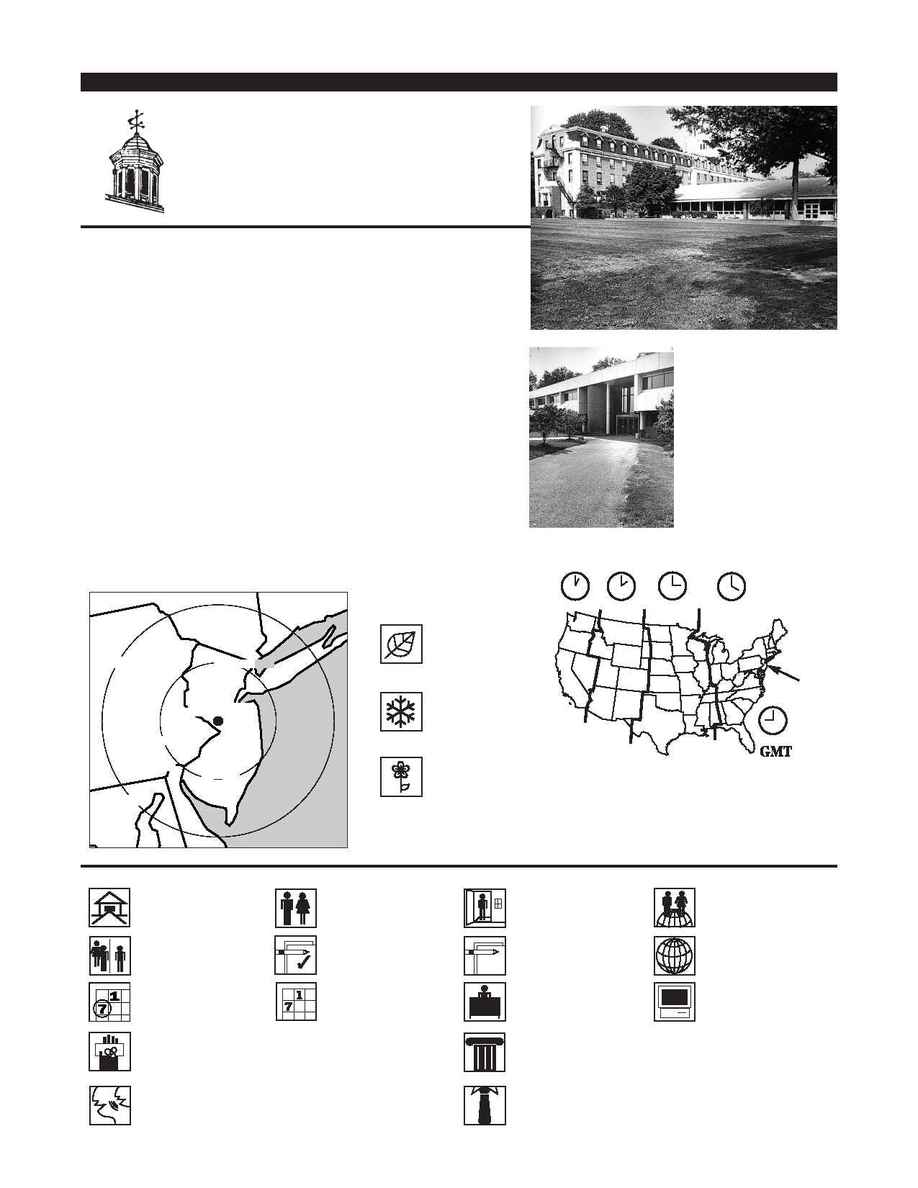 PENNSYLVANIA
NEW
JERSEY
Atlantic
Ocean
80 km
160 km
MARYLAND
DELAWARE
Pennington School
Founded 1838
A new student center and arts building
opened in September on the school's
54-acre campus.
Un nuevo centro de estudiantes y
edificio de artes abrió en septiembre
en las 22 hectáreas del campus.
Le campus de près de 22 hectares a
accueilli en septembre un nouveau
centre pour étudiants et pour les arts.
80 km from Newark Airport; 65 km from Philadelphia, PA
A 80 km del aeropuerto de Newark; a 65 km de Filadelfia, PA
A 80 km de l'aéroport de Newark ; à 65 km de Philadelphie, PA
80
65
Newark 80 Philadelphia, PA 65
Coeducational 6­12 / Mixto / Mixte
September / septiembre /
septembre
9
9
Boston University, Carnegie Mellon, New
York University, Penn State University
Germany, Japan, Korea,
Nigeria, Russia, Taiwan
UNITED STATES
Beginning to advanced ESL classes; evening tutoring; a broad offering of
academic courses, including AP and honors levels; and diverse off-campus
experiences prepare students for placement and life in competitive American
universities.
Clases de inglés como segundo idioma (ESL) para principiantes y
avanzadas, tutoría por la noche, una amplia gama de cursos académicos,
incluyendo niveles de AP y de honor, y diversas experiencias fuera del recinto
escolar, preparan a los estudiantes para matricularse y vivir en las
universidades competitivas de los Estados Unidos.
Les cours d'anglais comme langue étrangère de niveau débutant à avancé,
les cours particuliers le soir, la grande variété de cours d'enseignement
général, y compris les tests d'équivalence et les cours de niveau avancé, ainsi
que les différentes expériences en dehors du campus, préparent les étudiants à
l'entrée et à la vie dans l'univers compétitif des universités américaines.
Diane P. Monteleone, Director of Admission
112 West Delaware Avenue
Pennington, New Jersey 08534
Phone: 609-737-6128 Fax: 609-730-1405
E-mail: admiss@pennington.org
URL: http://www.pennington.org
500, 120 / solicitaron admisión,
fueron aceptados / candidats, admis

22
February 10, then rolling / 10 de
febrero, continuo / 10 février, continuelles
2 10
2 10