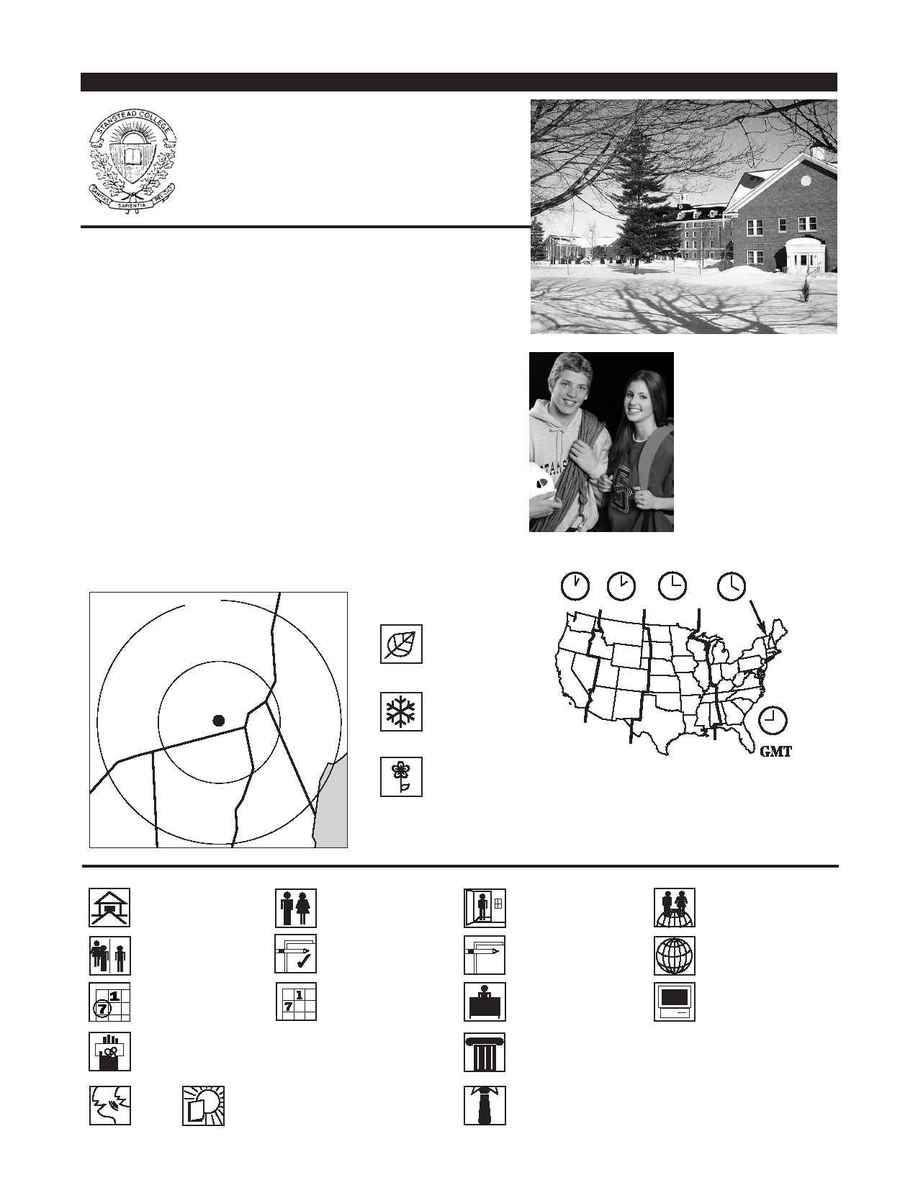 QUÉBEC
MAINE
NEW
HAMPSHIRE
VERMONT
NEW
YORK
80 km
160 km
Stanstead College
Founded 1872
The school is set on a scenic
landscaped campus within 720
acres of rural property.
El colegio se encuentra sobre un
recinto ajardinado con 291
hectáreas de terreno rural.
L'école se trouve sur un campus
jardiné dans un grand espace vert
d'une zone rurale de 291 hectares.
291

175 km from Trudeau International Airport, Montreal
A 175 kilómetros del aeropuerto internacional de Trudeau, Montreal
À 175 kilomètres de l'aéroport international de Trudeau, Montréal
Coeducational 7­12 / Mixto / Mixte
120, 75 / solicitaron admisión, fueron
aceptados / candidats, admis
July 31 / 31 de julio / 31 juillet
7 31
7 31
$34,660; $2000 (Canadian)
September / septiembre /
septembre
9
9
Queen's University, Waterloo
University, Guelph University,
Dalhousie University, University of
Western Ontario
Germany (10), Japan (5),
Korea (16), Mexico (29),
Taiwan (16)
CANADA
Stanstead provides a secure environment for its multicultural, international student
body. The school's personalized approach to education features small class sizes
and individual counselling provided by a well-qualified and caring faculty.
Stanstead ofrece un ambiente seguro para su estudiantado multicultural e
internacional. El aborde personalizado hacia la educación del colegio se manifiesta
por sus clases con pocos alumnos y asesoramiento individual provisto por
profesores con excelente preparació y dedicación.
Stanstead offre une ambiance sûre à ses étudiants multiculturels internationaux.
L'approche individualisé de l'école est illustrée par ses classes de petite taille, et les
conseils individuels d'orientation donnés par des enseignants attentifs et hautement
qualifiés.
Joanne Carruthers, Director of Admissions
450 Dufferin, Stanstead, QC
Canada J0B 3E0
Phone: 819-876-2223 Fax: 819-876-5891
E-mail: admissions@stansteadcollege.com
291