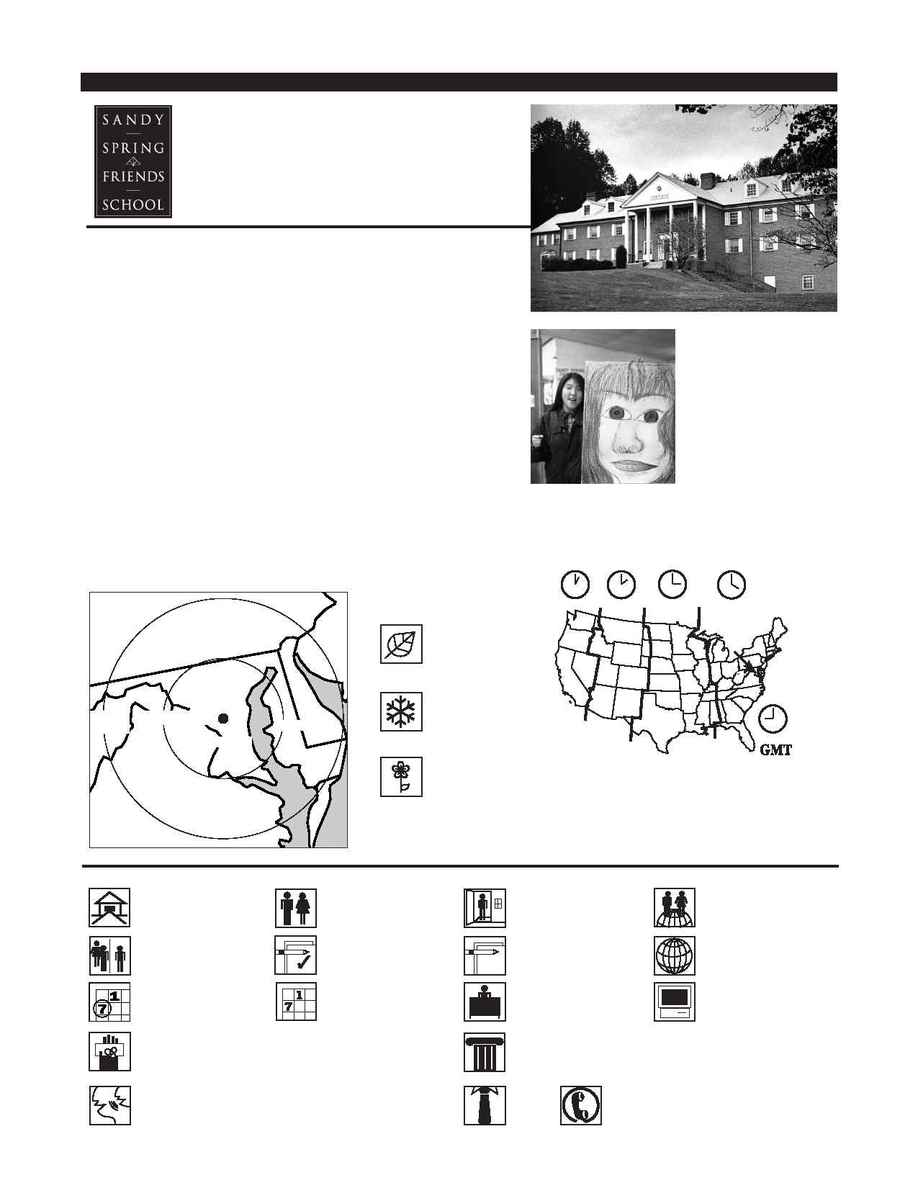 WEST
VIRGINIA
VIRGINIA
PENNSYLVANIA
80 km
160 km
DELAWARE
MARYLAND
Sandy Spring Friends School
Founded 1961
The 140-acre woodland campus has a
historic Quaker Meeting House and a
state-of-the-art science center.
Las 57 hectáreas de terrenos
boscosos del recinto tienen una
histórica casa de reunión de los
Cuáqueros y un centro de ciencias
con los últimos adelantos.
Le campus boisé de 57 hectares
possède un bâtiment historique qui
servait de lieu de réunion aux
Quakers et un centre scientifique
ultra-moderne.
57
18 km from the Baltimore-Washington International Airport; 24 km from
Washington, D.C. · A 18 km del aeropuerto internacional de Baltimore-Washington;
a 24 km de Washington, D.C. · A 18 km de l'aéroport international de Baltimore-
Washington ; à 24 km de Washington, D.C.
18 D.C.
24
Baltiimore-Washington 18 24
Coeducational 9­12 / Mixto /
Mixte
52, 21 / solicitaron admisión, fueron
aceptados / candidats, admis
September / septiembre / septembre
9
9
Colgate University, Duke University,
Guilford College, Haverford College,
University of Maryland
China, Korea, Nigeria, Russia,
Taiwan, Thailand
UNITED STATES
Sandy Spring Friends School provides an excellent education in a safe and nurturing
environment. The School offers intermediate and advanced ESL courses through the
guidance of a full-time ESL director. All dorm rooms are networked for access to the
Internet.
Sandy Spring Friends School ofrece una excelente educación en un entorno
seguro y enriquecedor. La escuela ofrece cursos de inglés como segundo idioma
(ESL) intermedios y avanzados bajo la supervisión de un director de ESL de
dedicación exclusiva. Todas las habitaciones de las residencias estudiantiles tienen
acceso a Internet.
Sandy Spring Friends School offre une excellente éducation dans un
environnement sûr et stimulant. L'établissement propose des cours d'anglais comme
langue étrangère (ESL) de niveaux intermédiaire et avancé sous la direction à temps
complet du directeur chargé du programme d'ESL. Tous les dortoirs disposent d'un
accès à Internet.
ESL ESL

Mecha Inman, Director of Admissions
16923 Norwood Road
Sandy Spring, Maryland 20860
Phone: 301-774-7455 Fax: 301-924-1115
Sandy Spring Friends School
ESL ESL

57


January 15 / 15 de enero /
15 janvier
1 15
1 15