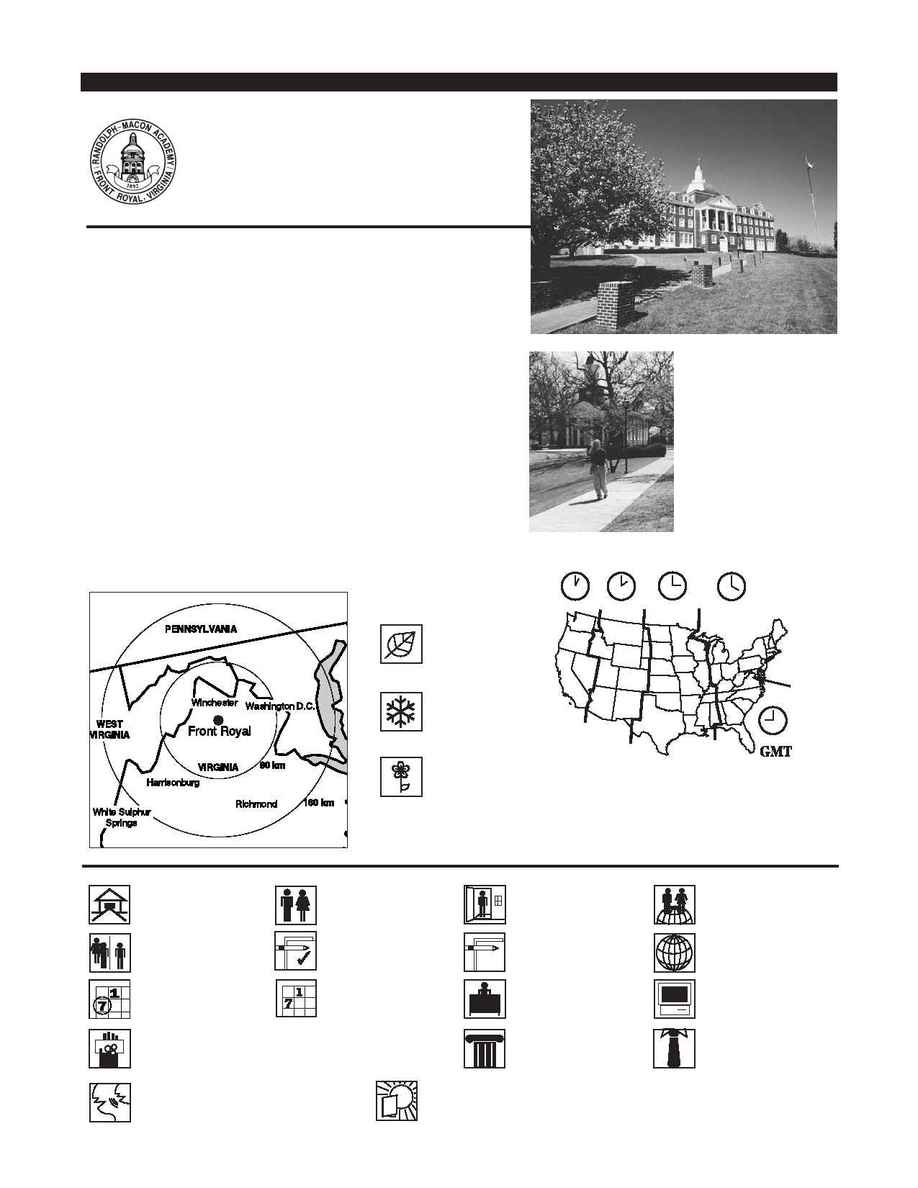 Randolph-Macon Academy
Founded 1892
Randolph-Macon Academy's air-
conditioned modern facilities are
situated on 135 acres.
Las modernas instalaciones con aire
acondicionado de Randolph-Macon
están situadas en 55 hectáreas de
terreno.
Les bâtiments modernes et climatisés
de Randolph-Macon Academy sont
situés sur un campus de 55 hectares.
80 km from Dulles International Airport; 112 km from Washington D.C.
A 80 km del aeropuerto internacional de Dulles; a 112 km del Washington
D.C. / A 80 km de l'aéroport international de Dulles; à 112 km de
Washington D.C.
Coeducational 6­PG / Mixto / Mixte
254, 239 / solicitaron admisión,
fueron aceptados / candidats, admis
August 15 / 15 de agosto / 15 août
8
September, January, June (for
Summer session) / septiembre,
enero, junio / septembre, janvier,
juin
9 1 6
9 , 1 , 6
George Mason University, Purdue
University, Virginia Tech
China (37), Egypt (37),
Korea (36), Taiwan
UNITED STATES
Randolph-Macon Academy features America's oldest co-ed college prep school with Air Force
JROTC and a flight program. Randolph-Macon offers an extensive ESL program with three distinct
levels; trips to Washington, D.C. complement the program. The entire campus, including dorm
rooms, is wired for Internet use. Ninety-nine percent of Randolph-Macon graduates attend college.
Randolph-Macon Academy tiene el más antiguo colegio mixto de preparación para la
universidad con JROTC de la Fuerza Aérea y un programa de vuelo. Randolph-Macon ofrece un
amplio programa de inglés como segundo idioma (ESL) con tres niveles; excursiones a
Washington, D.C. complementan el programa Todo el recinto escolar, incluyendo las residencias
estudiantiles, tiene conexiones para Internet. El noventa y nueve por ciento de los graduados de
Randolph-Macon asisten a la universidad.
Randoph-Macon Academy est le plus ancien établissement mixte préparant à l'entrée à
l'université et proposant également le programme de l'École des officiers de réserve (JROTC) de
l'armée de l'air américaine ainsi qu'un programme de vol. Randolph-Macon offre de nombreux
cours d'anglais comme langue étrangère (ESL) de trois niveaux différents, ainsi que des excursions
à Washington, D.C. L'ensemble du campus, y compris les dortoirs, est équipé de connexions à
Internet. Quatre-vingt-dix-neuf pour cent des étudiants de Randolf-Macon sont admis à l'université.
Randolph-Macon Academy Air Force JROTC
Randolph-Macon 3
ESL DC
Randolph-Macon 99

Pia Crandell
Director of Admissions
200 Academy Drive
Front Royal, Virginia 22630
Phone: 540-636-5200 Fax: 540-636-5419
ESL


ESL summer program lasts 4 weeks. Starts the end of June. / El programa de
verano de Inglés como segundo idioma (ESL) dura 4 semanas. Comienza a
finales de junio / Le programme d'Anglais comme langue étrangère d'été dure
4 semaines et commence à la fin juin / 4 ESL
6 /
ESL levels 1, 2, and 3, and TOEFL Prep / Preparación de
Inglés como segundo idioma (ESL) niveles 1, 2 y 3, y
TOEFL / Anglais comme langue étrangère niveaux 1, 2, et 3
et préparation au TOEFL / ESL 1, 2, 3 TOEFL /
Air Force JROTC uniform /
Uniforme del JROTC de la Fuerza
Aérea / Uniforme Air force JROTC /