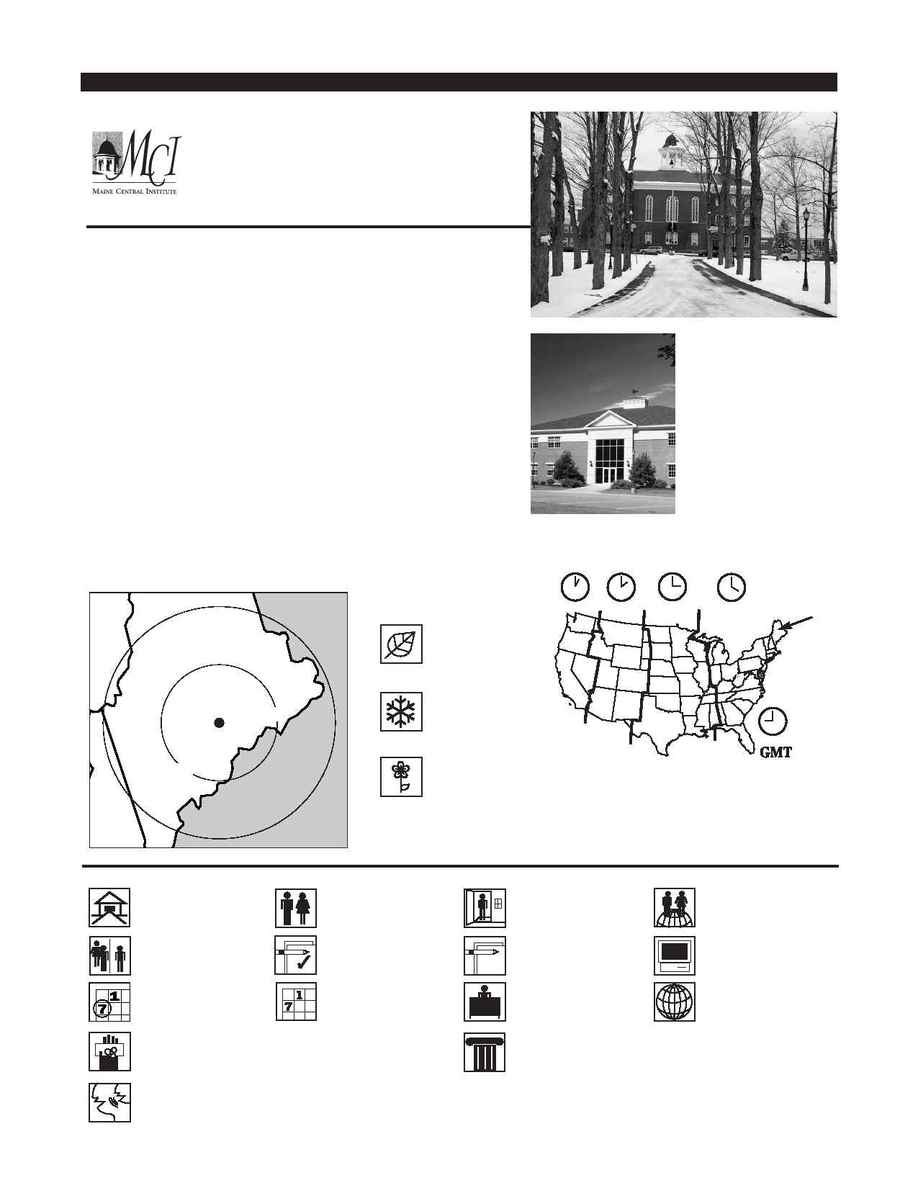 MAINE
Atlantic
Ocean
Maine Central Institute
Founded 1866
Our new Math and Science Center is a
2,300 square foot state-of-the-art building,
providing 14 instructional spaces, 2
computer classrooms, and a botany area.
Nuestro nuevo Centro de Matemáticas y
Ciencias es un moderno edificio de 2,300
pies cuadrados que provee 14 espacios de
instrucción, 2 aulas de computadoras y un
área de botánica.
Notre nouveau Centre de Mathématiques et
de Sciences est un situé dans un immeuble
ultra moderne de 230 m carré avec 14
salles de cours, 2 salles d'ordinateurs et un
espace vert.
2,300
14


40 km from Bangor International Airport and Bangor, ME
A 40 km del aeropuerto internacional de Bangor y de Bangor, ME
A 40 km de l'aéroport international de Bangor et de Bangor, ME
40
Bangor, ME Bangor 40
Coeducational 9­PG / Mixto / Mixte
194, 133 / solicitaron admisión,
fueron aceptados / candidats, admis
194 133
$31,000 boarding;
$10,000 day (2006­07)
Rolling / Continuo / Continuelles


Michigan State University, Syracuse University,
University of Indianapolis, University of Maine
Bermuda, Jamaica, Kazakhstan,
mexico, Republic of Korea, Spain,
Taiwan, Thailand, Vietnam
UNITED STATES
MCI offers a rigorous, comprehensive college-preparatory curriculum, small classes, supportive
residence hall supervision to foster individual growth and achievement, and an extensive ESL
program, including a four-week intensive Summer ESL Program. The campus is located in a safe,
rural environment on 23 acres and includes 14 buildings and lighted athletic fields. Boarding
students are housed in single-sex residence halls on campus, supervised by resident faculty and
staff members.
MCI ofrece un riguroso y completo plan de estudios de preparación universitaria, clases con
pocos alumnos, supervisión y apoyo en las residencias para fomentar el desarrollo y los logros
individuales, y un amplio programa de enseñanza del inglés como segundo idioma (ESL),
incluyendo un programa intensivo de inglés como segundo idioma en el verano. El recinto se
encuentra localizado en un ambiente rural y seguro e incluye14 edificios y campos de atletismo
iluminados. Los estudiantes que se hospedan se alojan en residencias para un solo sexo,
supervisados por el cuerpo docente residente y miembros del personal.
MCI offre un programme rigoureux et complet de préparation aux universités. La petite taille
des classes alliée au soutien apporté aux élèves par le personnel d'encadrement des résidences leur
permet de s'épanouir et d'obtenir de bons résultats. Un programme très complet d'anglais comme
langue étrangère (ESL) est offert qui inclut un programme d'été intensif de 4 semaines. Le campus
est situé sur un terrain protégé de 9.5 hectares, comprennant 14 bâtiments et un terrain de sport
illuminé. Les étudiants internes sont logés dans des maisons pour filles ou garcons sur le campus,
supervisées par des membres du corps enseignant et par le personnel d'encadrement.
4 ESL ESL
10 14


Clint Williams, Director of Admission
125 South Main Street
Pittsfield, Maine 04967
Phone: 207-487-2282 Fax: 207-487-3512
E-mail: cwilliams@mci-school.org
URL: http://www.mci-school.org

ESL 23 14

2,300
14

Rolling / Continuo / Continuelles


$2500 first ESL class,
$1500 each additional ESL class