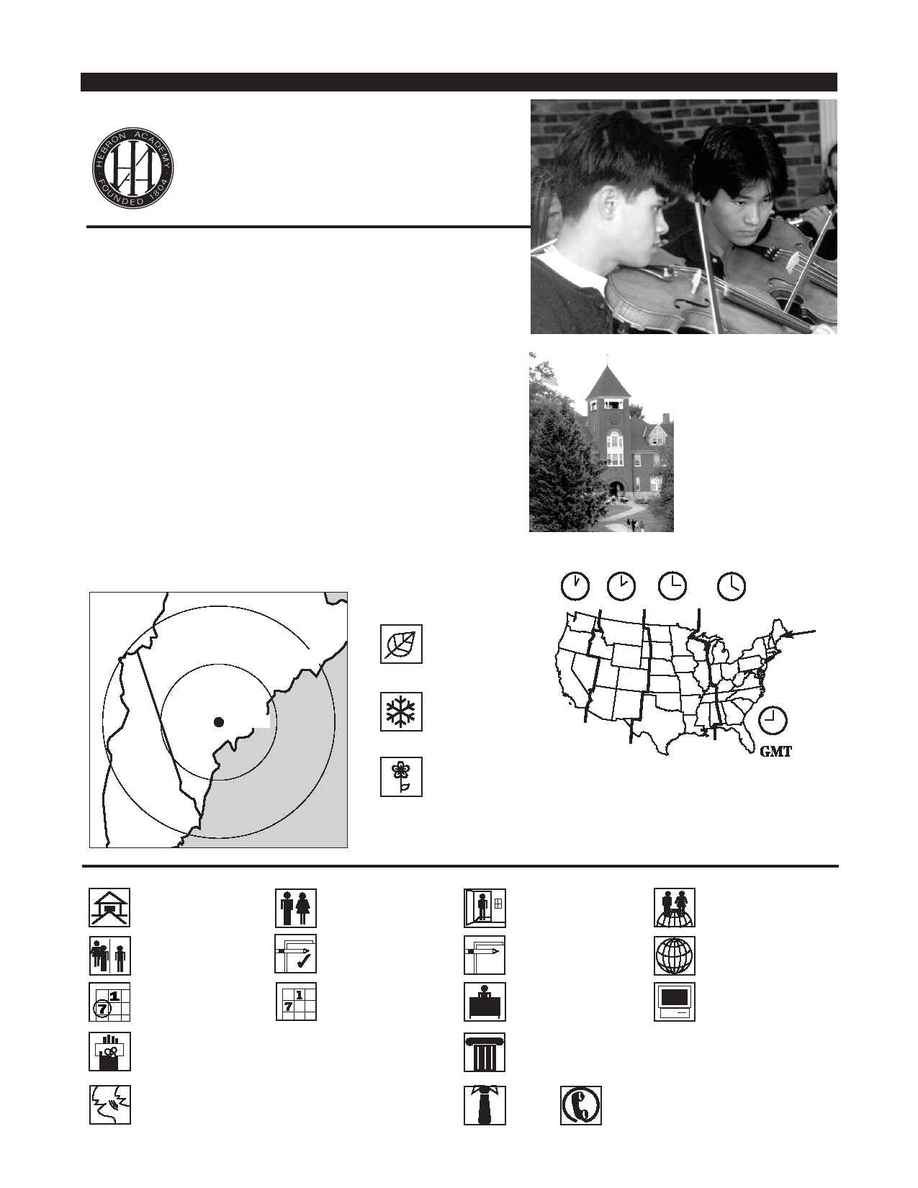 MAINE
NEW
HAMPSHIRE
Atlantic
Ocean
80 km
160 km
Hebron Academy
Founded 1804
Beautiful 1,500-acre campus with all
facilities wired for Internet and e-mail.
Hermoso recinto escolar de 607
hectáreas de terreno. Todas las
instalaciones cuentan con conexiones
para Internet y correo electrónico.
Magnifique campus de 607 hectares.
Tous les locaux sont équipés d'accès à
Internet et aux messageries.
64 km from Portland Jetport; 64 km from Portland, Maine
A 64 km del Portland Jetport; a 64 km de Portland, Maine
À 64 km de Portland Jetport ; à 64 km de Portland, Maine
64 km
Portland Jetport
Coeducational boarding 9­12 and
postgraduate, / Mixto / Mixte
209, 139 / solicitaron admisión,
fueron aceptados / candidats, admis
Rolling / Continuo / Continuelles


September, January / septiembre,
enero / septembre, janvier
9 1
9 1
Boston University, University of
Maine, McGill University, Northeastern
University, St. Anselm College
Brazil (2), Canada (10),
Germany (10), Japan (10),
Korea (10),
UNITED STATES
Hebron's academic program includes many honors and advanced placement options. ESL
is available. Offerings in the arts and music are extensive, and the school has a full athletic
program for girls and boys. The Academy offers excellent university placement.
El programa académico de Hebron incluye varias opciones de cursos avanzados y de
honor. Se encuentra disponible inglés como segundo idioma (ESL). Los cursos en artes y
música son extensos, y la escuela tiene un programa atlético completo para niños y niñas.
La academia ofrece excelente colocación universitaria.
Hebron offre un programme de cours comprenant de nombreuses études spécialisées
et une préparation à l'entrée dans les universités. Des cours d'anglais comme langue
étrangère (ESL) sont proposés. Les cours relatifs aux arts et à la musique sont nombreux et
l'école dispose d'un programme sportif complet, féminin et masculin. Hebron Academy
assure par ailleurs un excellent soutien pour l'entrée à l'université.
Office of Admissions
P.O. Box 309
Hebron, Maine 04238-0309
Phone: 207-966-5225 Fax: 207-966-1111
E-mail: admissions@hebronacademy.org
URL: http://www.hebronacademy.org
607