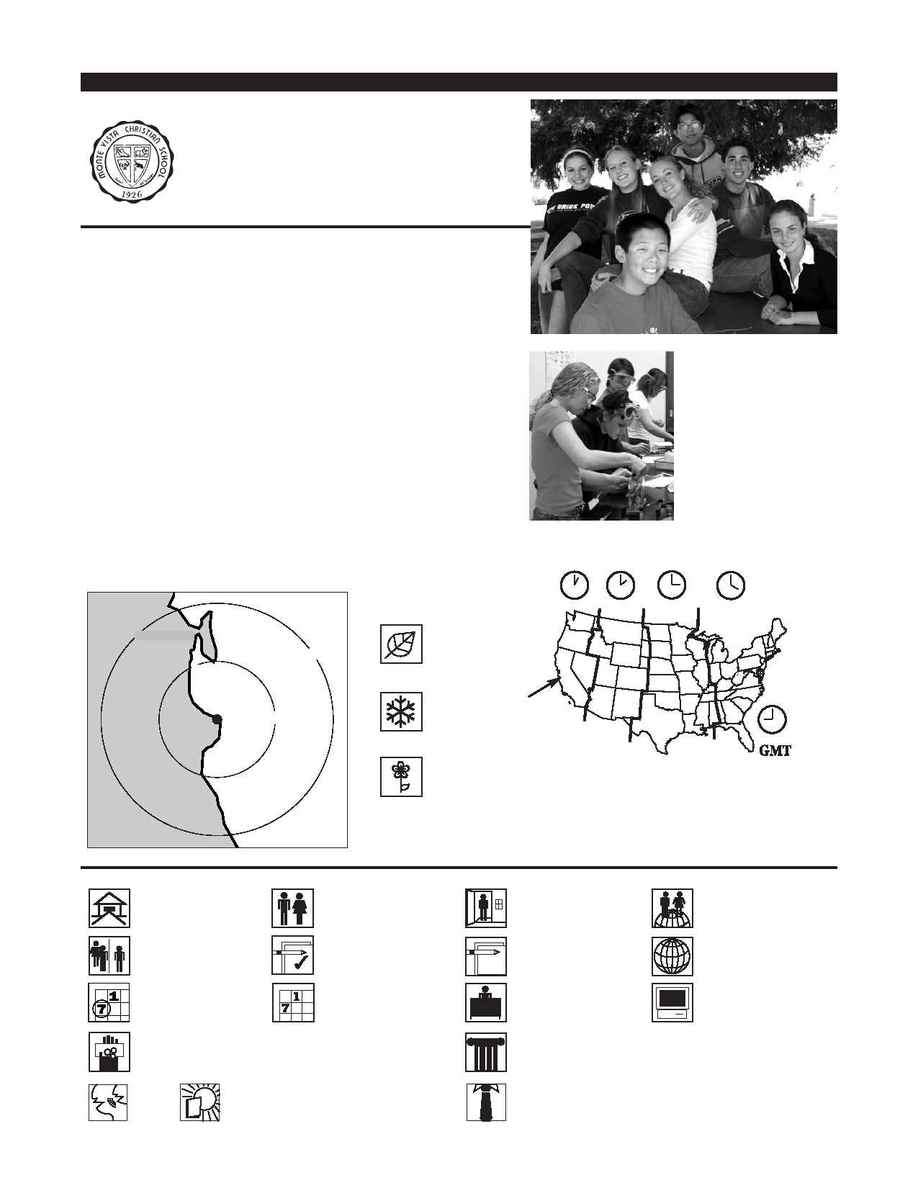 Susan S. Bernal, Director, Resident Admissions
Two School Way
Watsonville, California 95076
Phone: 831-722-8178 Ext. 128 Fax: 831-722-6003
E-mail: sbernal@mvcs.org
URL: http://www.mvcs.org
80 km
160 km
Pacific
Ocean
CALIFORNIA
Monte Vista Christian School
Founded 1926
The school makes international students feel at home in their comfortable dorms,
increases their English language proficiency, helps them adapt to life in the U.S.,
obtain a high school diploma and gain admission to a U.S. college or university.
El colegio hace a los estudiantes extranjeros sentirse en casa en las cómodas
residencias, aumenta sus niveles de competencia en el idioma inglés, los ayuda a
adaptarse a la vida en los Estados Unidos, a obtener un diploma de la escuela
secundaria, y ser admitido en un colegio o universidad de los EE.UU.
L'école fait que les élèves de tous les pays se sentent chez eux dans des
dortoirs confortables, les aide à améliorer leur niveau d'anglais, leur permet de
s'adapter à la vie aux États-Unis, d'obtenir un diplome de fin de lycée et leur
permettre l'entrée dans des universités américaines.
The 100-acre campus is set in the
foothills of the Santa Cruz
Mountains.
Las 40 hectáreas de terreno se
encuentran en las colinas al pie de
las montañas de Santa Cruz.
Le campus de 40 hectares est niché
au pied des collines de Santa Cruz.
40

80 km from San Jose International Airport; 150 km from San Francisco, CA
/ A 80 km del aeropuerto internacional de San José; a 150 km de San
Francisco, CA / A 80 km de l'aéroport international de San Jose ; à 150 km
de San Francisco, CA
80 km
150 km
San Jose 80 San Francisco 150
130, 110 / solicitaron admisión, fueron
aceptados / candidats, admis
China, Japan, Korea, Taiwan
September, January / septiembre,
enero / septembre, janvier
9 1
9 1
University of California, California State University,
Westmont College, Mount Saint Mary's College,
Boston College, New York University
UNITED STATES
4 0
Santa Cruz
Rolling / Continuo / Continuelles
Coeducational 9­12 / Mixto / Mixte