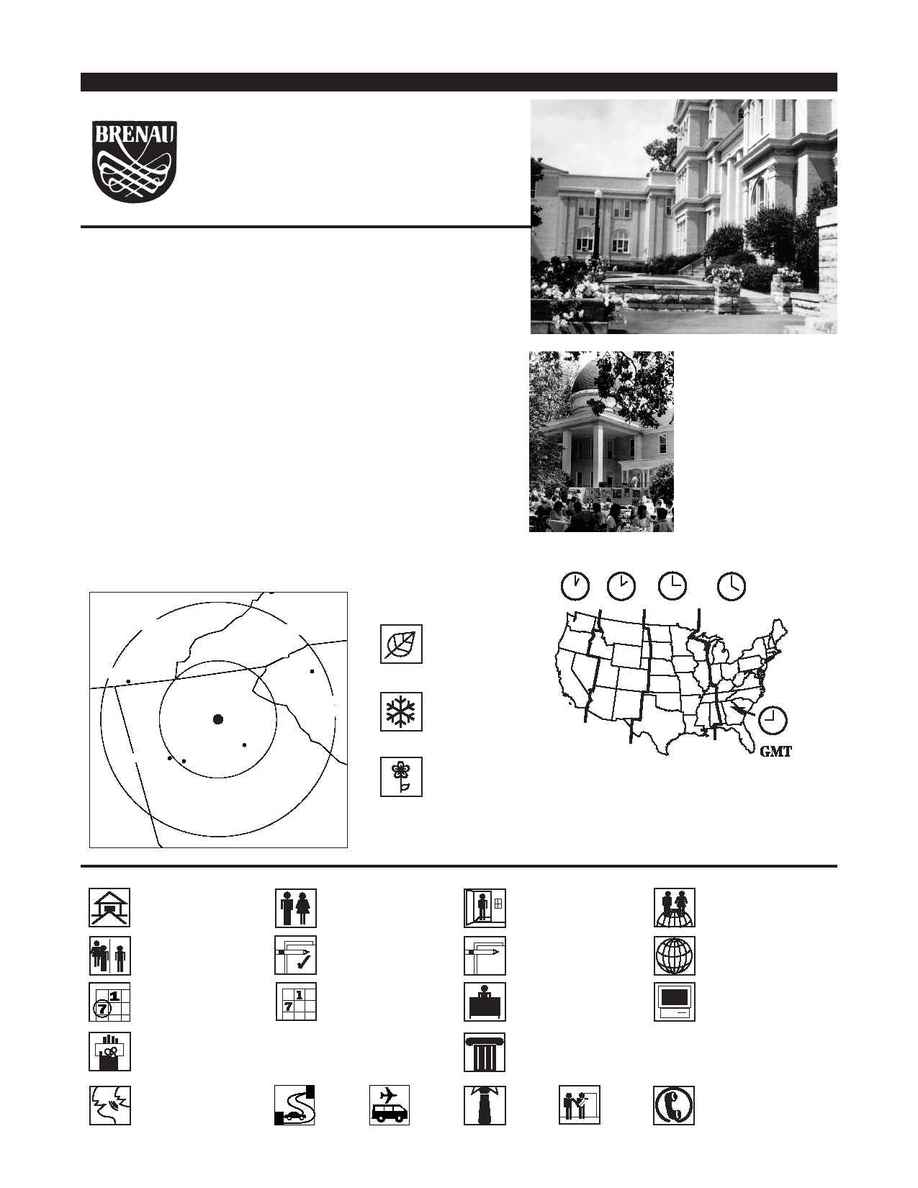 NORTH CAROLINA
SOUTH
CAROLINA
GEORGIA
TENNESSEE
80 km
160 km
Brenau Academy
Founded 1928
The 56-acre campus has fifty
buildings.
Las 25 hectáreas de terreno tienen
cincuenta edificios.
Le campus de 25 hectares est doté
de cinquante bâtiments.
25
50
81 km from Atlanta Airport; 81 km from Atlanta, GA
A 81 km del aeropuerto de Atlanta; a 81 km del Atlanta, GA
A 81 km de l'aéroport d'Atlanta ; a 81 km de Atlanta, GA
81
Girls 9­12 / Niñas / Filles
45, 30 / solicitaron admisión, fueron
aceptadas / candidates, admises
8
8
Boston College, Brenau University, Georgia
Institute of Technology, University of Georgia,
University of Mississippi, Savannah College of
Art and Design, University of Texas at Austin
Australia (1), Bermuda (2),
China (1), Korea (3), Taiwan (1)
UNITED STATES
Brenau enrolls students from a variety of countries. We specialize in English
mastery, performing arts, and chaperoned weekend activities. An hour from
Atlanta's international airport, transportation from anyplace is easy.
Brenau admite estudiantes de una variedad de países. Nos especializamos
en cursos para dominar el idioma inglés a la perfección, artes escénicas y
actividades con acompañantes los fines de semana. A una hora del aeropuerto
internacional de Atlanta, hay facilidad de transporte desde cualquier punto.
Brenau accueille des étudiants de différents pays. Nous sommes spécialisés
dans la maîtrise de l'anglais, les arts du spectacle et les activités surveillées le
week-end. À une heure de l'aéroport international d'Atlanta, la situation
géographique de notre établissement facilite tous les déplacements.
1

Leslie N. Miller, Director of Admissions
500 Washington St. SE
Gainesville, Georgia 30501
Phone: 770-534-6140 Fax: 770-534-6298
E-mail: enroll@brenau.edu
URL: http://www.brenauacademy.org
Rolling / Continuo / Continuelles