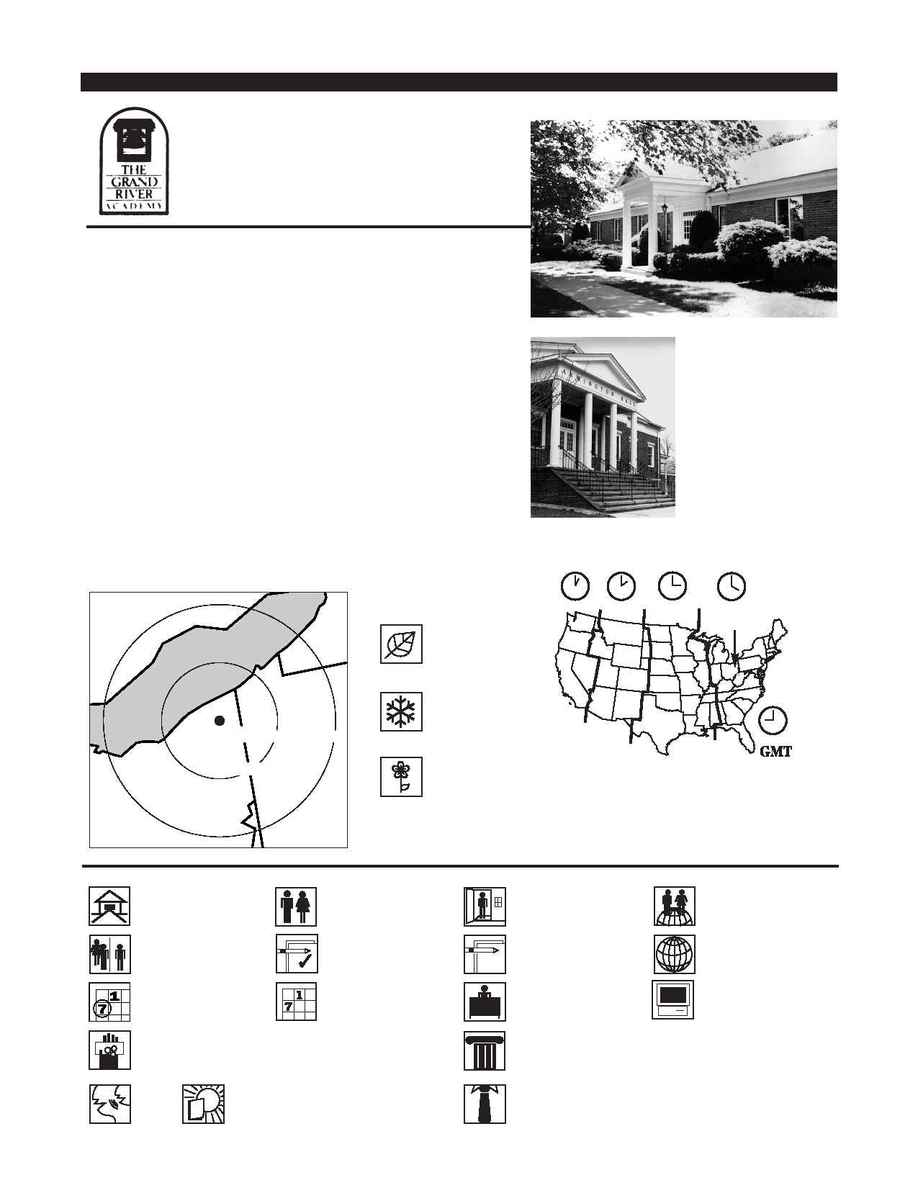 Lake Erie
OHIO
PENNSYLVANIA
NEW
YORK
80 km
160 km
The Grand River Academy
Founded 1831
The 200-acre campus has a new
science center.
El recinto de 81 hectáreas tiene un
nuevo centro de ciencias.
Le campus de 81 hectares abrite un
nouveau centre pour les sciences.
85 km from Cleveland Hopkins International Airport; 80 km from Cleveland, OH
A 85 km del aeropuerto internacional Hopkins de Cleveland; a 80 km de Cleveland, OH
A 85 km de l'aéroport international Hopkins de Cleveland ; à 80 km de Cleveland, OH
Cleveland Hopkins 85 Cleveland 80
Boys 9­PG / Muchachos / Garçons
97, 88/ solicitaron admisión, fueron
aceptados / candidats, admis
Rolling / Continuo / Continuelles
Rolling / Continuo / Continuelles
Allegheny College, Ashland University, Case
Western Reserve University, Eastern Michigan
University, University of Cincinnati
Canada, Hong Kong, Russia (5),
Saudi Arabia (5), South Korea (15)
UNITED STATES
Students develop English skills through ESL classes and through immersion in
the culture and life of the academy. The school issues I-20s, coordinates TOEFL
testing, and offers an ESL summer program.
Los estudiantes desarrollan destrezas de inglés mediante las clases de inglés
como segundo idioma e inmersión de la cultura y vida de la academia. La
escuela emite formas I-20, coordina exámenes de inglés (TOEFL) y ofrece un
programa de verano de inglés como segundo idioma (ESL).
Les étudiants développent leurs connaissances en anglais grâce aux cours
du programme ESL (anglais deuxième langue) et par l'immersion dans la
culture et la vie de la faculté. L'établissement émet les visas pour étudiants
I-20s et offre un programme ESL pour l'été.
I-20 TOEFL ESL

Sam Corabi, Director of Admission
3042 College Street
Austinburg, Ohio 44077
Phone: 440-275-2811 Fax: 440-275-1825
E-mail: academy@grandriver.org
81