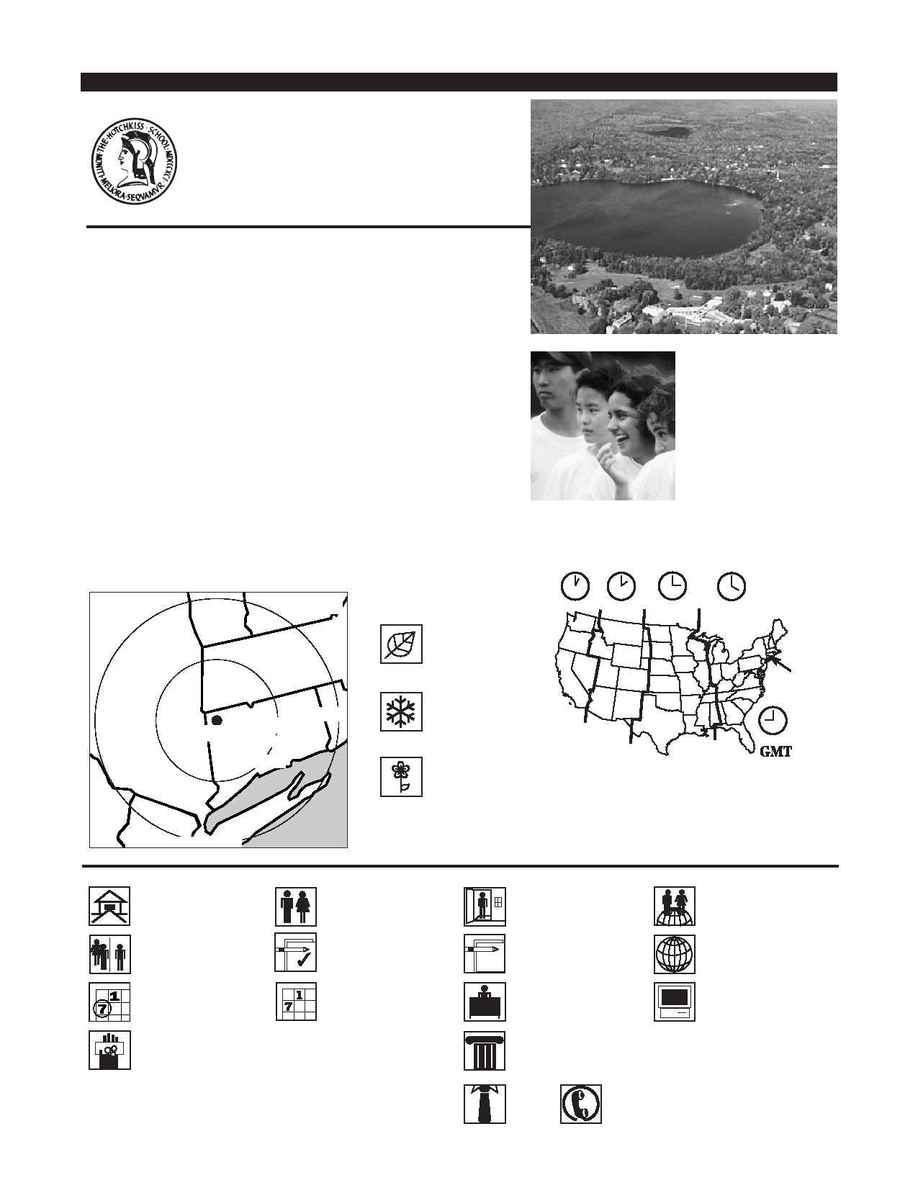 VERMONT
NEW
YORK
MASSACHUSETTS
Atlantic
Ocean
80 km
160 km
CONNECTICUT
NEW
HAMPSHIRE
The Hotchkiss School
Founded 1891
The 525-acre rural campus includes
fiber-optic classrooms.
Las 213 hectáreas de terreno en un
ambiente rural incluyen aulas de
fibra óptica.
Le campus rural de 213 hectares
comprend des salles de classes de
fibre-optiques.
213


96 km from Bradley International Airport and Hartford, CT
A 96 km del aeropuerto internacional de Bradley y de Hartford, CT
A 96 km de l'aéroport international de Bradley et de Hartford, CT
96
96
Bradley Hartford, CT 96
Coeducational 9­PG / Mixto /
Mixte
1697, 336 / solicitaron admisión,
fueron aceptados / candidats, admis
January 15 / 15 de enero / 15
janvier
1 15
1 15
September / septiembre / septembre
9
9
Princeton University, Harvard University,
Yale University, Georgetown University,
Brown University, Cornell University
Canada, Hong Kong, Jamaica,
Saudi Arabia, South Korea
UNITED STATES
Hotchkiss, a school of 550 students, offers rigorous academics within a supportive
environment, varied extracurricular activities, diverse student body, and
international study/travel options.
Hotchkiss, una escuela de 550 estudiantes, ofrece cursos rigurosos en un
ambiente con mucho apoyo, una gran variedad de actividades
extracurriculares, estudiantado variado y opciones para estudios y viajes
internacionales.
Hotchkiss, un établissement de 550 étudiants, offre un programme scolaire
rigoureux, un climat d'entraide, une variété d'activités extra-scolaires, des
élèves de divers pays et des possibilités d'études et de séjours à l'étranger.
William D. Leahy, Dean of Admission and
Financial Aid
P.O. Box 800
Lakeville, Connecticut 06039
Phone: 860-435-3102 Fax: 860-435-0042
213