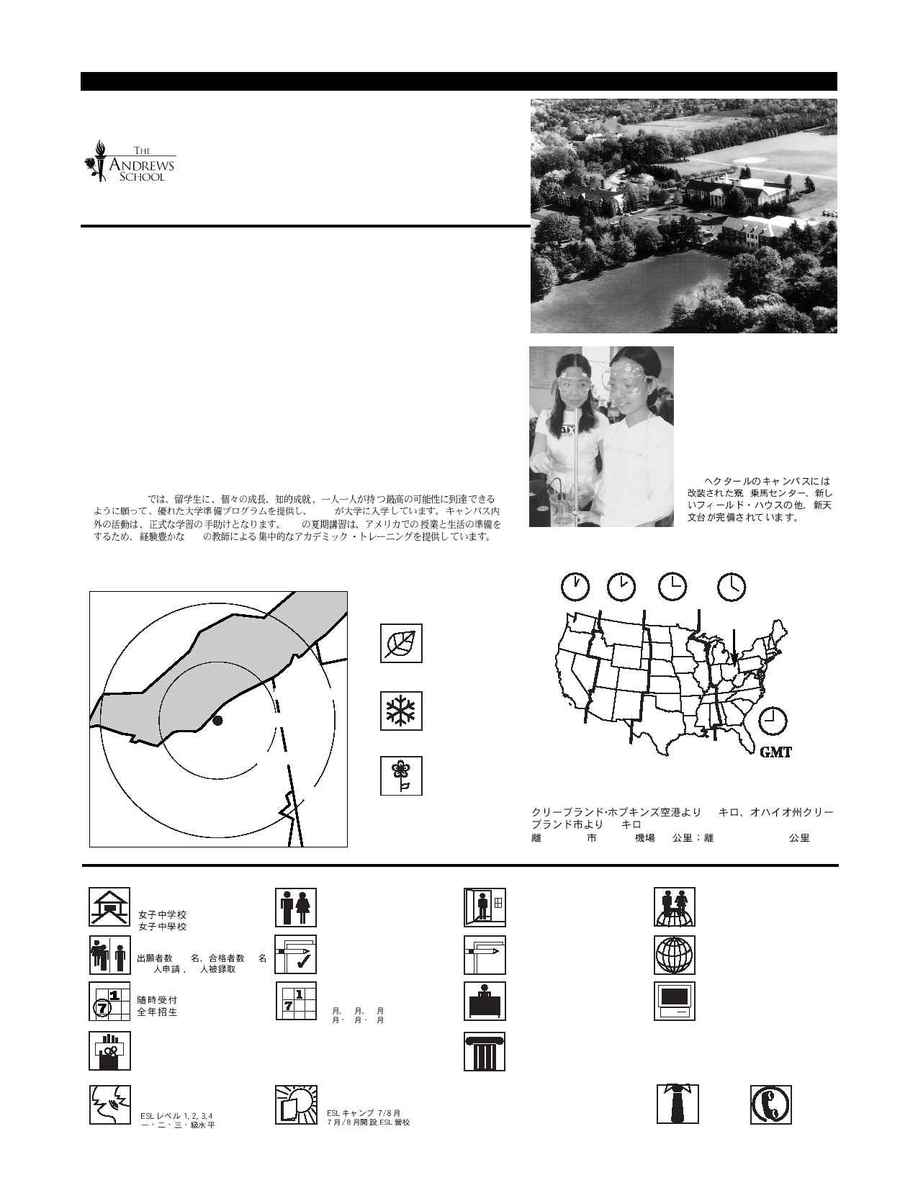 Lake Erie
OHIO
PENNSYLVANIA
80 km
160 km
The Andrews School
Founded 1910
The 330-acre campus includes
redecorated dormitories, equestrian center,
a new field house, and a new observatory.
Las 134 hectáreas de terreno incluyen
residencias estudiantiles redecoradas, un
centro de equitación, una nueva casa de
campo y un nuevo observatorio.
Le campus de 134 hectares comprend
des dortoirs rénovés, un centre
équestre, un nouveau complexe sportif
et un observatoire flambant neuf.
48 km from Cleveland Hopkins Airport; 29 km from Cleveland, OH
A 48 km del aeropuerto Hopkins de Cleveland; a 29 km de Cleveland, OH
A 48 km de l'aéroport Hopkins de Cleveland ; à 29 km de Cleveland, OH
Girls College Prep (6­12) /
Niñas / Filles
140, 90 / solicitaron admisión, fueron
aceptadas / candidates, admises
Columbia University, Dartmouth
College, Cornell University, Yale
University
China, England, Germany, Hong
Kong, Japan, Korea, Mexico,
Taiwan, Thailand, Venezuela,
Vietnam
UNITED STATES
Andrews offers international students an outstanding college-preparatory program that fosters
individual growth, intellectual achievement, and a desire to reach one's highest potential,
resulting in 100 percent college placement. Activities on and off campus enhance formal study.
Summer ESL Institute provides intensive academic training by experienced ESL teachers to
prepare for classes and life in the U.S.
Andrews ofrece a los estudiantes extranjeros un programa de preparación para la
universidad excepcional que estimula el crecimiento personal, el logro intelectual y el deseo de
desarrollar al máximo las posibilidades individuales, lo que resulta en un 100% de ingresos
universitarios. Las actividades dentro y fuera del recinto amplían los estudios formales. El
Instituto de Verano de estudios del inglés como segundo idioma (ESL) ofrece un programa de
capacitación académica intensivo, impartido por profesores de inglés con experiencia, que
prepara a los alumnos para estudiar y vivir en los Estados Unidos.
Andrews propose aux étudiants étrangers un excellent programme préparant à l'entrée en
université et favorisant le développement personnel, le succès intellectuel et le désir d'aller
jusqu'au bout de ses possibilités. C'est pourquoi 100 % des étudiants sont admis dans les
universités de leur choix. Les activités sur et en dehors du campus consolident les études
académiques. L'institut chargé de l'enseignement de l'anglais comme langue étrangère à Andrews
propose, l'été, une formation intensive dispensée par des professeurs d'anglais comme langue
étrangère expérimentés afin de préparer les étudiants à la vie et à la scolarité aux États-Unis.
Terry Finefrock, Director of Admission
38588 Mentor Avenue
Willoughby, Ohio 44094
Phone: 440-942-3600 Fax: 440-954-5020
2,500


134


Rolling / Continuo / Continuelles
September, January, August /
septiembre, enero, agosto / septembre,
janvier, août
9
ESL camp offered July/August
Campo de Inglés como segundo idioma (ESL) se ofrece en julio/agosto
Stage d'anglais comme langue étrangère juillet/août
ESL 1, 2, 3, 4 levels / ESL 1, 2, 3, 4
niveles / Anglais comme langue
étrangère niveaux 1, 2, 3, 4