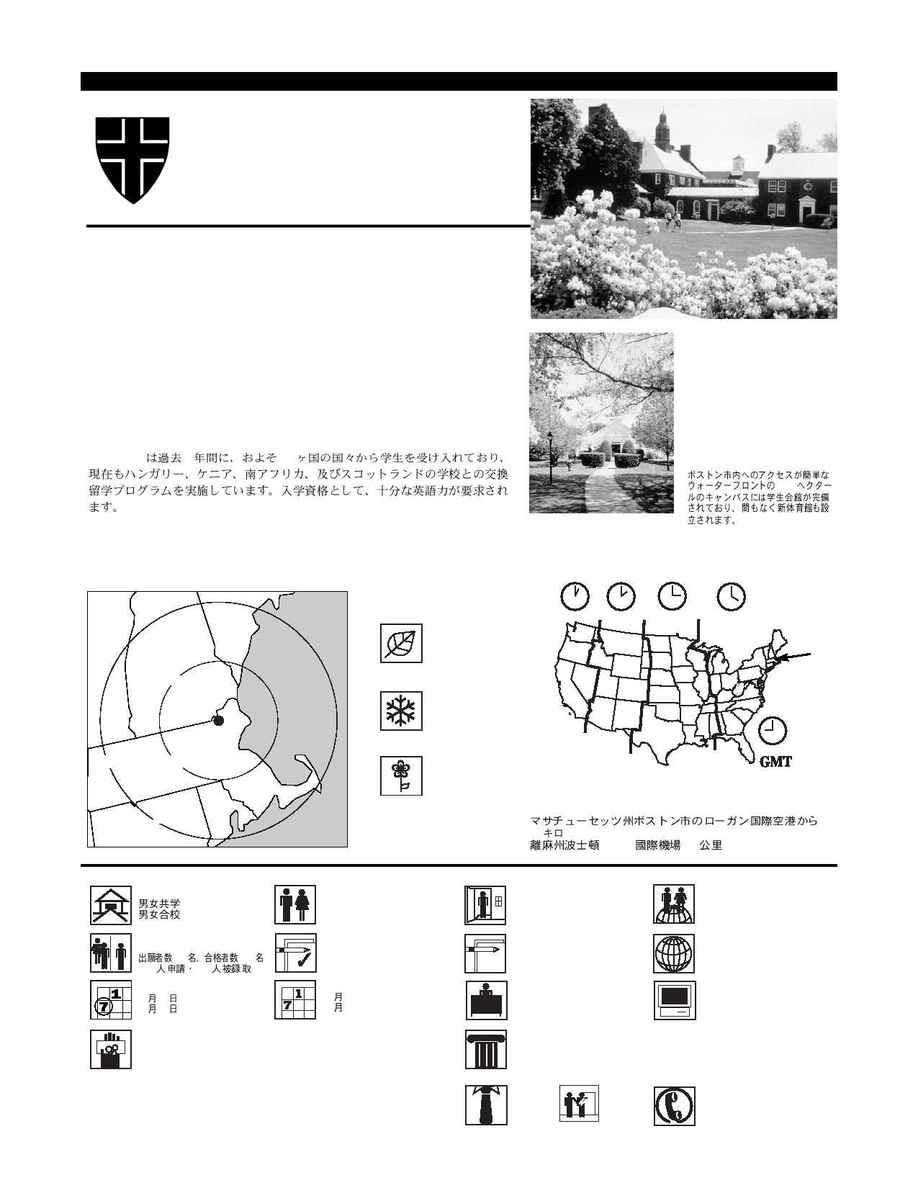 Coeducational 9­12 / Mixto / Mixte
Judith S. Beams, Director of Admission
1160 Great Pond Road
North Andover, Massachusetts 01845-1298
Phone: 978-686-6101 Fax: 978-725-6298
CONNECTICUT
80 km
160 km
MASSACHUSETTS
MAINE
NEW
HAMPSHIRE
Brooks School
Founded 1926
Brooks has enrolled students from roughly 35 countries over the past five years
and still enjoys exchange programs with schools in Hungary, Kenya, South Africa,
and Scotland. Applicants must have a strong background in English.
En los últimos cinco años, se han matriculado en Brooks estudiantes
provenientes de cerca de 35 países, y continúa ofreciendo programas de
intercambio estudiantil con colegios en Hungría, Kenia, Sudáfrica y Escocia. Para
ser admitidos en el colegio, los alumnos deben contar con buenas bases en el
idioma inglés.
Depuis cinq ans, Brooks accueille des étudiants d'environ 35 pays différents et
participe encore à des programmes d'échange avec des établissements scolaires
de Hongrie, du Kenya, d'Afrique du Sud et d'Écosse. Les élèves qui désirent
s'inscrire doivent avoir de très bonnes connaissances en anglais.
The 251-acre waterfront campus with easy
access to Boston has a new student center
and will soon build a new athletic center.
Las 101 hectáreas de terreno costanero, con
fácil acceso a Boston, tiene un nuevo centro
estudiantil y contará en breve con un nuevo
edifico de atletismo.
Brooks, qui est situé sur un campus de 101
hectares avec des espaces verts duquel il est
facile de se rendre à Boston, dispose d'un
nouveau centre pour étudiants et construira
bientôt un tout nouveau gymnase.
56 km from Logan International Airport, Boston, MA
A 56 km del aeropuerto internacional de Logan, Boston, MA
A 56 km de l'aéroport international de Logan, Boston, MA
798, 272 / solicitaron admisión,
fueron aceptados / candidats, admis
Germany (22), Hong Kong (22),
Japan (22), Korea (22),
Thailand (10)
February 1 / 1 de febrero / 1 février
2
September / septiembre / septembre
9
9
Bates College, George Washington
University, Trinity College, University of
Pennsylvania, Brown University
UNITED STATES
101