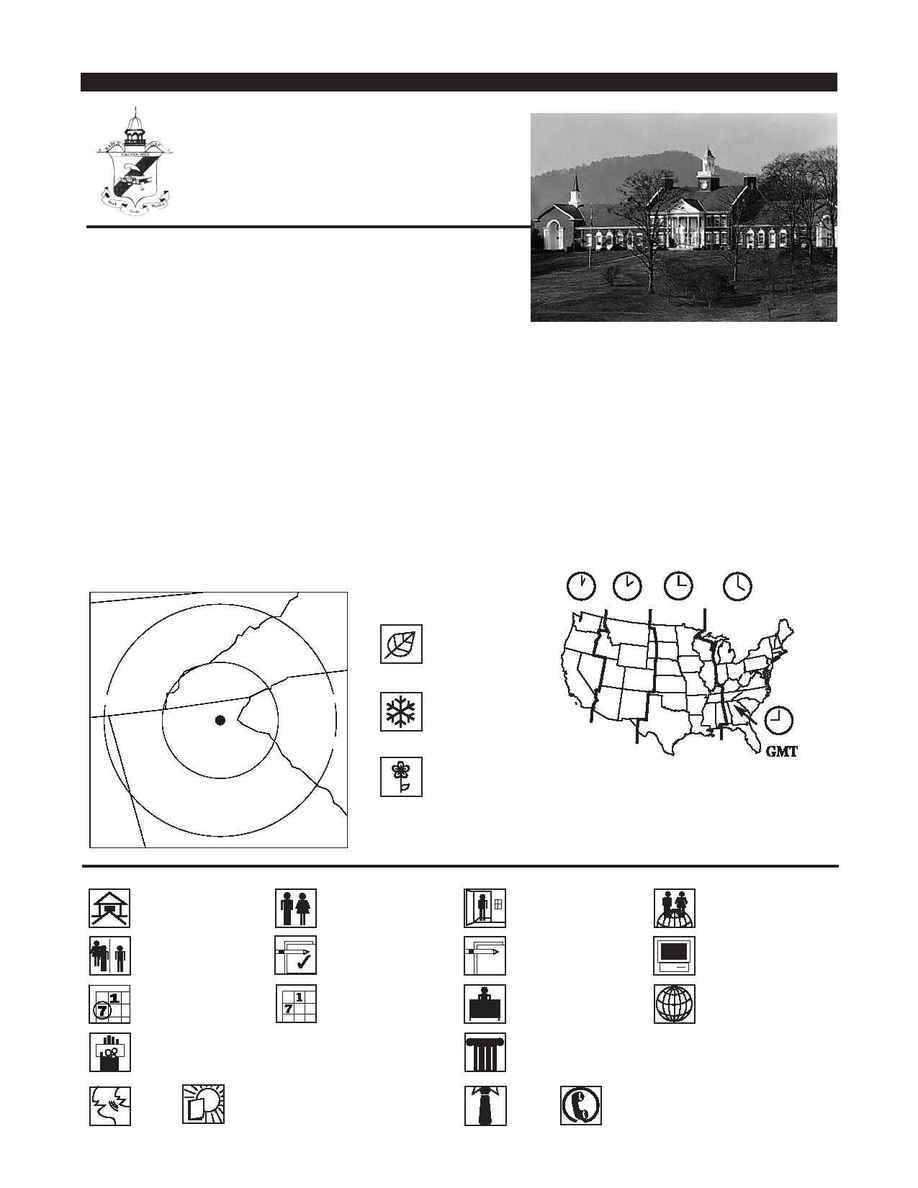 TENNESSEE
GEORGIA
SOUTH
CAROLINA
80 km
160 km
Rabun Gap ­ Nacoochee School
Founded 1903
Rabun Gap classrooms have
mountain views and advanced
computer technology.
Las aulas de Rabun Gap tienen
vistas a las montañas y tecnología
avanzada de computación.
Les salles de classe de Rabun Gap
ont vue sur les montagnes et
disposent d'une technologie
informatique de pointe.
Rabun Gap


161 km from Atlanta Airport; 161 km from Atlanta, GA
A 161 km del aeropuerto de Atlanta; a 161 km de Atlanta, GA
A 161 km de l'aéroport d'Atlanta ; à 161 km d'Atlanta, GA
161
161
Atlanta 161 Atlanta 161
Coeducational 6­12 / Mixto / Mixte
140, 91 / solicitaron admisión, fueron
aceptados / candidats, admis
Rolling / Continuo / Continuelles
August / agosto / août
8
8
TOEFL, SLEP, SSAT, ISEE, SAT
Berea College, Georgia College and State University,
Oxford College at Emory, Savannah College of Art
and Design, Western Carolina University
African continent, Germany,
Korea, Spain, Turks & Caicos,
Vietnam
UNITED STATES
RGNS seeks to enroll a geographically diverse population of international
students of outstanding quality, superior motivation, and strong character. The
ESL program at RGNS is comprehensive, includes both middle and upper shool
courses, and is designed to serve students of all levels of English study and
background.
RGNS tiene el propósito de matrícular una población geográficamente variada
de estudiantes internacionales de calidad sobresaliente, motivación superior y
carácter firme. El programa de inglés como segundo idioma (ESL) es completo;
incluye cursos académicos superiores e intermedios, y ha sido concebido para
servir a estudiantes de distintos niveles en el estudio del inglés y experiencias.
RGNS recherche a inscrire des étudiants d'origine internationale de qualité
exceptionnelle, extrement motivée, avec une forte personnalité. Le programme
d'anglais comme langue étrangère de RGNS est détaillé, comprend des cours pour
les premier et second cycles du secondaire,et est concu pour des étudiants de tous
niveaux d'anglais et de formation.
Adele Yermack
Director of Admission
339 Nacoochee Drive
Rabun Gap, Georgia 30568
Phone: 706-746-7467 Fax: 706-746-2594
E-mail: admission@rabungap.org
URL : http://www.rabungap.org