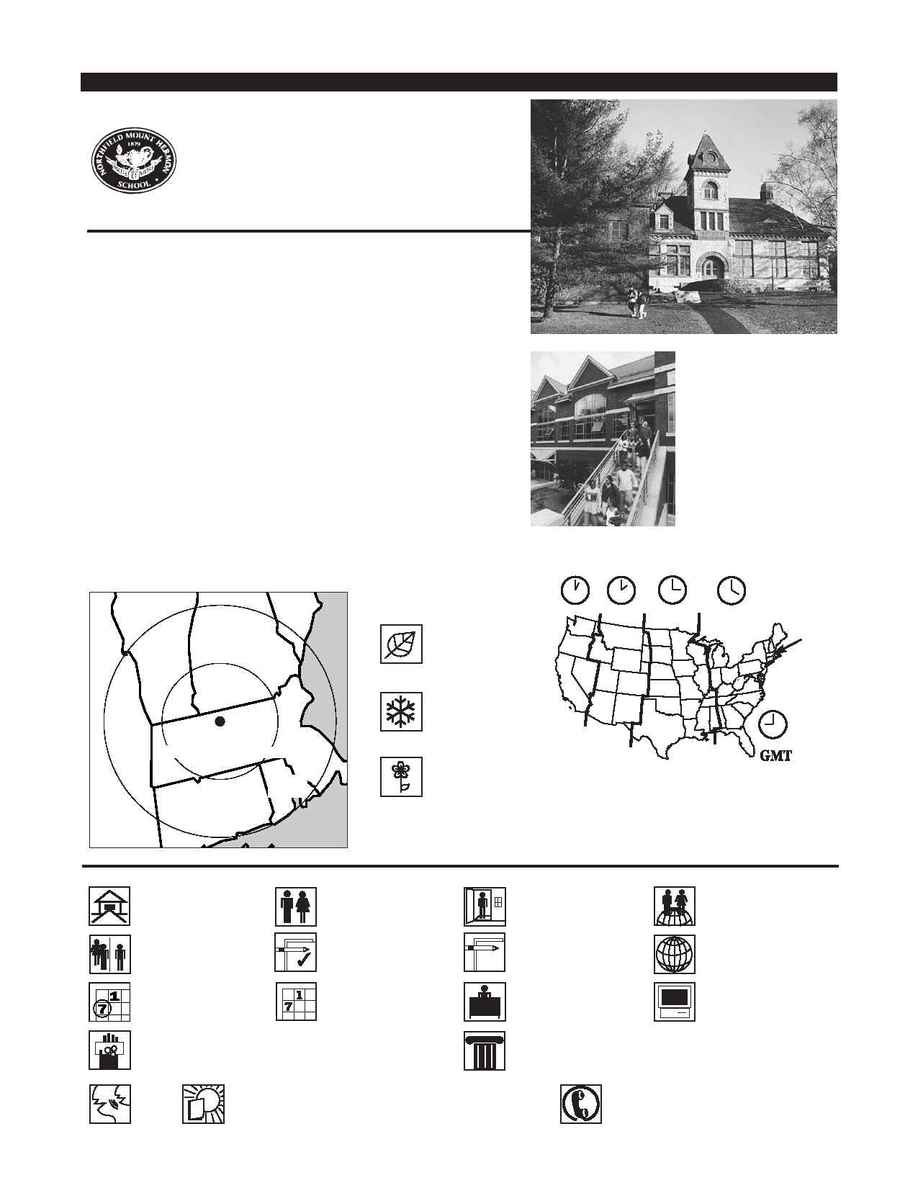 NEW
HAMPSHIRE
VERMONT
CONNECTICUT
NEW
YORK
80 km
160 km
MASSACHUSETTS
RHODE
ISLAND
Northfield Mount Hermon School
TABS, FAIS, NAIS, NAFSA member
Founded 1879
The 3,500-acre campus includes 14
academic buildings, 21 dormitories,
2 libraries, and 27 athletic fields.
Las 1.417 hectáreas de terreno
incluyen 14 edificios académicos, 21
residencias estudiantiles, 2
bibliotecas y 27 campos de atletismo.
Le campus de 1 417 hectares comprend
14 bâtiments scolaires, 21 dortoirs, 2
bibliothèques et 27 terrains de sports.
1,417
14 21
2 27
111 km from Bradley International Airport; 124 km from Hartford, CT
A 111 km del aeropuerto internacional de Bradley; a 124 km de Hartford, CT
A 111 km de l'aéroport international de Bradley ; à 124 km de Hartford, CT
111
124
Bradley 111 Hartford, CT 124
Coeducational 9­PG / Mixto / Mixte
1009, 579 / solicitaron admisión, fueron
aceptados / candidats, admis
February 1, rolling / 1 de febrero,
continuo / 1 février, continuelles
2 1
2 1
September / septiembre / septembre
9
9
Boston University, Connecticut College,
Cornell University, Wesleyan University,
George Washington University,
Tufts University
Hong Kong, Japan, Taiwan,
Thailand, South Korea
UNITED STATES
The international student population includes students from up to 40 countries,
foreign nationals, and U.S. families who live overseas. They are supported by a
strong ESL program and the office of international education. Visit
www.nmhschool.org/admissioninternational.asp for more information.
La población de estudiantes internacionales comprende estudiantes de hasta 40
países, nacionales extranjeros, y familias estadounidenses que viven en el
extranjero. Cuentan con el apoyo de un excelente programa de inglés como
segundo idioma (ESL) y la oficina de educación internacional. Para más
información, visite su dirección de Internet www.nmhschool.org/
admissioninternational.asp.
Parmi les étudiants internationaux, l'on compte des étudiants issus de 40 pays
différents, des ressortissants étrangers ainsi que des familles américaines vivant à
hors des États-Unis. Un solide programme ESL (anglais deuxième langue) leur est
proposé et tous bénéficient des services du Bureau des études à l'étranger. Pour de
plus amples informations, consultez www.nmhschool.org/admissioninternational.asp.
ESL
www.nmhschool.org/admissioninternational.asp
Ms. Deborah J. Wright,
Director of Admission
206 Main Street
Northfield, Massachusetts 01360
Phone: 413-498-3227 Fax: 413-498-3152
E-mail: admission@nmhschool.org
URL : http://www.nmhschool.org
1417 14
21 2
27
ESL
www.nmhschool.org/admissioninternational.asp