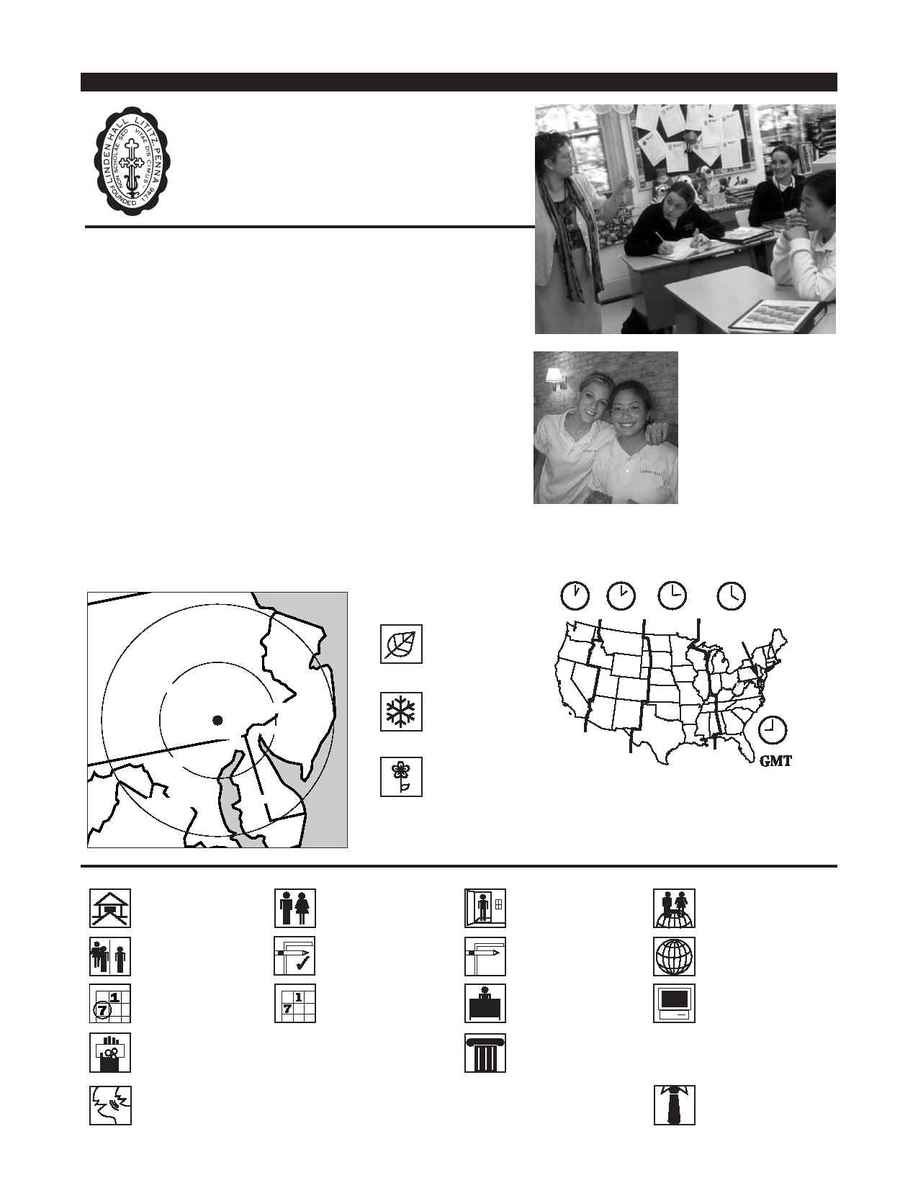 Kate R. Rill, Assistant Director of Admission
212 East Main Street
Lititz, Pennsylvania 17543
Phone: 717-626-8512 Fax: 717-627-1384
E-mail: admissions@lindenhall.org
80 km
160 km
PENNSYLVANIA
MARYLAND
NEW
JERSEY
DELAWARE
Linden Hall School for Girls
Founded 1746
Linden Hall offers a college-preparatory curriculum for international students. It offers
beginning and intermediate ESL, performing arts, athletics, equestrian studies, homestays, and
coordination of travel. Chaperoned day, weekend, and optional international trips are available
to all. Linden Hall is located in the small, safe town of Lititz, Pennsylvania.
Linden Hall ofrece un plan de estudios de preparación para la universidad para los estudiantes
extranjeros. Ofrece un programa de inglés como segundo idioma (ESL) para los niveles de
principiante e intermedio, artes escénicas, atletismo, estudios de equitación, alojamiento con
familias locales y coordinación de viajes. También se ofrecen viajes con chaperón de día, fin de
semana y opcionales al extranjero. Linden Hall está ubicado en la pequeña y segura ciudad de
Lititz, en Pennsylvania.
Linden Halloffre aux étudiants étrangers un programme scolaire préparant à l'entrée à l'
université. L'établissement propose également des cours d'anglais comme langue étrangère de
niveau débutant à intermédiaire, l'enseignement des arts du spectacle, des activités sportives, des
cours d'équitation, des séjours en famille et l'organisation de voyages. Des excursions d'une journée
ou sur un week-end ainsi que des voyages à l'étranger, surveillés par des adultes, sont disponibles à
tous. Linden Hall est situé dans la petite ville calme de Lititz en Pennsylvanie.
ESL
1 Linden
Hall PennsylvanIa Lititz
Small class sizes offer individualized
attention.
Clases con pocos alumnos ofrecen
atención individualizada.
Les classes, de taille restreinte,
permettent une attention
individualisée.
8 km from Lancaster Airport; 11 km from Lancaster, PA
A 8 km del aeropuerto de Lancaster; a 11 km de Lancaster, PA
A 8 km de l'aéroport de Lancaster ; à 11 km de Lancaster, PA
Lancaster 8 Lancaster, PA 11
71, 56 / solicitaron admisión, fueron
aceptadas / candidates, admises
China (4), Japan (25), Korea (18),
Mexico (18), Saudi Arabia (25),
Taiwan (4)
Beginning, intermediate and advanced English, health, science and ESL American studies
Estudios de inglés, salud, ciencias e inglés americano como segundo idioma (ESL) a niveles de principiante, intermedio y avanzado.
Anglais débutant, intermédiaire et avancé, santé, sciences et anglais comme langue étrangère(civilisation américaine).
ESL
ESL
American University, University of Chicago, George
Washington University, Massachusetts Institute of
Technology, Mount Holyoke College, New York
University, Pratt Institute, Sweet Briar College
Uniforms / Uniforme / Uniforme
UNITED STATES

Linden Hall Lititz
Rolling / Continuo / Continuelles
Rolling / Continuo / Continuelles
Girls 6­PG / Niñas / Filles