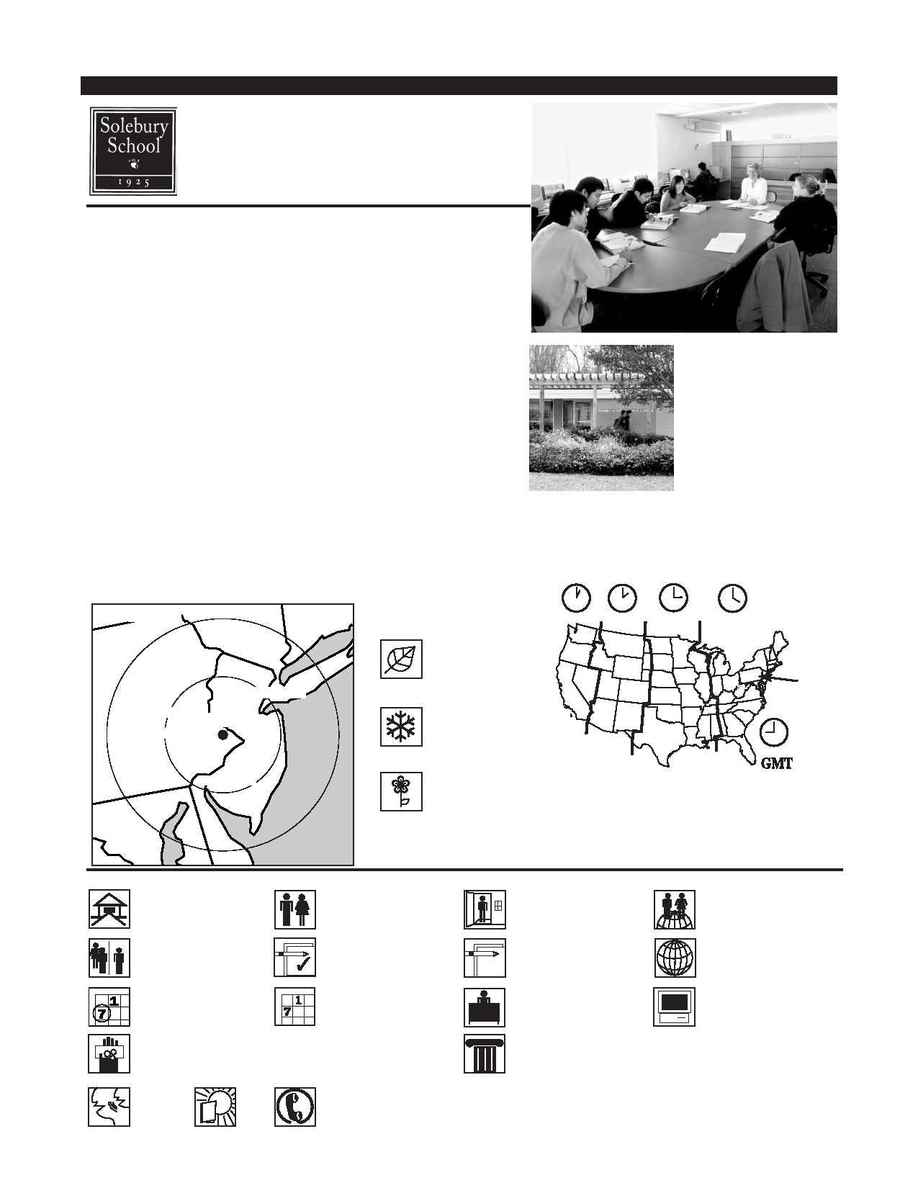 PENNSYLVANIA
NEW
JERSEY
NEW
YORK
Atlantic
Ocean
80 km
160 km
Solebury School
NAIS, TABS, SSATB, NAFSA member
Founded 1925
42 km from Philadelphia Airport and Philadelphia, PA
A 42 km del aeropuerto de Filadelfia y de Filadelfia, PA
A 42 km de l'aéroport de Philadelphie et de Philadelphie, PA

42
Philadelphia, PA Philadelphia 42
Coeducational 9­12 & PG / Mixto /
Mixte
220, 103 / solicitaron admisión, fueron
aceptados / candidats, admis
January 15, rolling / 15 de enero,
continuo / 15 janvier, continuelles
1
$31,200,
including $8000 ESL program fee;
$1600 book deposit
SLEP (44% or higher), or TOEFL
September, (March­Spring ESL
program) / septiembre,
(marzo­programa ESL de primavera) /
septembre, (mars­ programme d'ESL
de printemps)
9
Boston College, Boston University, Brandeis University, Carnegie Mellon
University, Cornell University, Drexel University, Duke University, The George
Washington University, The Johns Hopkins University, Lehigh University,
Northeastern University, The Pennsylvania State University, Pratt Institute,
Purdue University, Rochester Institute of Technology, Rutgers University,
Tulane University, University of Chicago, University of Southern California,
Vanderbilt University
Brazil (1), Bulgaria (3), Burkina-Faso (1),
China (1), Germany (18), Hong Kong (5),
India (1), Japan (38), Korea (18), Lithuania
(1), Malaysia (3), Puerto Rico (3), Santo
Domingo (1), Senegal (1), Singapore (1),
Spain (1), Switzerland (1), Taiwan (18),
Thailand (14), Venezuela (1), Zaire (1)
UNITED STATES
Academic preparation for TOEFL, small classes, individual attention, excellent college-
preparatory curriculum, competitive sports, art and theater, a safe friendly campus,
integration with American students, homestays, conversation partners, community projects
and field trips, three levels of ESL, full-time ESL director, and limited enrollment from various
countries increase diversity. ESL spring and summer programs are also offered.
Preparación académica para el TOEFL, clases reducidas, atención individual, excelente
currículo de preparación universitaria, deportes de competición, arte y teatro, recinto seguro
y amigable, integración con estudiantes estadounidenses, alojamiento con familias locales,
compañeros para práctica de conversación, proyectos comunitarios y viajes de campo, tres
niveles de inglés como segundo idioma (ESL), y una matricula limitada de varios países
aumenta la diversidad. También se ofrecen programas de inglés como segundo idioma (ESL)
durante la primavera y el verano.
Préparation au TOEFL, nombre d'élèves restreint par classe, attention individuelle,
excellent programme scolaire préparant à l'entrée à l'université, sports de compétition,
art et théâtre, campus sûr et amical, intégration au groupe d'étudiants américains, séjours
en famille, partenaires pour conversation, projets communautaires et excursions, trois
niveaux d'anglais comme langue étrangère (ESL), directeur chargé à temps complet du
programme d'ESL, sans oublier le nombre d'inscription limité pour chaque pays qui
permet d'accroître la diversité. Les cours d'ESL sont également proposés pendant le
printemps et l'été.


ESL ESL
ESL
Denise DiFiglia, Director of Admission
P.O. Box 429, Phillips Mill Road
New Hope, Pennsylvania 18940-0429
Phone: 215-862-5261 Fax: 215-862-3366
E-mail: admissions@solebury.com
URL: http://www.solebury.org
The 90-acre campus is home to a new
multimedia center, new math/science
building, and a new International Student
Center for the ESL program.
del nuevo centro de multimedios, el nuevo
edificio de ciencia y matemática, y un nuevo
centro internacional para estudiantes para el
programa de inglés como segundo idioma
(ESL).
Le campus de près de 37 hectares abrite les
tout nouveaux centre multimédia, bâtiment
pour les mathématiques et les sciences et
centre pour les étudiants internationaux
suivant le programme ESL.

ESL ESL
ESL
37
/
ESL
Full year,
Spring,
Summer