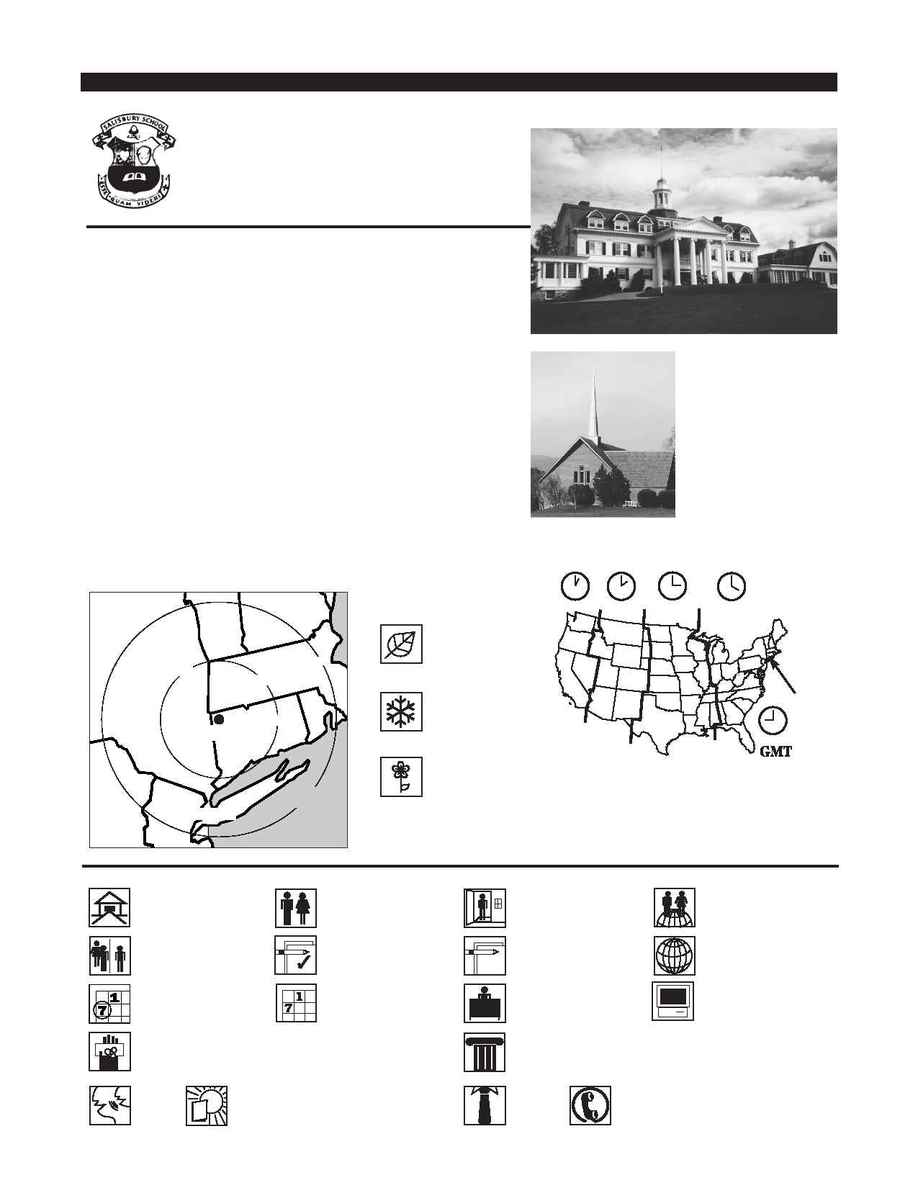 NEW
YORK
MASSACHUSETTS
80 km
160 km
Atlantic
Ocean
Salisbury School
Founded 1901
The 700-acre campus is set in the
Berkshires of southern New England.
El terreno de 283 hectáreas se
encuentra en la región de los Berkshires
en el sur de Nueva Inglaterra.
Le campus de 283 hectares est situé
dans les montagnes de Berkshire au
sud de la Nouvelle Anglaterre.

Berkshires
80 km from Hartford Airport, CT; 161 km from New York City, NY
A 80 km del aeropuerto de Hartford, CT; a 161 km de la ciudad de Nueva York,
NY
A 80 km de l'aéroport d'Hartford, CT ; à 161 km de New York City, NY
80
161
Hartford 80 161
Boys 9­PG / Muchachos /
Garçons
20, 10 / solicitaron admisión, fueron
aceptados / candidats, admis
February 1 / 1 de febrero / 1
2 1
2 1
July / julio / juillet
7
7
TOEFL (550), SLEP (26),
SSAT (50), ISEE
Boston University, Carnegie Mellon
University, Dickinson College,
Duke University, Trinity College
Germany (31), Korea (11),
Mexico (30), Spain (31),
Thailand (11)
UNITED STATES
Salisbury School values the diversity that talented students from other nations
can bring to the community. Ample support is provided so that international
students can meet rigorous academic challenges and participate fully in
athletics and extracurricular activities.
Salisbury School aprecia la diversidad que los estudiantes talentosos de
otros países contribuyen a la comunidad. Se provee mucho apoyo para que los
estudiantes internacionales puedan lograr los retos académicos y participar
plenamente en los deportes y las actividades extraescolares.
Salisbury School apprécie la diversité que les étudiants doués des pays
étrangers apportent à la communauté. Beaucoup de soutien est offert pour que
les étudiants étrangers puissent faire face au programme scolaire rigoureux et
participer dans les sports et les activités en dehors des cours.
Chisholm S. Chandler
Headmaster
251 Canaan Road
Salisbury, Connecticut 06068-1623
Phone: 860-435-5700 Fax: 860-435-5750
283
Berkshires