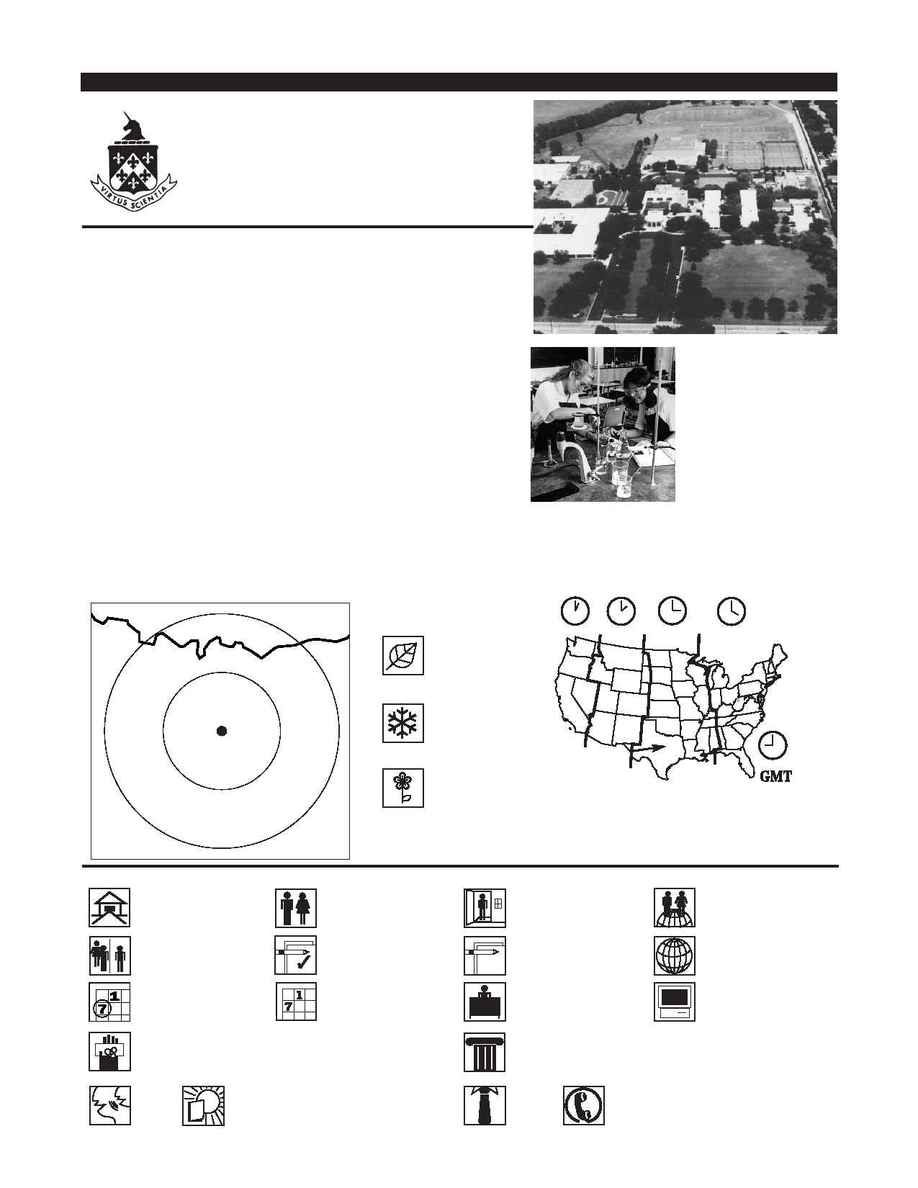 OKLAHOMA
TEXAS
80 km
160 km
The Hockaday School
Founded 1913
32 km from Dallas/Fort Worth Airport, TX
A 32 km del aeropuerto de Fort Worth y de Dallas, TX
A 32 km de l'aéroport de Fort Worth et de Dallas, TX
32
Dallas/Fort Worth, TX 32
Girls PK­12 / Niñas / Filles
88, 50 / solicitaron admisión, fueron
aceptadas / candidates, admises
September, December / septiembre,
diciembre / septembre, décembre
9
University of Texas, Stanford
University, Duke University,
Dartmouth College, Southern
Methodist University
Korea (5), Mexico (14),
Saudi Arabia (6), Taiwan (7),
Thailand (4)
UNITED STATES
Intermediate and advanced English-speaking students are accepted into a
challenging college-preparatory program. The first year includes a trip to
Washington, D.C. 100% of graduates attend four-year colleges. Summer ESL is
offered at all levels.
Los estudiantes que hablan inglés a nivel avanzado e intermedio se aceptan en
un programa retador de preparación universitaria. El primer año incluye un viaje a
Washington, D.C. El 100% de los egresados continúan sus estudios en la
universidad. Se ofrecen cursos de inglés como segundo idioma (ESL) a todo nivel.
Les étudiants parlant l'anglais a niveau avancé ou intermédiaire sont
acceptés dans un programme intense de préparation pour l'université. La
première année comprend un voyage à Washington, D.C. 100% des diplômés
de l'école poursuivent des études universitaires. Des cours d'anglais comme
langue étrangère (ESL) sont offerts à touts les niveaux.
D.C. 100 4
ESL

Jen Liggitt, Director of Admission
11600 Welch Road
Dallas, Texas 75229-2999
Phone: 214-363-6311 Fax: 214-265-1649
E-mail: admissions@mail.hockaday.org
URL: http://www.hockaday.org
The 100-acre residential, air-
conditioned campus includes extensive
science, arts, and sports facilities.
El terreno de 41 hectáreas con
instalaciones residenciales y aire
acondicionado incluye amplias
instalaciones de ciencias, artes y atletismo.
Le campus de 41 hectares comprend
des dortoirs et climatisation, ainsi que
des amples établissements pour les
sciences, les arts, et le sport.
41


Rolling / Continuo / Continuelles