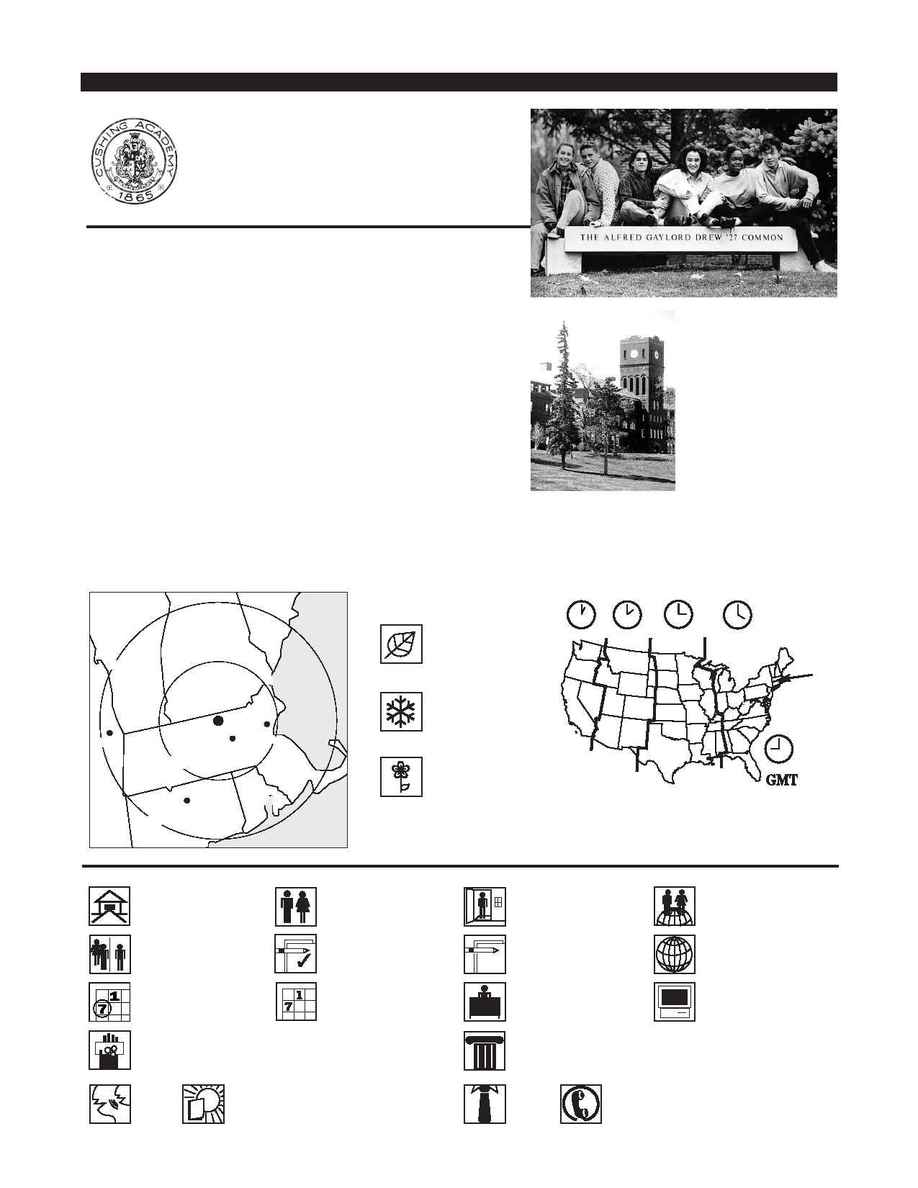 NEW HAMPSHIRE
MASSACHUSETTS
80 km
160 km
ATLANTIC
OCEAN
RHODE
ISLAND
MAINE
CONNECTICUT
VERMONT
NEW
YORK
Cushing Academy
Founded 1865
The 152-acre campus has a new
academic building for math, science,
and the performing arts, along with a
computer network with wireless
access.
El recinto de 61 hectáreas tiene un
nuevo edificio académico para las
matemáticas, ciencias y artes
escénicas, junto con una red de
computadoras con acceso inalámbrico.
Le campus qui s'étale sur près de 61
hectares dispose d'un nouveau
bâtiment pour les mathématiques, les
sciences et le théâtre, ainsi que d'un
réseau informatique équipé d'un accès
sans fil.
61




88 km from Logan International Airport and Boston, MA
A 88 km del aeropuerto internacional de Logan y de Boston, MA
A 88 km de l'aéroport international de Logan et de Boston, MA
Coeducational 9­PG / Mixto / Mixte
663, 481 / solicitaron admisión, fueron
aceptados / candidats, admis
September, January, / septiembre,
enero, / septembre, janvier
9 1
9 1
TOEFL (400­600), SSAT, SLEP
Bentley College, Boston University,
Lynn University, Northeastern
University, University of Colorado
Brazil (14), Hong Kong (28),
Japan (30), Korea (30), Taiwan (26)
UNITED STATES
Cushing offers a college-preparatory program with extensive athletic, artistic, and
theatrical options. ESL, including an intensive 6-week summer session, and
Advanced Placement courses are also provided.
Cushing ofrece un programa de preparación para la universidad que incluye
una gran variedad de opciones deportivas, artísticas y teatrales. También se ofrecen
cursos de inglés como segundo idioma (ESL), incluyendo una sesión de verano
intensiva de 6 semanas y un programa para ingreso a cursos de niveles avanzados.
Cushing offre un programme préparatoire aux universités avec un programme
complet dans le domaine du sport, de l'art et du théâtre. Une session d'été, d'une
durée de 6 semaines, offre un programme intensif d'anglais comme langue
étrangère (ESL) en plus de cours pour équivalences universitaires.
Melanie J. Glines, Director of Admission
P.O. Box 8000
Ashburnham, Massachusetts 01430
Phone: 978-827-7300 Fax: 978-827-6253
E-mail: admission@cushing.org
61



Rolling / Continuo / Continuelles