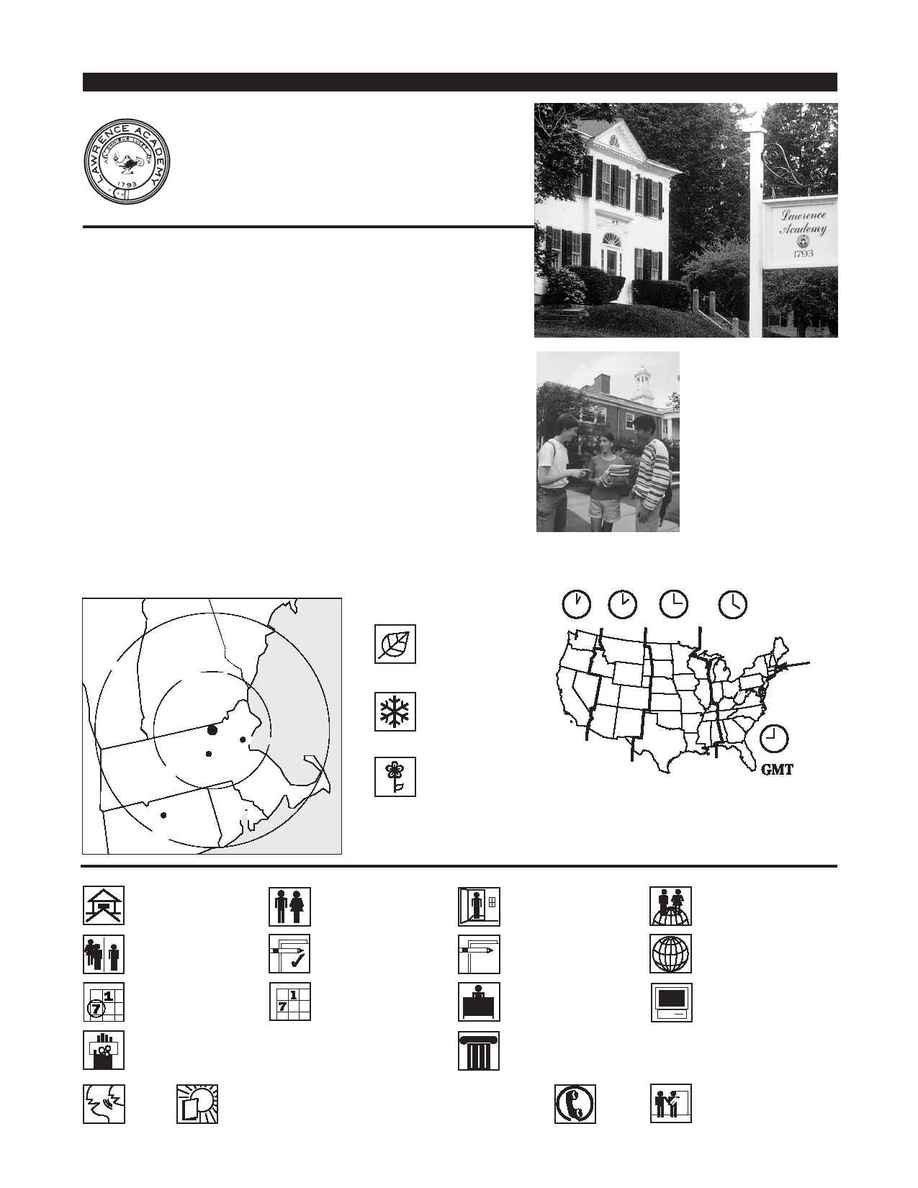 NEW HAMPSHIRE
MASSACHUSETTS
80 km
160 km
ATLANTIC
OCEAN
RHODE
ISLAND
MAINE
CONNECTICUT
VERMONT
Lawrence Academy
NAIS, FAIS, TABS, NAFSA member
Founded 1793
The 99-acre campus includes a Sony
language lab, an athletic complex, an arts
center, a new dormitory, and a new
academic building.
El recinto de 99 acres incluye un
laboratorio de idiomas Sony, un complejo
atlético, un centro de arte, un nuevo
dormitorio y un nuevo edificio académico.
Le campus de près de 40 hectares
propose un laboratoire de langues Sony,
un complexe sportif, un centre pour les
arts, un nouveau dortoir et un nouveau
bâtiment de salles de classe.
40
56 km from Logan International Airport and Boston, MA
A 56 km del aeropuerto internacional de Logan y de Boston, MA
A 56 km de l'aéroport international de Logan et de Boston, MA
56
Logan, MA Boston, MA 56
532, 240 / solicitaron admisión, fueron
aceptados / candidats, admis
February 1 / 1 de febero / 1
2 1
2 1
September, / septiembre, /
septembre,
9
9
Boston College,
Northeastern University, Bowdoin
College, University of Vermont,
Boston University
Germany, Japan, Korea,
Mexico, Thailand
UNITED STATES
A full-time English as a second language (ESL) director works closely with faculty. LA also arranges
TOEFL testing, issues I-20s, sponsors an International Student Association and a host family program.
Un director a tiempo completo del programa de enseñanza del inglés como segundo idioma
(ESL) trabaja de cerca con los profesores. L.A. ayuda con las pruebas TOEFL, emite formularios I-20,
patrocina una asociación de estudiantes extranjeros y programas de familias anfitrionas.
Un directeur à plein temps travaille en étroite liaison avec les professeurs. LA organise aussi
l'examen TOEFL, fournit les documents nécessaires à l'obtention d'un visa, parraine l'association
internationale des étudiants aussi bien qu'un programme d'accueil en famille.
TOEFL I-20

Andrea O'Hearn
Director of Admissions
Powderhouse Road, P.O. Box 992
Groton, Massachusetts 01450
Phone: 978-448-6535 Fax: 978-448-9208
40 Sony


Coeducational 9­12 / Mixto / Mixte