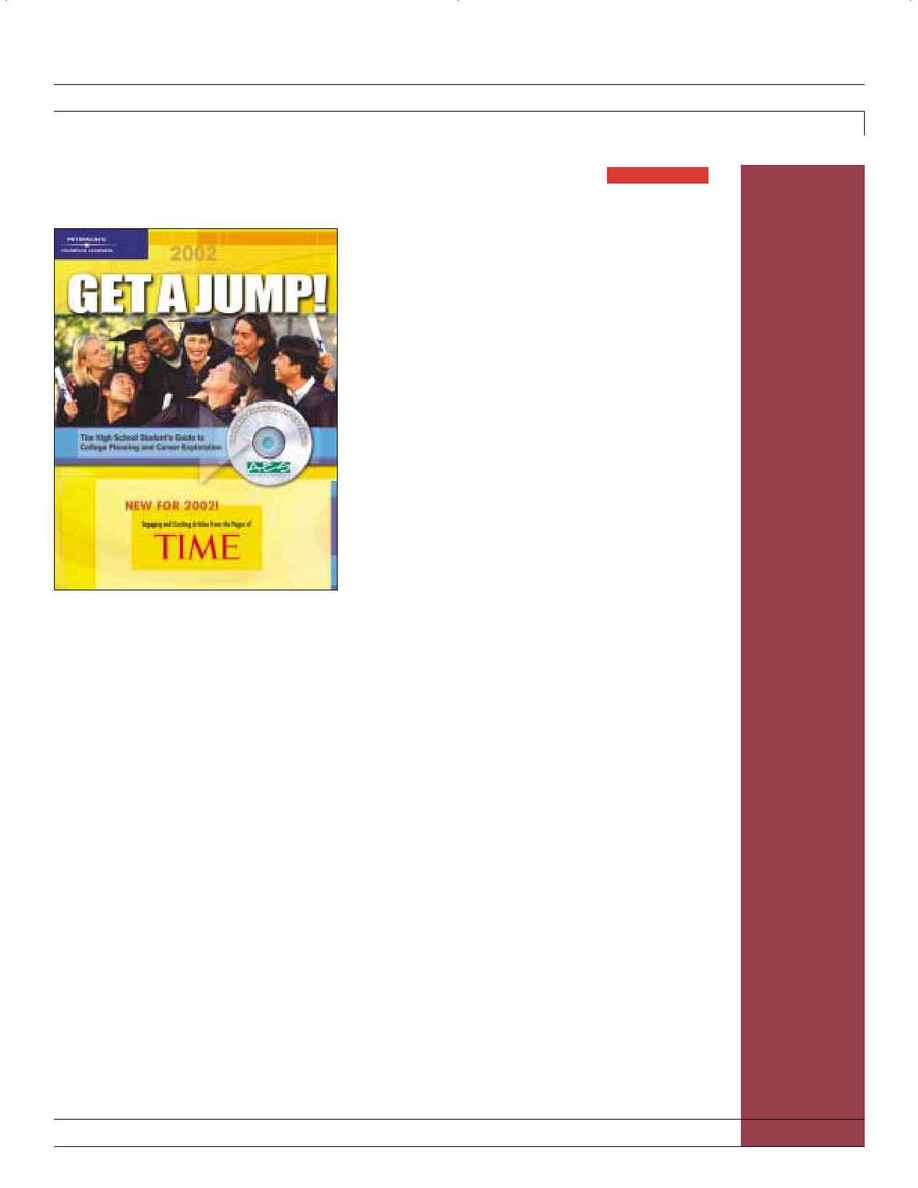 Get a Jump! 2002
NEW EDITION
Now with engaging and provocative articles from the pages of Time
It's TIME for your students to Get a Jump on life after
high school with college and career guidance--customized
by region!
Packed with quizzes, activities, and fun-filled worksheets,
each volume in this hugely popular college and career
guidance magazine series helps you get high school
students to focus on the educational and work
opportunities open to them in their area. Featuring:
State and regional colleges, universities, and vo-tech schools
State and national scholarship opportunities
Tips on college visits, applications, and interviews
Advice from college admissions counselors
Resume, job-interview, and job-search techniques
Surveys and self-assessments for evaluating
career prospects
How to cope with stress, drugs, and alcohol
Bonus CD with a step-by-step overview of the financial
aid process from American Education Services, a leading
educational lending organization
Plus, reprinted from Time:
Insights on today's hottest jobs from well-known management consultant Tom Peters
A lighthearted take on SAT performance
News about colleges that are considering removing the SAT as an application requirement
An in-depth, inside look at how college admissions committees decide on who gets in and who doesn't
EACH: ISBN Prefix: 0-7689-, 8
x 11, $9.95 pb/$14.95 CAN, 3rd ed., October 2001
Middle Atlantic
ISBN: 0824-8, 242 pp
DE, DC, MD, NJ, PA, VA, and WV
Midwest
ISBN: 0827-2, 256 pp.
IL, IN, IA, KS, MI, MN, MO, NE, ND, OH, OK, SD, and WI
New England
ISBN: 0825-6, 232 pp.
CT, ME, MA, NH, RI, and VT
New York
ISBN: 0830-2, 240 pp.
South
ISBN: 0828-0, 242 pp.
AL, AR, FL, GA, KY, LA, MS, NC, SC, and TN
Texas
ISBN: 0826-4, 210 pp.
West
ISBN: 0829-9, 235 pp.
AK, AZ, CA, CO, HI, ID, MT, NV, NM, OR, UT, WA, and WY
Be sure to visit www.petersons.com/getajump for an online teacher's guide with sample
lesson plans, homework assignments, exercises, and more.
REGULARLY $9.95, ORDER BULK COPIES FOR AS LITTLE AS $3.95 EACH!
7
page
collegeandcareerguidance
ISBN Prefix: 0-7689- unless otherwise noted
ordertoday!
800-338-3282, ext. 5370 609-896-1800, ext. 5370 fax 609-896-4544
www.petersons.com
Teacher Jumps for
Get a Jump!
to counsel parents
and am teaching a
workshop based on
the book this fall at
my high school. I
always share
Jump! as one of
the best resources
in my counselor's
toolkit. In fact, I
am so impressed
with this book that
I gave it out last
November to all the
skydiving drop
zones my partner
and I visited on
a world record
challenge. I could
think of no better
gift to leave at a
drop zone where so
many young people
gather to skydive."