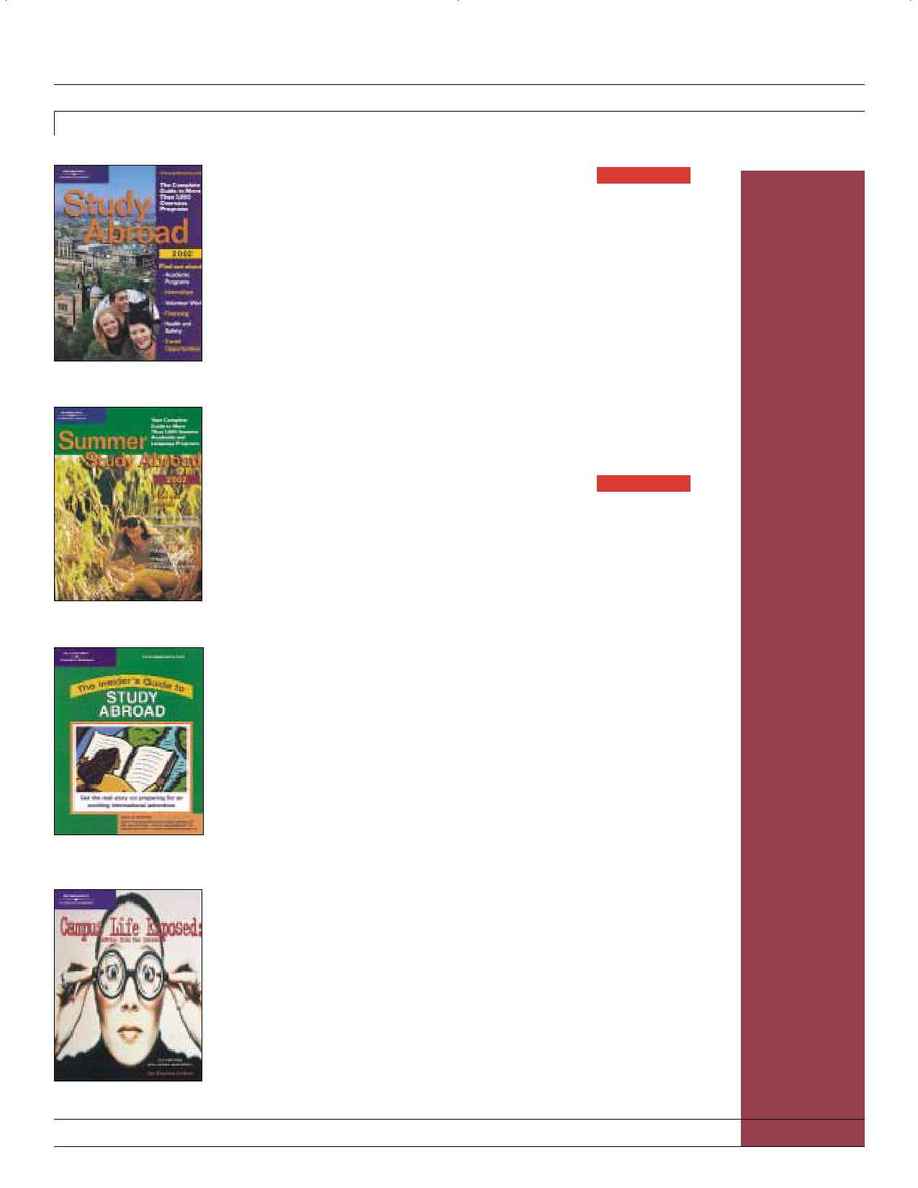 Study Abroad 2002
NEW EDITION
The foreign study standard, with information
on more than 1,700 programs
Help college students looking for excitement, challenge, a notch on
their resume, or all 3 find an exciting overseas study adventure. From
Australia to Zimbabwe, this expanded volume profiles more than 1,700
accredited semester and full-year study-abroad programs offered by
more than 350 U.S. and international colleges and universities. Also:
Advice on obtaining passports, visas, and ID cards
Informative articles on culture shock, budgeting, safety, and health
Facts on internships and volunteer programs
Program options for physically and learning disabled students
ISBN: 0565-6, 1,152 pp., 8
x 11, $29.95 pb/$44.95 CAN/£19.99 UK, 9th ed., December 2001
Available on Standing Order!
Summer Study Abroad 2002
NEW EDITION
The summer counterpart to Study Abroad 2002
Study botany in Costa Rica! Learn Indonesian in Jakarta! Once-in-a-
lifetime opportunities like these are thoroughly described in this
meticulously revised and comprehensive directory, ideal for students
who prefer shorter overseas experiences during summer break.
Explore more than 1,600 credit and noncredit academic programs,
foreign language courses, internships, and volunteer opportunities. Also:
Advice on visas, ID cards, and earning college credit
Tips on staying healthy and playing it safe
Insights on studying at non-traditional destinations
ISBN: 0566-4, 704 pp., 8
x 11, $29.95 pb/$44.95 CAN/£19.99 UK, 5th ed., December 2001
Available on Standing Order!
The Insider's Guide to Study Abroad
College students can find out what it really takes to see the world and
get credit for it. Anne M. Moore, an experienced study-abroad director,
discusses visas, health, financial planning, credit transfers, and the all-
important culture shock. Great for high school students too!
ISBN: 0590-7, 360 pp., 7
, $14.95 pb/$21.95 CAN/£12.99 UK, 1st ed., February 2001
Campus Life Exposed: Advice from the Inside
Twenty-something newspaper and online advice columnist Harlan
Cohen takes apart letters from his columns and anecdotes from his
own experiences to help college-bound and current college students
cope with dating, drugs, roommates, and more.
ISBN: 0498-6, 240 pp., 7
, $14.95 pb/$21.95 CAN/£12.99 UK, 1st ed., 2000
educationalguidance--college
6
page
ISBN Prefix: 0-7689- unless otherwise noted
ordertoday!
800-338-3282, ext. 5370 609-896-1800, ext. 5370 fax 609-896-4544
www.petersons.com
Have your
students visit
www.petersons.com
where they can
learn how to take
the "shock" out of
culture shock.