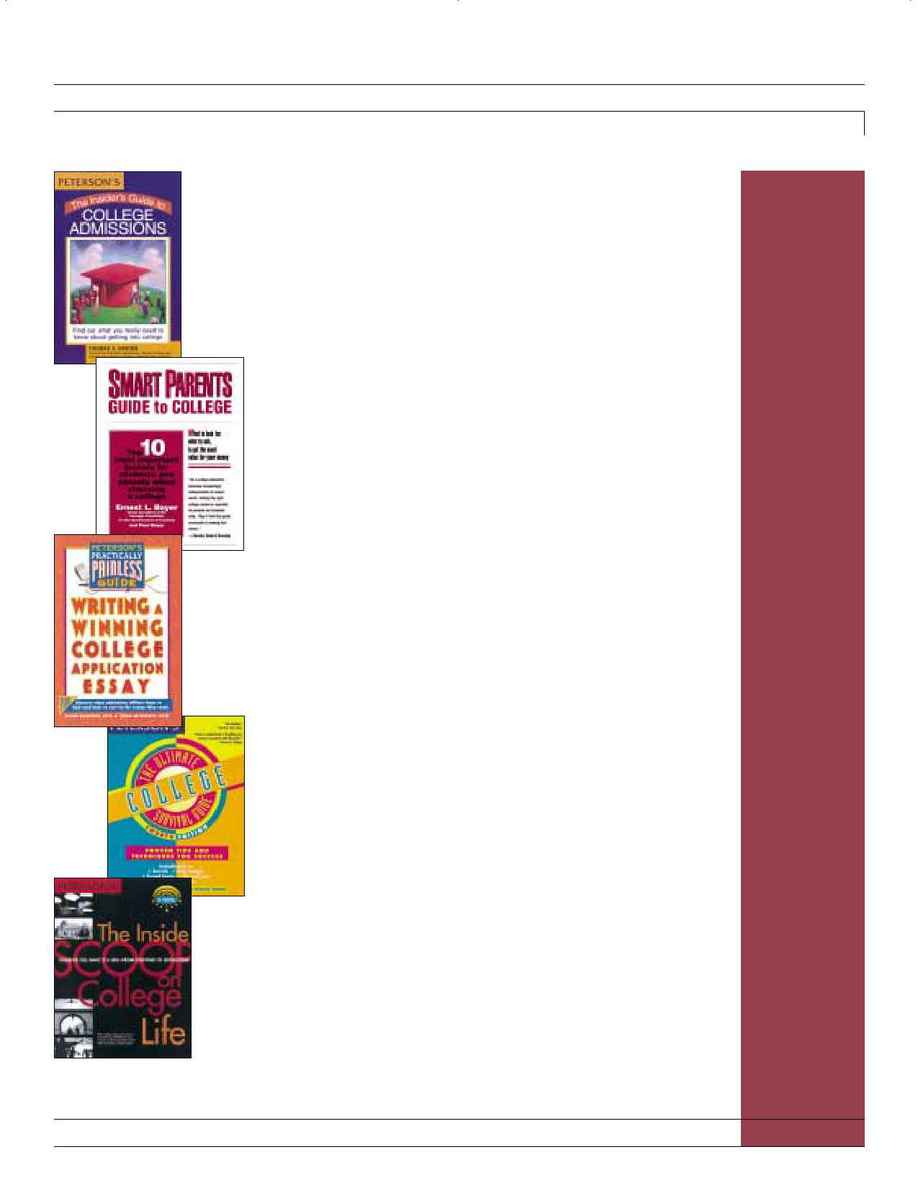 The Insider's Guide to College Admissions
Familiarize students and parents with every important step in the
college admissions process with this useful guide by a former college
admissions director. The author provides expertise on online
applications, admissions strategies, financial aid, and what really goes
on in college admissions committee meetings. Great for families
encountering the admissions process for the very first time!
ISBN: 0231-2, 310 pp., 6 x 9, $14.95 pb/$21.95 CAN/£12.99 UK, 5th ed., 1999
Smart Parents Guide to College
Co-written by former U.S. Commissioner of Education Dr. Ernest Boyer,
this book instructs parents to evaluate and compare colleges using
ten crucial criteria, from quality of faculty to quality of campus life.
With this quick and informative read, parents learn to become savvy
college shoppers.
ISBN: 1-56079-591-3, 239 pp., 7
, $16.95 pb/$23.95 CAN/£17.99 UK, 1st ed., 1996
Writing a Winning College Application Essay
Help students perfect their essay-writing skills with these simple and
manageable steps that cover planning, composing, revising, and
polishing. They'll learn to overcome writing phobia, develop an original
angle, and avoid common errors.
ISBN: 1-56079-601-4, 136 pp., 6 x 9, $9.95 pb/$13.95 CAN/£7.99 UK, 1st ed., 1996
The Ultimate College Survival Guide
This bestseller fulfills your needs on introducing students to handling
the challenges of college life outside the classroom. It covers
everything from roommates and research papers to professors and
financial pressures in an easy-to-read, student-friendly style. Includes
advice for international students.
ISBN: 0010-7, 304 pp., 7
, $14.95 pb/$20.95 CAN/£12.99 UK, 4th ed., 1999
The Inside Scoop on College Life
Written and compiled by college journalists reporting for U-Wire, this
student-friendly guide is packed with insights about academics and
campus atmosphere at 2-year colleges, large state schools, small
liberal arts colleges, and even religiously affiliated institutions.
ISBN: 0325-4, 368 pp., 8
x 11, $16.95 pb/$24.95 CAN/£14.99 UK, 1st ed., 1999
5
page
educationalguidance--college
ISBN Prefix: 0-7689- unless otherwise noted
ordertoday!
800-338-3282, ext. 5370 609-896-1800, ext. 5370 fax 609-896-4544
www.petersons.com