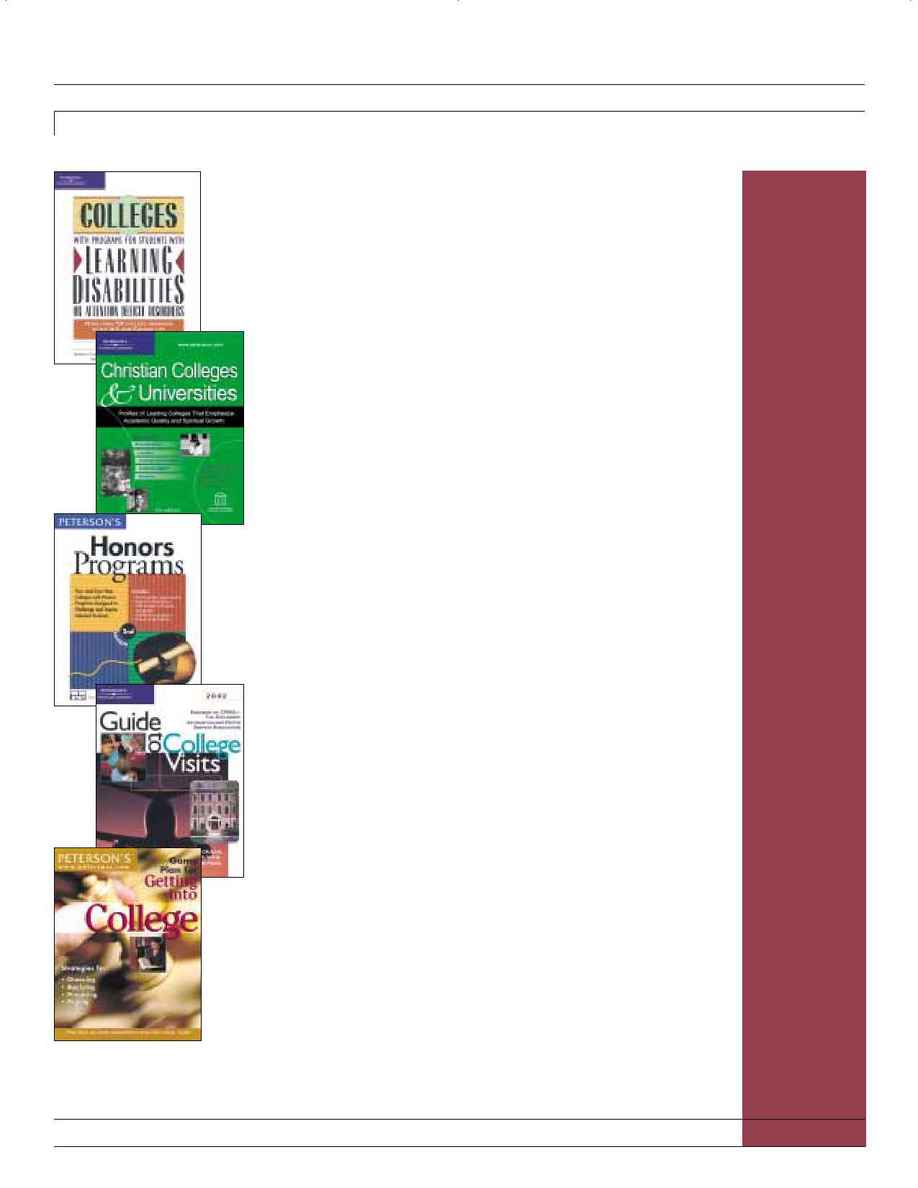 Colleges with Programs for Students with Learning
Disabilities or Attention Deficit Disorders
Direct special-needs students to services and programs at 1,000
two- and four-year colleges and universities in the U.S. and Canada.
With specific information on testing, tutoring, and counseling, plus
professional advice on college selection and preparation, students and
families can make a smooth transition to college.
ISBN: 0455-2, 384 pp., 8
x 11, $29.95 pb/$43.95 CAN/£19.99 UK, 6th ed., 2000
Available on Standing Order!
Christian Colleges & Universities
Ideal reading for today's Christian students and parents concerned
about making the right college choice. Introduces 100 four-year
colleges affiliated with a range of Christian denominations that
emphasize spiritual and ethical values, as well as rigorous academics.
ISBN: 0586-9, 200 pp., 7
, $14.95 pb/$21.95 CAN, 7th ed., 2000
Available on Standing Order!
Honors Programs
Another must-have reference for your high-achieving students! This
guide describes honors programs and merit-based scholarships
offered by more than 450 public and private U.S. institutions. Provides
important information on application contacts, eligibility requirements,
study-abroad programs, and athletic scholarships.
ISBN: 0254-1, 576 pp., 8
x 11, $24.95 pb/$36.95 CAN/£17.99 UK, 2nd ed., 1999
Guide to College Visits 2002
Remind students and families of one of the most important--and
overlooked--components of the college-search process by
recommending this perennial bestseller. Packed with practical
information on more than 600 colleges and universities, it even identifies
lodging (with phone numbers), the nearest airport, and nearby
campuses so that families can combine multiple school visits in one trip.
ISBN: 0653-9, 592 pp., 7
, $14.95 pb/$21.95 CAN/£12.99 UK, 3rd ed., July 2001
Game Plan for Getting into College
Students want sound advice and practical strategies for getting into
college. With practical tidbits on everything from admissions tests and
applications to financial aid and campus life, this easy-to-read college
primer speaks to freshmen and sophomores in high school as well as
upperclassmen who've already been accepted. Ambitious students can
even get advice on planning their college curriculum.
ISBN: 0390-4, 220 pp., 7
, $14.95 pb/$21.95 CAN/£12.99 UK, 1st ed., 2000
ISBN Prefix: 0-7689- unless otherwise noted
ordertoday!
800-338-3282, ext. 5370 609-896-1800, ext. 5370 fax 609-896-4544
www.petersons.com
With the QuickStart
Counselor, users get
education advice from
an online counselor--
in real time!
Available at
www.petersons.com
educationalguidance--college
4
page