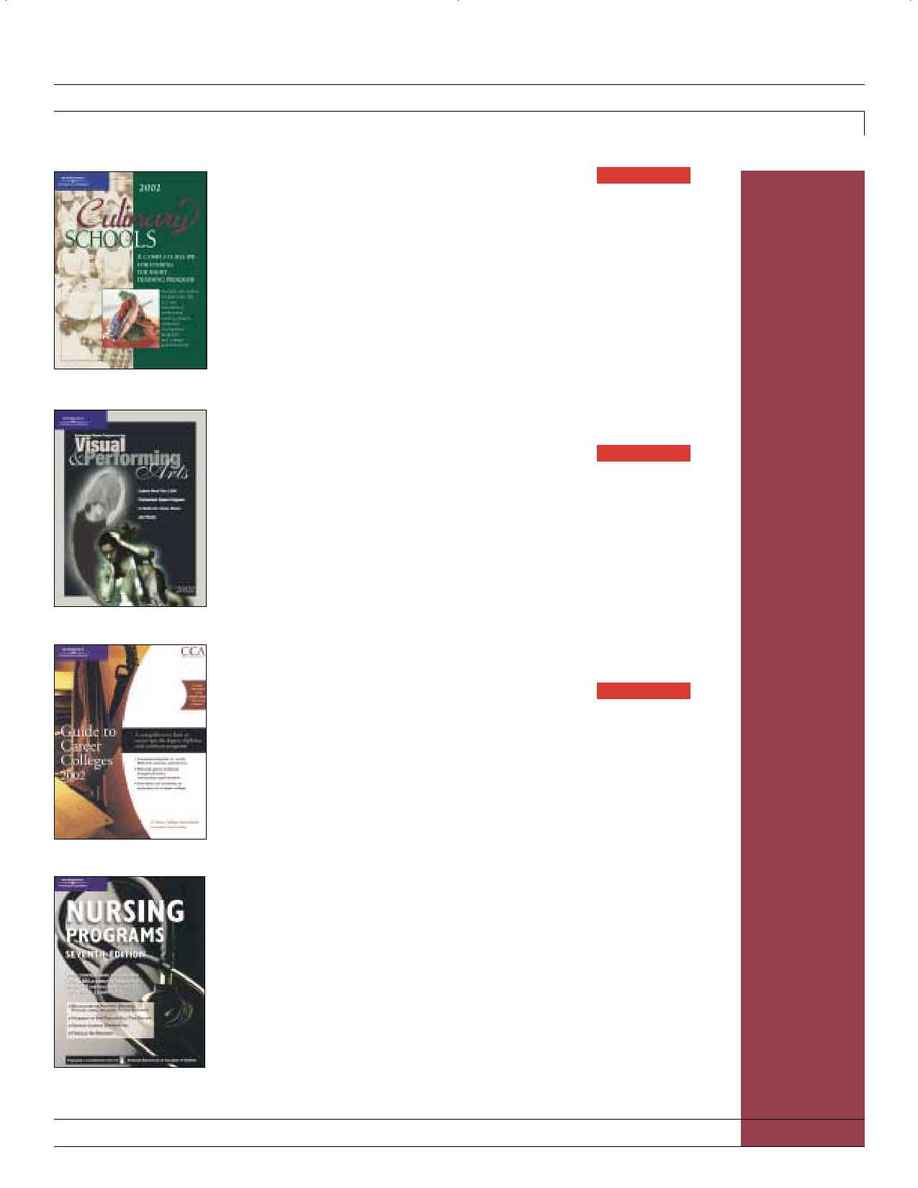 Culinary Schools 2002
NEW EDITION
A feast of information for aspiring chefs and restaurateurs
This unique directory is a crucial ingredient in a student's recipe for
professional success, introducing more than 500 U.S. and international
degree and certificate programs, apprenticeships, and restaurant
management programs. Readers will learn about tuition, faculty
backgrounds, contacts, and more. Candid insights from students, chefs,
and school directors are sure to appeal to serious students with a
passion for cooking. Plus, up-to-date tips on finding and applying for
financial aid.
ISBN: 0563-X, 432 pp., 8 x 10, $24.95 pb/$37.95 CAN/£17.99 UK, 5th ed., January 2002
Professional Degree Programs in the
Visual and Performing Arts
NEW EDITION
Over 1,000 programs listed--more than any other guide!
Where can students learn about becoming a painter, photographer, actor,
or dancer? The latest edition of this resource has been expanded to
include more than 1,000 programs at nearly 650 U.S. and Canadian
institutions--such as music conservatories, design schools, and four-
year universities. Filled with the latest on application contacts, tuition,
faculty background, and more. Readers will learn about preparing for an
audition, putting together a portfolio, and pursuing a career in the arts.
ISBN: 0561-3, 640 pp., 8
x 11, $26.95 pb/$39.95 CAN/£18.99 UK, 7th ed., October 2001
Guide to Career Colleges 2002
NEW EDITION
A diverse collection of career-track educational programs
Help students and adult learners explore nearly 900 Career College
Association (CCA) institutions offering degree and certificate programs
in many of today's fastest-growing fields--computer applications,
broadcasting, and more. You also get information on the Career
Training Foundation's (CTF) exclusive Imagine America scholarship
program for graduating high school seniors.
ISBN: 0771-3, 448 pp., 8
x 11, $14.95 pb/$22.95 CAN/£12.99 UK, 2nd ed., January 2002
Nursing Programs 2002
The first place to look for a comprehensive overview of more than 2,000
accredited undergraduate and graduate programs at nearly 700
American and Canadian colleges. Aside from details on admission
requirements, tuition costs, and research facilities, readers can
research job opportunities and get career guidance.
ISBN: 0556-7, 624 pp., 8
x 11, $26.95 pb/$39.95 CAN/£18.99 UK, 7th ed., May 2001
Available on Standing Order!
3
page
educationalguidance--college
ISBN Prefix: 0-7689- unless otherwise noted
ordertoday!
800-338-3282, ext. 5370 609-896-1800, ext. 5370 fax 609-896-4544
www.petersons.com
The U.S. Bureau of
Labor Statiatics lists
chefs, cooks, and
other culinary
positions as some
of the fastest
growing occupations
through 2005.
Career colleges
comprise 47% of all
postsecondary
institutions in the U.S.