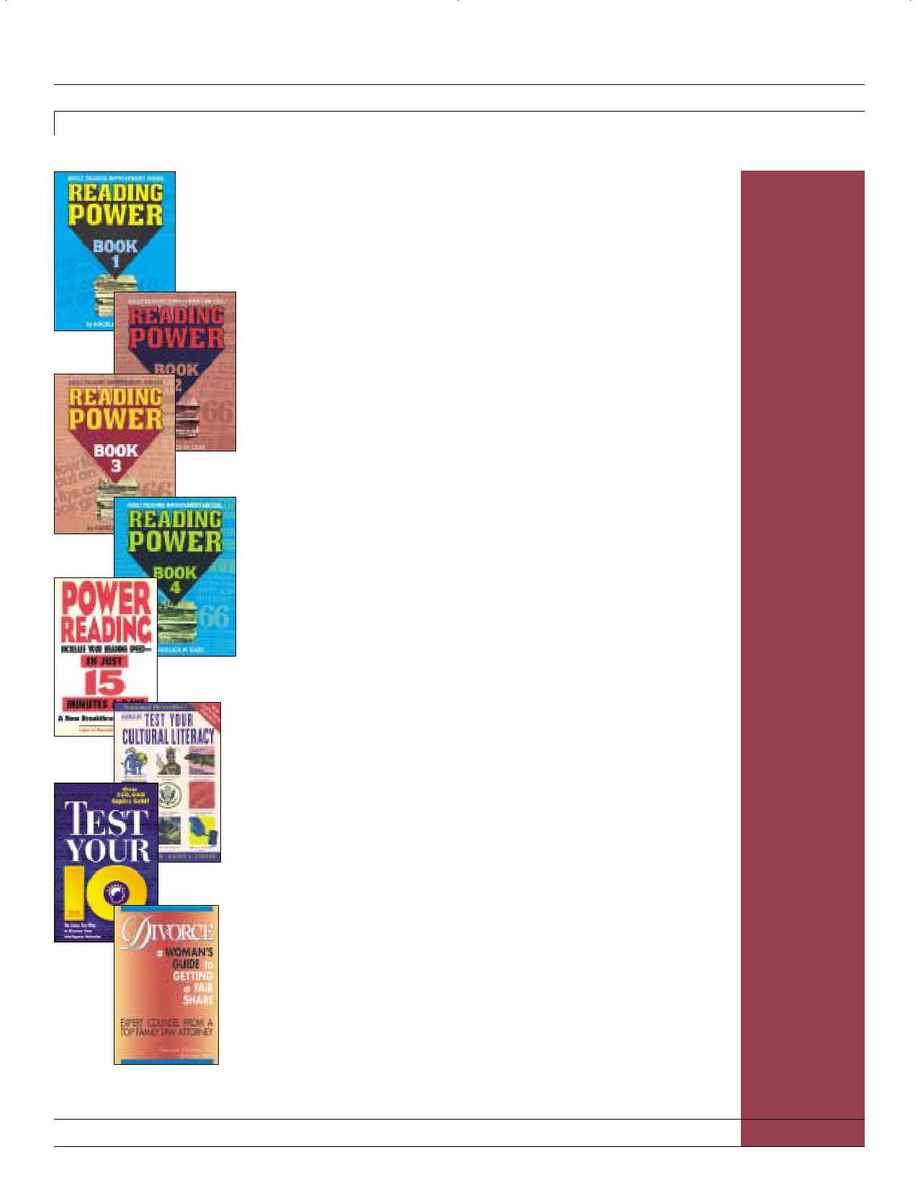 Reading Power Series
For adults who need extra help in moving beyond a basic reading level
or for ESL students looking for additional reading practice, each
workbook in this 4-volume set contains vocabulary lists, puzzles,
exercises, drills, sample reading passages, and activities to improve both
reading comprehension and speed. Book 1 is geared mainly towards
beginning readers, and the level of difficulty increases accordingly.
EACH: ISBN Prefix: 0-668-, 8
x 11, $8.00 pb/$12.95 CAN/£7.99 UK
Power Reading
Readers of all ages and abilities can learn to increase speed and
comprehension--in just 15 minutes per day! This quickstart program
includes daily drills and exercises, techniques for reading periodicals,
textbooks, and documents, and special strategies for easy absorption
of electronic data.
ISBN: 0-02-860562-4, 208 pp., 6
, $12.95 pb/$17.95 CAN/£9.99 UK, 1st ed., 1995
Test Your Cultural Literacy
Readers get a chance to gauge their knowledge and comprehension of
prominent people, places, and events that have shaped Western and
global modern culture. Each of the 14 tests is meant for lighthearted but
thoughtful amusement.
ISBN: 0-671-84716-3, 336 pp., 5
x 8, $10.95 pb/$14.95 CAN/£7.99 UK, 2nd ed., 1993
Test Your IQ
An entertaining yet challenging way to accurately measure your
IQ. This bestseller includes exercises to raise your intelligence,
a fascinating discussion on left- and right-brain intelligence
capabilities, and a full-length self-scoring IQ test.
ISBN: 0-02-863746-1, 112 pp., 5
, $6.95 pb/$10.95 CAN, 5th ed., 2000
Divorce: A Woman's Guide to Getting a Fair Share
A leading family law attorney offers expert and practical advice
for women who want to protect themselves and their interests.
Written in an easy-to-understand manner and with legal jargon kept
to a minimum.
ISBN: 0-02-860344-3, 264 pp., 6
, $15.95 pb/$21.95 CAN/£12.99 UK, 1st ed., 1995
Reading Power
(Book 3)
ISBN: 05970-2, 160 pp., 1983
Reading Power
(Book 4)
ISBN: 05971-0, 192 pp., 1985
Reading Power
(Book 1)
ISBN: 05968-0, 128 pp., 1981
Reading Power
(Book 2)
ISBN: 05969-9, 176 pp., 1985
educationalguidance--distancelearning/lifelonglearning
24
page
ISBN Prefix: 0-7689- unless otherwise noted
ordertoday!
800-338-3282, ext. 5370 609-896-1800, ext. 5370 fax 609-896-4544
www.petersons.com