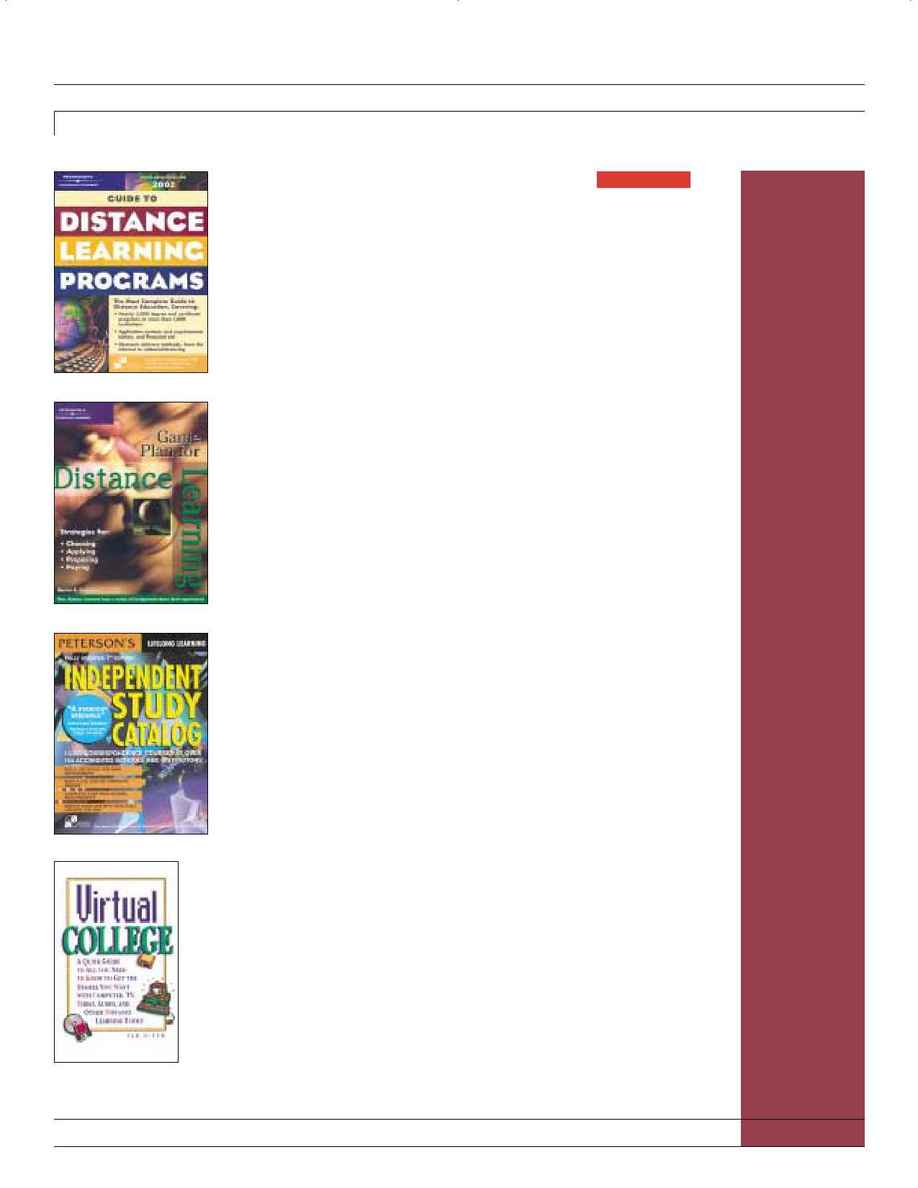 Guide to Distance Learning Programs 2002
NEW EDITION
The nation's leading source--substantially revised to
include only accredited programs
Distance learning offers students, particularly adult learners, the
convenience of taking a course or earning a degree without going near
a classroom. Listing only accredited programs, the latest edition of this
pioneering guide describes hundreds of certificate, bachelor's, master's,
and Ph.D. opportunities offered via the Internet, videoconferencing,
fax, satellite TV, and other forms of electronic media. More than 500
institutions in the U.S. and Canada are represented. Plus:
The benefits of a distance learning education
Information on distance learning consortia
Bonus CD with FREE access to online program information
ISBN: 0555-9, 864 pp., 8
x 11, with CD, $26.95 pb/$39.95 CAN/£18.99 UK,
6th ed., October 2001
Available on Standing Order
Game Plan for Distance Learning
Help students discover the convenience of distance learning with this
concise, introductory handbook! Readers can find descriptions of
all types of electronic delivery methods, learn what to look for in a
reputable program, and determine whether or not distance learning
really is the option best suited for their educational and professional
goals. Best of all, distance learners from a variety of backgrounds
share their own experiences.
ISBN: 0629-6, 192 pp., 7
, $14.95 pb/$21.95 CAN/£12.99 UK, 1st ed., June 2001
Independent Study Catalog
Describes more than 13,000 correspondence courses in hundreds of
subjects in the arts and sciences at 140 institutions nationwide. Great
for all kinds of students, from college-bound high school graduates to
older students continuing to learn throughout retirement. Each profile
lists tuition, fees, key contacts, credit, and non-credit options.
ISBN: 0008-5, 400 pp., 7
, $21.95 pb/$30.95 CAN/£16.99 UK, 7th ed., 1998
Virtual College
One of the first publications to bring the world of distance learning to a
wide audience, this groundbreaking guide remains a popular general
introduction. Students can find comprehensive descriptions of every
type of electronic delivery method available--computer, TV, video, and
more--and weigh the pros and cons of choosing distance learning
over classroom-based training programs.
ISBN: 1-56079-629-4, 168 pp., 6 x 9, $9.95 pb/$13.95 CAN/£7.99 UK, 1st ed., 1996
educationalguidance--distancelearning/lifelonglearning
22
page
ISBN Prefix: 0-7689- unless otherwise noted
ordertoday!
800-338-3282, ext. 5370 609-896-1800, ext. 5370 fax 609-896-4544
www.petersons.com
Recent estimates
predict that more than
2.2 million people
(15% of all U.S. higher
education students)
will be taking at least
one distance learning
course by 2002, a
threefold increase over
1998 figures.