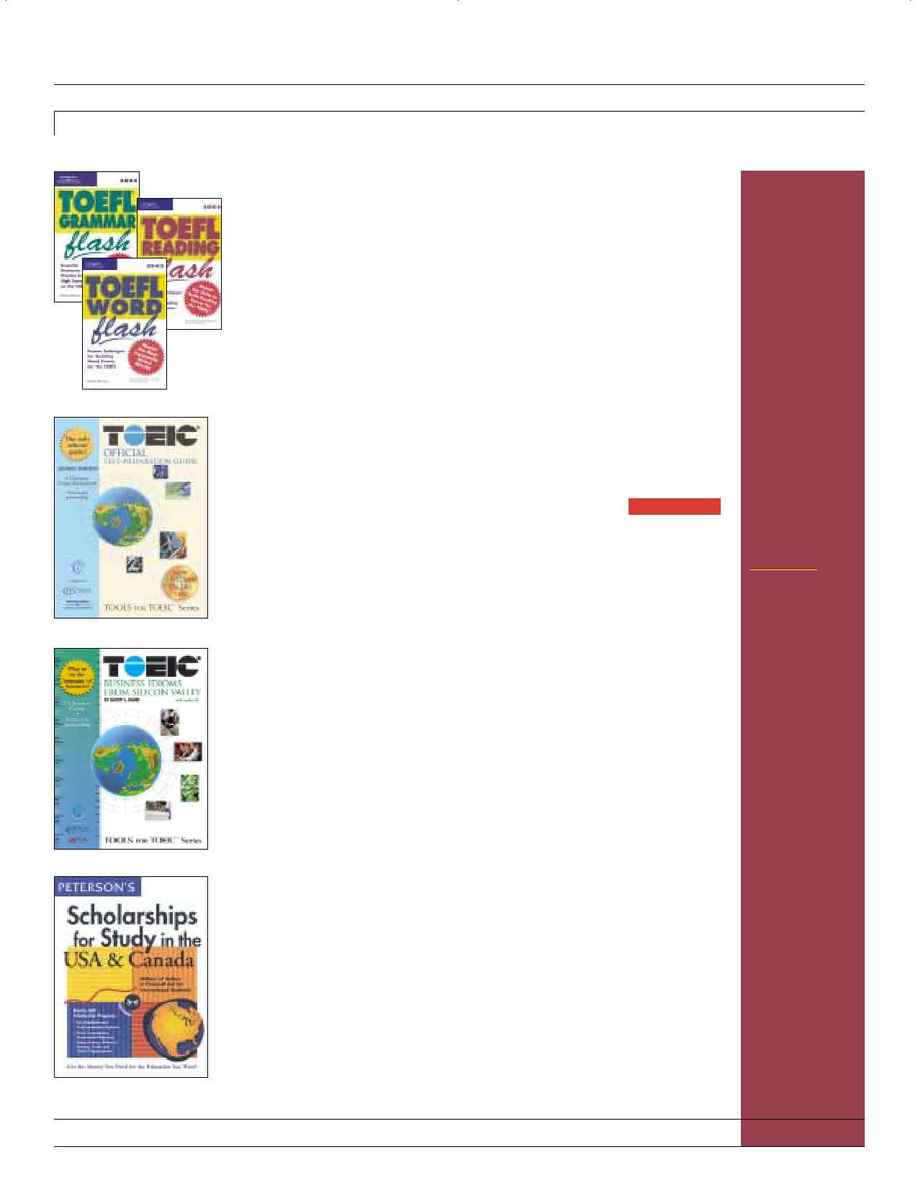 TOEFL CBT Test Dates:
By appointment at
Prometric
Centers in the U.S. and
selected countries
Paper Test:
Once a month in
certain countries
More than 1 million
students take the TOEFL
test each year and most
do so electronically, in a
computer-based format.
TOEIC Test Dates:
Have students visit
www.toeic.com to learn
more about how to
make an appointment.
One million individuals
take the TOEIC each year.
educationalguidance--forinternationalstudents
20
page
ISBN Prefix: 0-7689- unless otherwise noted
TOEFL
®
Flash 2002 Series
Each book in this 3-volume series is a perfect addition to any international
student's TOEFL test-preparation library. Used ideally as supplemental desk
references to a more comprehensive handbook such as TOEFL
®
Success, they
feature five sample tests and are suitable for all English levels.
TOEFL
®
Grammar Flash 2002
ISBN: 0624-5, 216 pp., 6 x 9, $9.95 pb/$14.95 CAN/£7.99 UK, 3rd ed., April 2001
TOEFL
®
Reading Flash 2002
ISBN: 0625-3, 176 pp., 6 x 9, $9.95 pb/$14.95 CAN/£7.99 UK, 3rd ed., April 2001
TOEFL
®
Word Flash 2002
ISBN: 0626-1, 240 pp., 6 x 9, $9.95 pb/$14.95 CAN/£7.99 UK, 3rd ed., April 2001
TOEIC
®
: The Official Test-Preparation
Guide 2002
NEW EDITION
The only official guide to the test!
The TOEIC test has become the standard proficiency test for business
professionals whose first language is not English. This easy-to-use preparation
package--a joint effort from Peterson's and the Chauncey Group International,
the developers of the TOEIC--provides test strategies, skill review, and other
study tools to strengthen language ability and earn great scores. This original
volume in Chauncey's official "Tools for TOEIC" series also features:
2 full-length practice tests, with a score conversion table
200 additional TOEIC practice questions
3 audio CDs
ISBN: 0778-0, 384 pp., 8
x 11, with 3 audio CDs, $29.95 pb/$43.95 CAN/£19.99 UK, 2nd ed., July 2001
TOEIC
®
Business Idioms from Silicon Valley
Help language learners survive in a supercharged, high-tech working
environment with this practical overview of the latest words and phrases, straight
out of Silicon Valley! One hundred of the most commonly used business idioms
are explained through examples of real-life situations and hundreds of exercises
and quizzes. With audio CD!
ISBN: 0587-7, 208 pp., 8
x 11, with audio CD, $19.95 pb/$29.95 CAN/£14.99 UK, 1st ed., 2000
Scholarships for Study in the USA & Canada
Here's a treasury of 450,000 undergraduate and graduate scholarships, grants,
and other non-institutional funding worth more than $600 million and available
exclusively to international students. The easy-to-use indexes are ideal for non-
native English speakers.
ISBN: 0266-5, 380 pp., 7
, $21.95 pb/$32.95 CAN/£16.99 UK, 3rd ed., 1999
Available on Standing Order!
ordertoday!
800-338-3282, ext. 5370 609-896-1800, ext. 5370 fax 609-896-4544
www.petersons.com