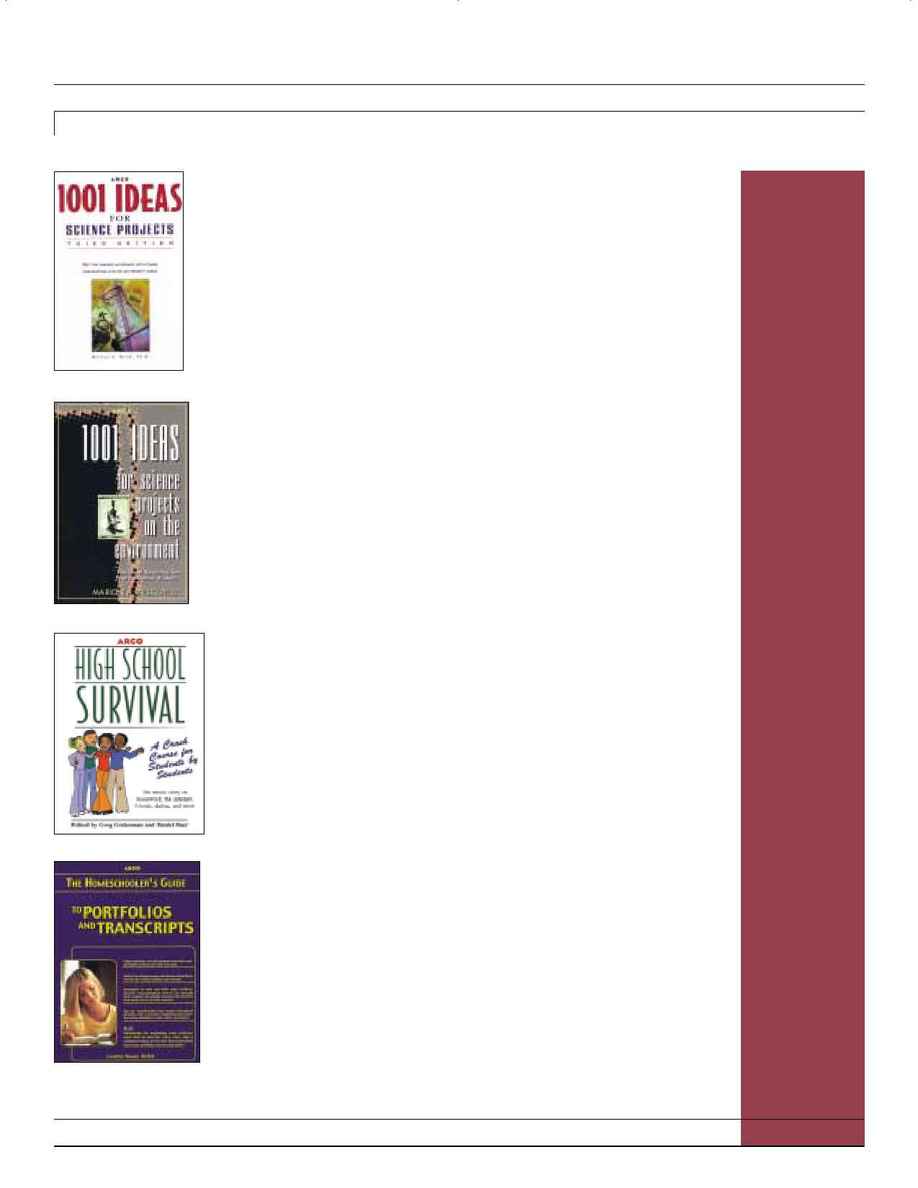 educationalguidance--secondaryschools
18
page
ISBN Prefix: 0-7689- unless otherwise noted
ordertoday!
800-338-3282, ext. 5370 609-896-1800, ext. 5370 fax 609-896-4544
www.petersons.com
1001 Ideas for Science Projects
Get middle and high school students excited about creating original science
projects with this stimulating handbook. Informative and useful, it covers
every area of science, from astronomy and medicine to psychology and
space science. And each project is organized by level of difficulty, need for
lab work, and availability of resources. Teachers can find great ideas too!
Special features include:
Safety instructions for all experiments
Tips on writing project reports
A complete set of directions for every project
ISBN: 0-02-862513-7, 272 pp., 5
x 8, $14.95 pb/$18.95 CAN/£12.99 UK, 3rd ed., 1998
1001 Ideas for Science Projects on the Environment
This companion volume to 1001 Ideas for Science Projects helps you and
your students explore even more exciting project ideas in the environmental
sciences. And, like that bestseller, the book guides readers through the main
points of project development and execution and lists resources that provide
extra help. Energy resources, human ecology, water management--topics
are lifted right from the headlines, providing students with timely ideas that
make learning fun.
ISBN: 0-02-861707-X, 256 pp., 5
x 8, $12.95 pb/$17.95 CAN/£12.99 UK, 1st ed., 1997
High School Survival
Put middle school students' fears to rest with this entertaining handbook
written by energetic high schoolers who reveal their own personal stories
and concerns. A great read for parents as well, this unique guide is
informative without being preachy and contains contributions from students
all over the U.S. The authors offer anecdotes on homework, testing, after-
school jobs, parents, friends, and more.
ISBN: 0-02-863250-8, 256 pp., 6
, $10.95 pb/$16.95 CAN/£7.99 UK, 1st ed., 1999
The Homeschooler's Guide to Portfolios and Transcripts
As the popularity of home schooling continues to rise, interested families
need a reliable resource to help them with the crucial task of showcasing
their child's learning and preparing complete transcripts and portfolios for
college admissions officers and employers. A classroom teacher turned
homeschooler relates her own experiences in this extremely thorough guide.
Parents will learn to track progress and interact professionally with school
officials about grades, college applications, and tests. Features:
Worksheets for organizing activities
Tips on creating multimedia portfolios
A list of additional online and print resources
ISBN: 0-02-863738-0, 384 pp., 8
x 11, $14.95 pb/$22.95 CAN/£12.99 UK, 1st ed., 2000