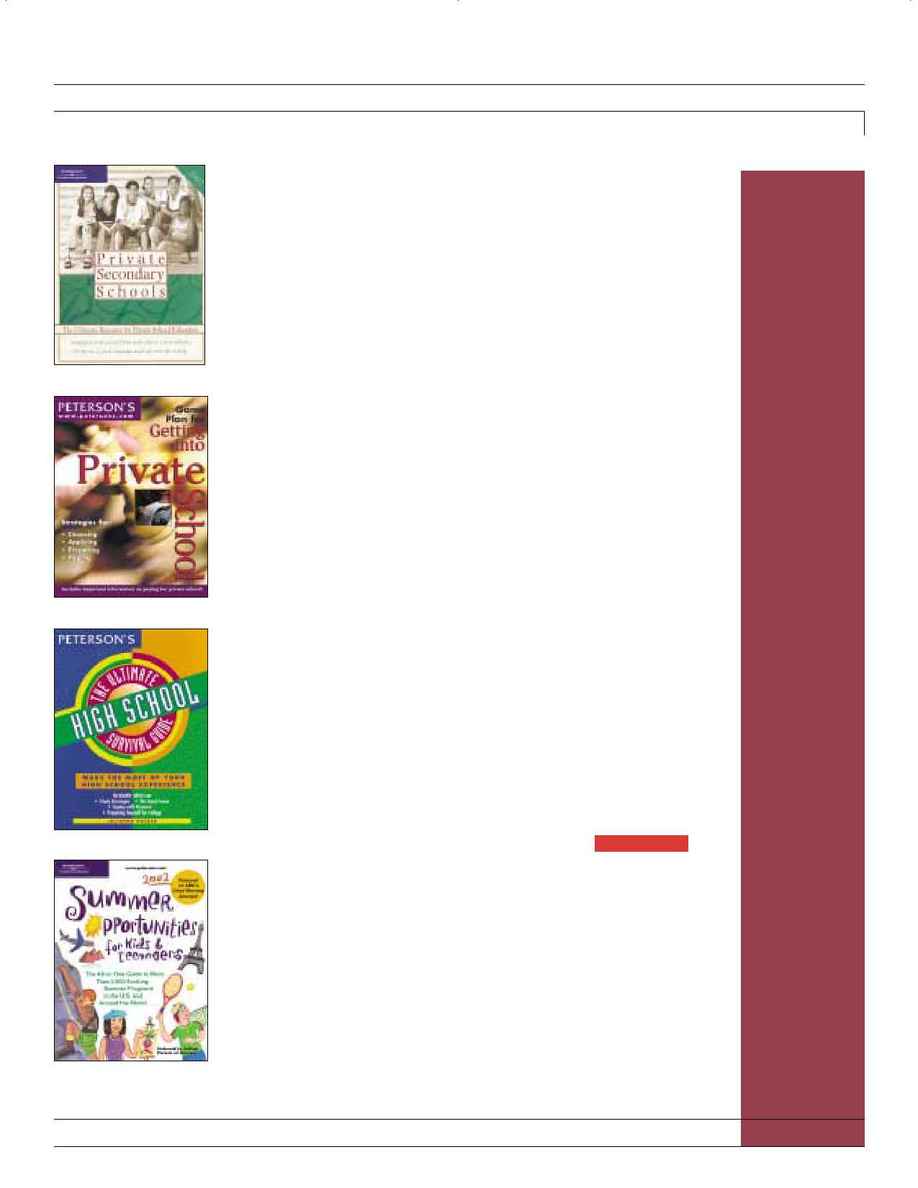 17
page
educationalguidance--secondaryschools
ISBN Prefix: 0-7689- unless otherwise noted
ordertoday!
800-338-3282, ext. 5370 609-896-1800, ext. 5370 fax 609-896-4544
www.petersons.com
Private Secondary Schools 2002
Very popular with education professionals and families from all walks
of life who are searching for private education for their children, this
exclusive guide describes more than 1,800 private 9-12 day, boarding,
religious, special needs, single-sex, coeducational, and military schools
in the U.S., Canada, and abroad. Easy-to-search indexes enable
readers to quickly identify a school's academic programs, tuition costs,
endowment, faculty breakdown, facilities, athletic opportunities, and
more. Plus, explanations of financial aid options, a planning calendar,
and advice from teachers.
ISBN: 0531-1, 1,416 pp., 8
x 11, $29.95 pb/$43.95 CAN/£19.99 UK, 22nd ed., April 2001
Available on Standing Order!
Game Plan for Getting into Private School
Help families discover the benefits of a private school education and
the strategies they need to ensure their child's acceptance into the
school of their choice. The author, a former Head of School at a leading
East Coast independent day school, encourages parents to make
"smart" decisions on everything from how to compare schools to
applications and payment plans.
ISBN: 0387-4, 200 pp., 7
, $14.95 pb/$21.95 CAN/£12.99 UK, 1st ed., 2000
The Ultimate High School Survival Guide
A must-read for both students and parents, and extremely popular with
guidance counselors who recognize the book's power as a well-
rounded overview of the most important stages in the life of all high
school students. You and your students will find smart solutions for
dealing with college planning, test anxiety, peer pressure, and stress
management for all grade levels.
ISBN: 0241-X, 300 pp., 7
, $14.95 pb/$21.95 CAN/£12.99 UK, 1st ed, 1999
Summer Opportunities for Kids
& Teenagers 2002
NEW EDITION
Make someone's summer an adventure to remember
Geared to parents of young readers (ages 7-18), the 2002 edition of this
guide playfully describes more than 2,500 summer activities at camps,
colleges, universities, private schools, and organizations in the U.S. and
abroad. Everything from fine arts and sports clinics to college-prep
courses and community service projects are described in an
informative, easy-to-follow format. Plus, a Fast Facts chart for
identifying specific program features and advice on homesickness and
finding the right program.
ISBN: 0567-2, 1,632 pp., 8
x 11, $29.95 pb/$44.95 CAN/£19.99 UK, 19th ed., November
The Private Schools
channel of
Petersons.com
was voted an
Editor's Pick by
Forbes.com.
Visit and see why!