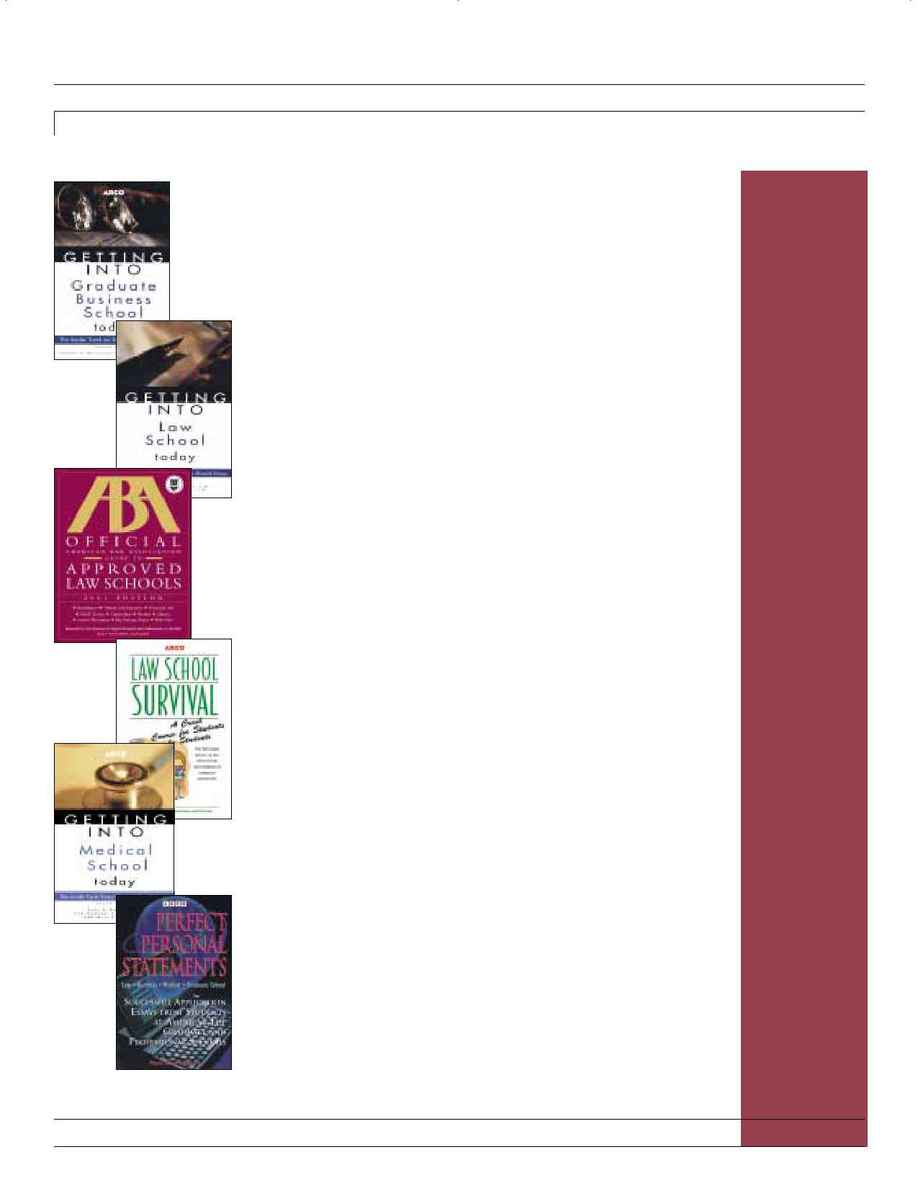 educationalguidance--graduateeducation
16
page
ISBN Prefix: 0-7689- unless otherwise noted
ordertoday!
800-338-3282, ext. 5370 609-896-1800, ext. 5370 fax 609-896-4544
www.petersons.com
Getting into Graduate Business School Today
Two longtime and popular GMAT CAT coaches share their insights on
how to gain admission to many of the nation's top-ranked business
schools. Topics include applications, personal statements, test
preparation, and recommendations.
ISBN: 0-02-862209-X, 168 pp., 6
, $12.95 pb/$18.95 CAN/£9.99 UK, 2nd ed., 1998
Getting into Law School Today
A great introduction to how law school admissions really work, this
concise, practical guide presents the intricacies of admissions committee
decisions in easy-to-read detail. Readers will learn much about the
qualities members look for in an applicant.
ISBN: 0-02-862498-X, 168 pp., 6
, $12.95 pb/$18.95 CAN/£9.99 UK, 3rd ed., 1998
Official ABA Guide to Approved Law Schools, 2001
The only authorized guide from the American Bar Association (ABA), the
official accrediting body for all U.S. law schools, this fact-filled directory
is ideal for every prelaw student, prelaw adviser, and law office. It's
packed with need-to-know information about curricula, tuition, bar
passage rates, financial aid, and more.
ISBN: 0-7645-6231-2, 480 pp., 8
x 11, $21.95 pb/$33.00 CAN/£16.99 UK, 4th ed., 2000
Law School Survival
Help your students decide whether law school is really the right choice
with this funny and upbeat look at getting in and making it from the first
year to the last. Current and former students at campuses across the
country share their secrets for success.
ISBN: 0-02-862296-0, 240 pp., 6
, $12.95 pb/$18.95 CAN/£9.99 UK, 1998
Getting into Medical School Today
The authors offer inside information and proven strategies for anyone
considering a medical school career. The book works best as a quick
overview of what college freshmen and sophomores need to do to improve
their chances of acceptance. With details on MCATs, applications, GPAs,
and more.
ISBN: 0-02-862500-5, 192 pp., 6
, $14.95 pb/$21.95 CAN/£12.99 UK, 4th ed.,, 1998
Perfect Personal Statements
A "how-to" manual featuring 50 sample application essays that
have earned their authors acceptance into some of the nation's
top business, law, and medical schools. With commentary from
admissions professionals.
ISBN: 0-02-861049-0, 128 pp., 6
, $9.95 pb/$13.95 CAN/£7.99 UK, 1995