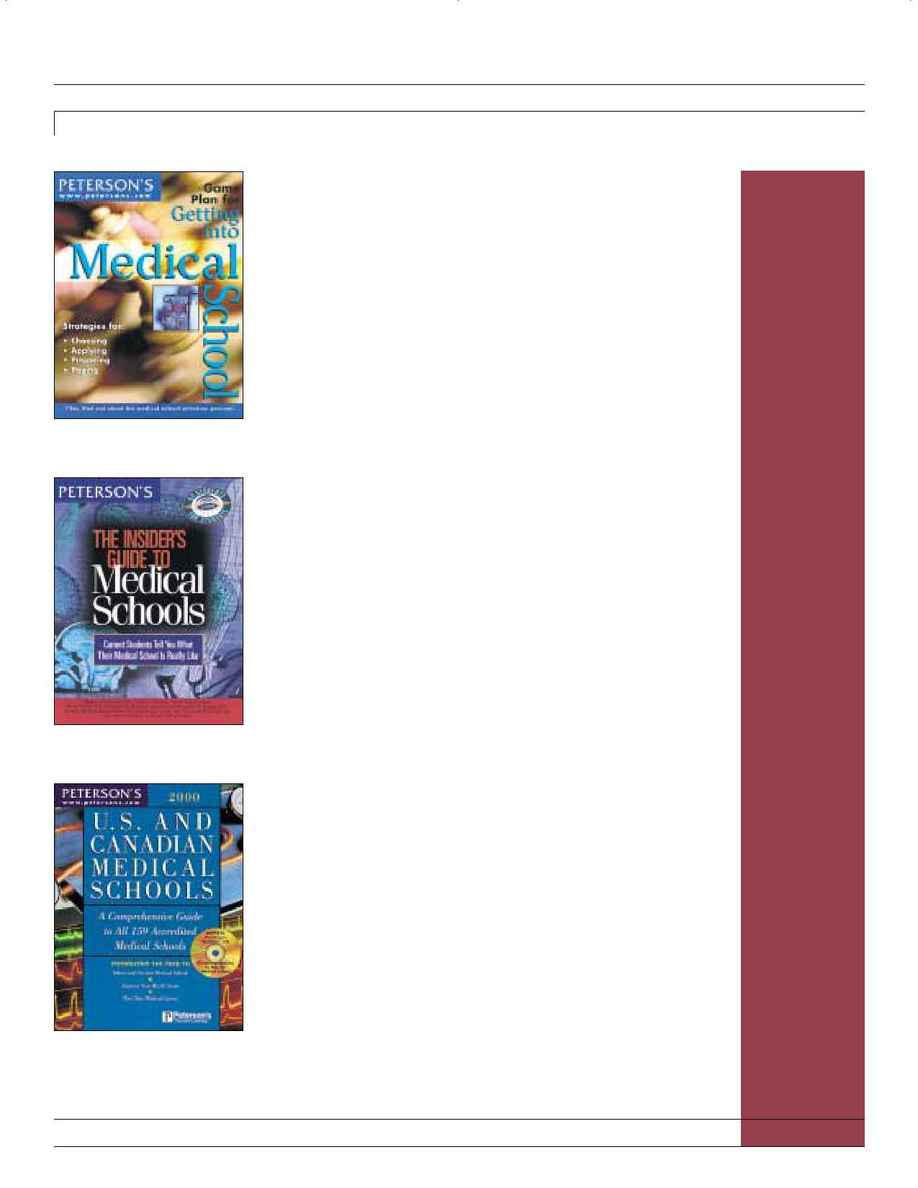 educationalguidance--graduateeducation
14
page
ISBN Prefix: 0-7689- unless otherwise noted
ordertoday!
800-338-3282, ext. 5370 609-896-1800, ext. 5370 fax 609-896-4544
www.petersons.com
Game Plan for Getting into Medical School
Must-have information on medical school for college pre-meds and high
school students studying a medical school prep curriculum. All the
priorities are covered: how to choose the right school, completing the
application, finding financing, and preparing for the MCAT. Readers will
also love the special section on career advice.
ISBN: 0393-9, 200 pp., 7
, $14.95 pb/$21.95 CAN/£12.99 UK, 1st ed., 2000
The Insider's Guide to Medical Schools
Students affiliated with the Journal of the American Medical Association
have provided lively and informative commentary on 138 U.S. accredited
medical colleges targeted to med school hopefuls searching for
honest advice about where to apply. Each essay presents subjective
information on curricula, study facilities, career paths, and more.
ISBN: 0203-7, 340 pp., 7
, $21.95 pb/$32.95 CAN/£16.99 UK, 1st ed., 1999
U.S. and Canadian Medical Schools
Comprehensive data on 400 accredited M.D. and combined medical
degree programs at 159 accredited medical schools in the U.S.,
Canada, and Puerto Rico. Highlights include MCAT testing techniques
and contemporary trends in medicine. Bonus CD includes 2 practice
MCATs plus financial planning software.
ISBN: 0285-1, 254 pp., 8
x 11, with CD, $24.95 pb/$36.95 CAN/£17.99 UK, 3rd ed., 1999