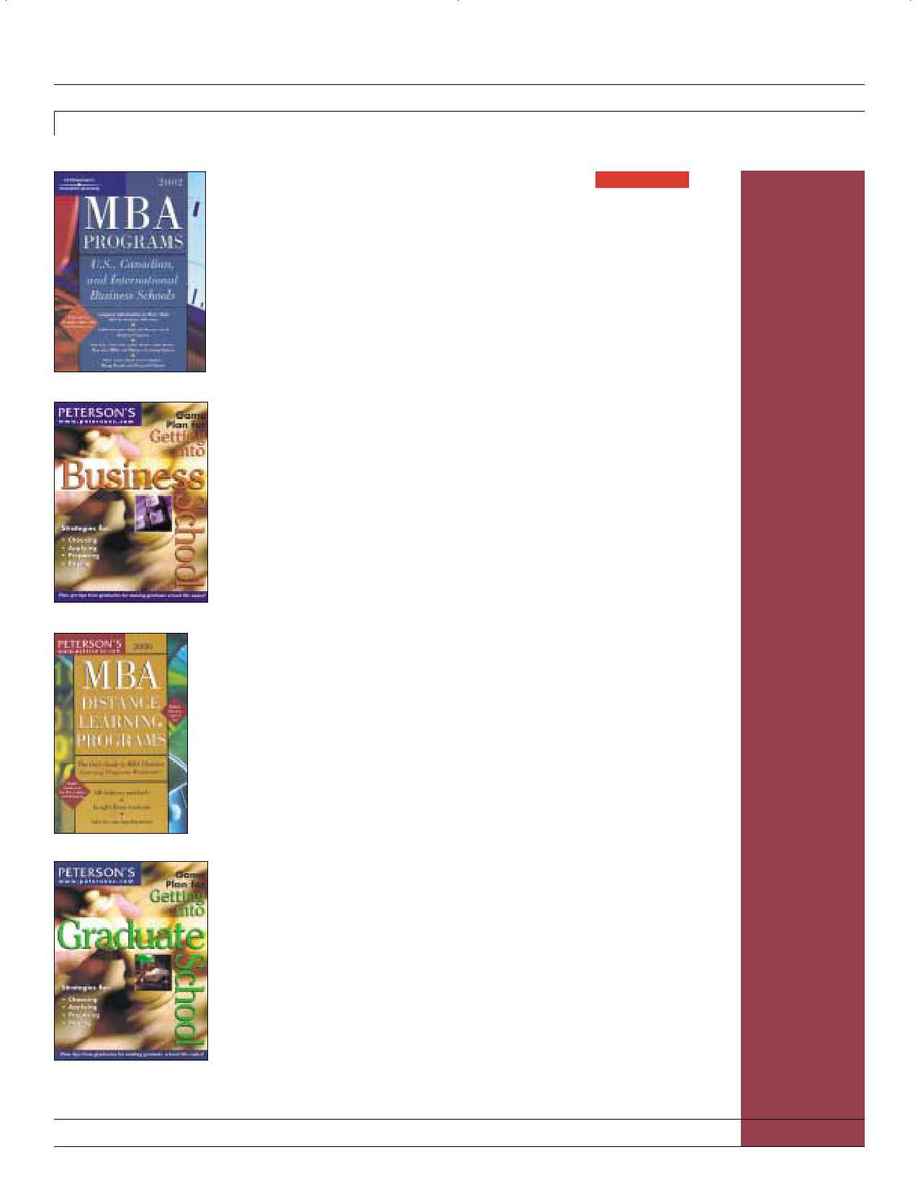 MBA Programs 2002
NEW EDITION
The most complete MBA reference directory available
This popular reference assists students and professionals alike in
exploring more than 2,900 full-time, part-time, joint-degree, dual-
degree, international, and executive MBA programs offered at over 900
U.S. and international institutions. Features only the latest information,
including application contacts, entrance requirements, financial aid,
faculty backgrounds, and hiring rates. Also:
Salaries--what to shoot for and what to expect
Hiring trends in the marketplace
ISBN: 0560-5, 752 pp., 8
x 11, $29.95 pb/$43.95 CAN/£19.99 UK, 7th ed., October 2001
Available on Standing Order!
Game Plan for Getting into Business School
The perfect b-school how-to handbook, with expert advice on
preparing and planning for acceptance into an MBA or master's-level
business degree program. Students learn about comparing schools,
applications, tackling the GMAT, financial aid, and more.
ISBN: 0392-0, 208 pp., 7
$14.95 pb/$21.95 CAN/£12.99 UK, 1st ed., 2000
MBA Distance Learning Programs
Ideal for business professionals who prefer the convenience of
distance learning--courses via the Internet, videoconferencing, fax,
and satellite TV--to a traditional classroom setting. Offers thorough
profiles of over 100 programs in the U.S. and abroad.
ISBN: 0282-7, 264 pp., 6 x 9,
$18.95 pb/$27.95 CAN/£15.99 UK, 2nd ed., 1999
Game Plan for Getting into Graduate School
Answers all your students' questions about the application process,
finalizing the right program choice, securing financial aid, and
preparing for the GRE CAT. The author also provides sample essays and
discusses the advantages of alumni interviews and campus visits.
ISBN: 0391-2, 200 pp., 7
, $14.95 pb/$21.95 CAN/£12.99 UK, 1st ed., 2000
educationalguidance--graduateeducation
12
page
ISBN Prefix: 0-7689- unless otherwise noted
ordertoday!
800-338-3282, ext. 5370 609-896-1800, ext. 5370 fax 609-896-4544
www.petersons.com
Experts agree that
MBA grads are now
expected to bring
non-technical
technical skills into
the workplace.