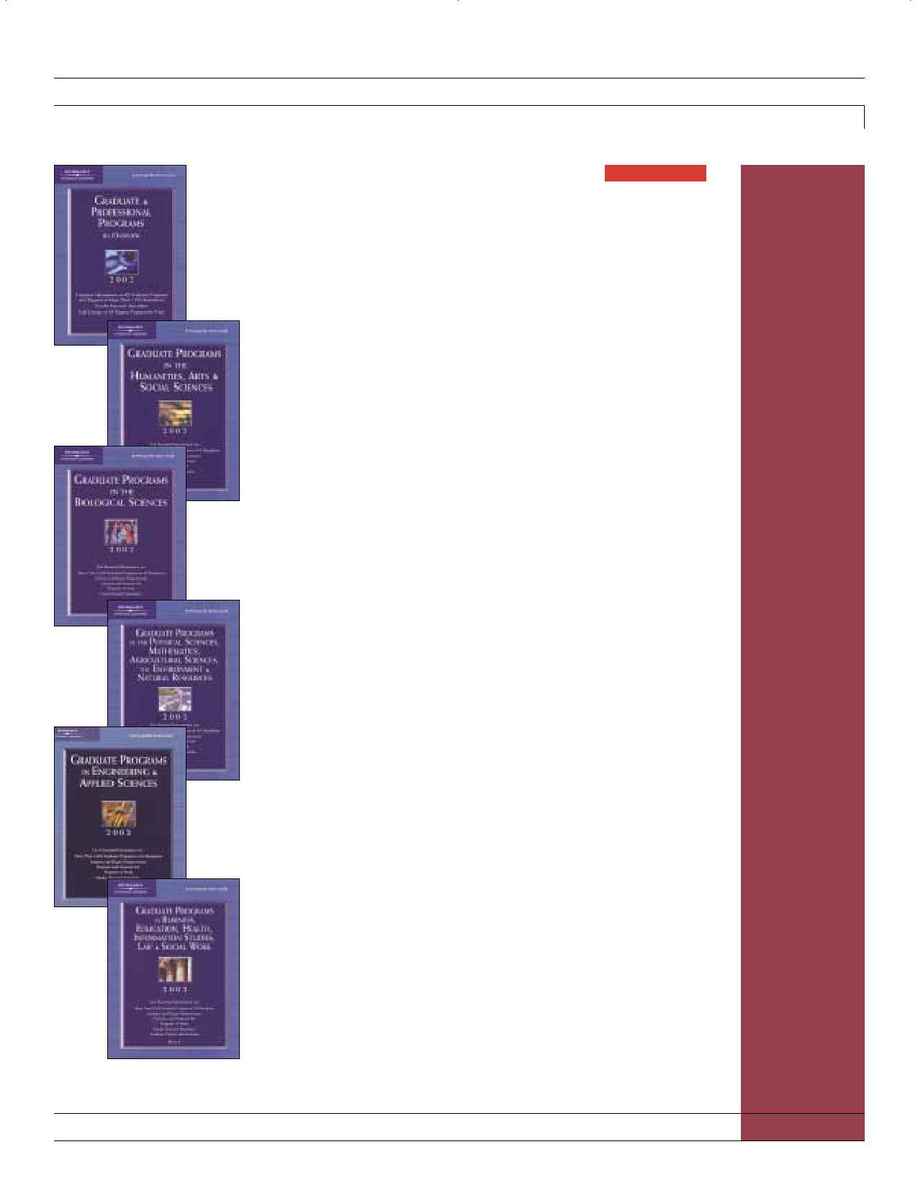 Graduate and Professional Programs 2002
NEW EDITIONS
The #1 reference series for prospective
grad students--updated for 2002!
Now in its 36th year, this annual six-volume series is the most
comprehensive overview of graduate programs available. Students
will find detailed profiles of more than 36,000 master's, doctoral, and
professional degree programs offered by over 1,700 institutions in the
U.S. and Canada. Volumes 2-6 focus on academic disciplines and list
the latest and most accurate data on tuition, financial aid, entrance
requirements, housing, and more. Volume 1 is an overview of programs
offered in all disciplines.
EACH: 8
x 11, $49.95 hc/CAN $74.95/£34.99 UK, 36th ed., November
Graduate & Professional Programs: An Overview 2002
(Book 1)
The series overview, detailing programs in 435 fields at more than 1,700
accredited colleges and universities.
ISBN: 0536-2, 1,464 pp.
Graduate Programs in the Humanities, Arts & Social Sciences
2002
(Book 2)
Introduces more than 11,000 programs in everything from comparative
literature to criminology.
ISBN: 537-0
,
Graduate Programs in the Biological Sciences 2002
(Book 3)
More than 3,900 programs in the fields of anatomy, molecular biology,
oncology, and more.
ISBN: 0538-9
,
Graduate Programs in the Physical Sciences, Mathematics,
Agricultural Sciences, the Environment & Natural Resources
2002
(Book 4)
Readers will find more than 3,300 programs in 49 disciplines.
ISBN: 0539-7, 1,056 pp.
Graduate Programs in Engineering & Applied Sciences 2002
(Book 5)
Describes more than 3,800 programs in 66 disciplines--petroleum
engineering, biotechnology, mechanics, and more.
ISBN: 0540-0, 1,608 pp.
Graduate Programs in Business, Education, Health, Information
Studies, Law & Social Work 2002
(Book 6)
Lists 15,000 programs in dentistry, law, nursing, veterinary science,
and more.
ISBN: 0541-9, 2,288 pp.
Graduate & Professional Programs 2002--6-Volume Set
ISBN: 0751-9, $299.70/$449.70 CAN/£209.94 UK
11
page
educationalguidance--graduateeducation
ISBN Prefix: 0-7689- unless otherwise noted
ordertoday!
800-338-3282, ext. 5370 609-896-1800, ext. 5370 fax 609-896-4544
www.petersons.com
In today's ultra-
competitive job
market, a graduate
degree can help job
seekers stand out.