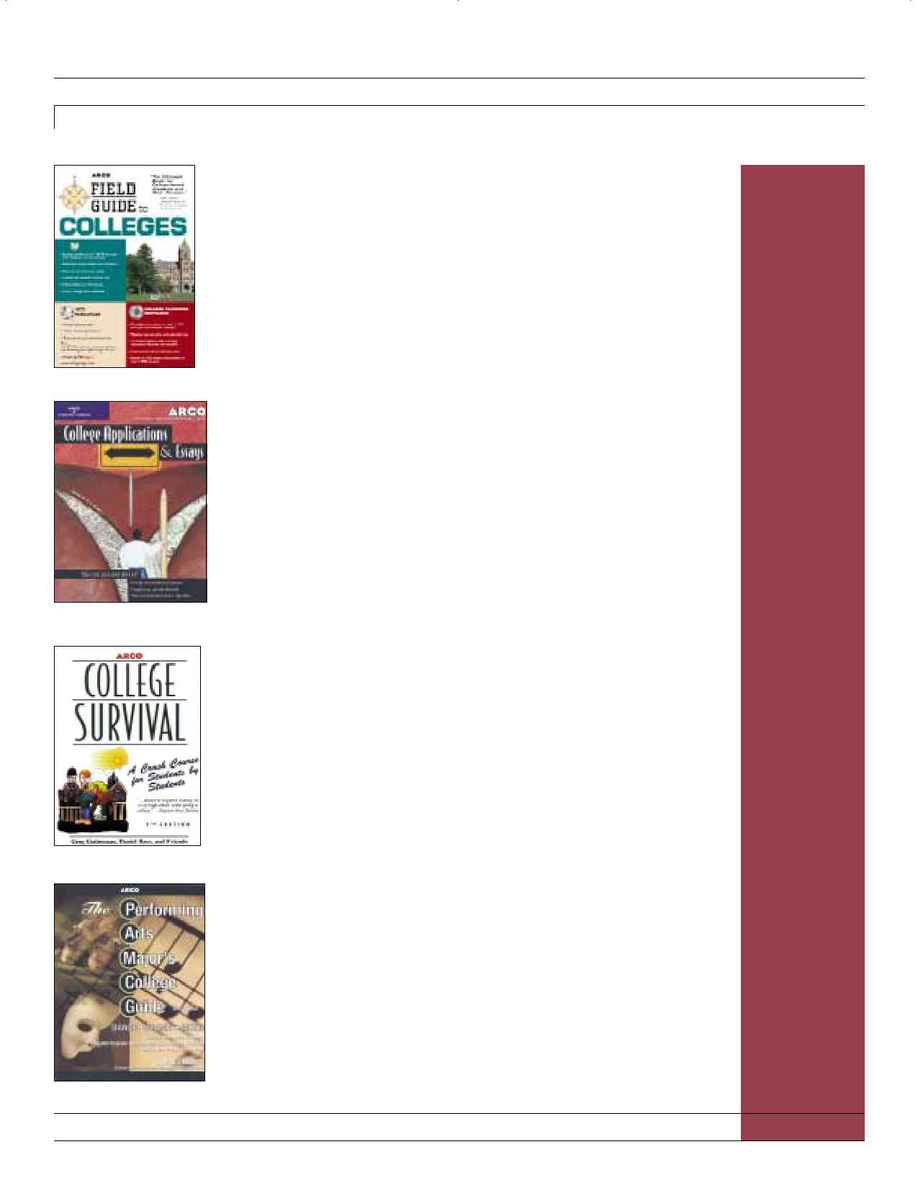 educationalguidance--college
8
page
ISBN Prefix: 0-7689- unless otherwise noted
ordertoday!
800-338-3282, ext. 5370 609-896-1800, ext. 5370 fax 609-896-4544
www.petersons.com
Field Guide to Colleges
Informative profiles of nearly 1,650 4-year colleges and universities.
Featuring CollegeEdge
college search software on CD.
ISBN: 0-02-863325-3, 1,008 pp., 7 x 10, with CD, $24.95 pb/$37.95 CAN/£17.99 UK, 1999
College Applications & Essays
Encourages your students to highlight their strengths and develop well-
written essays and eye-popping application packages admissions
officers cannot ignore.
ISBN: 0693-8, 160 pp., 8
x 11, $12.95 pb/$18.95 CAN/£9.99 UK, 4th ed., August 2001
College Survival
Students offer their thoughts on the ups and downs of freshman year.
Parents can also learn a thing or two with this irreverent guide!
ISBN: 0-02-863092-0, 246 pp., 6
, $10.95 pb/$16.95 CAN/£7.99 UK, 5th ed., 1999
The Art Student's College Guide
A thorough review of 225 fine arts programs at colleges and art schools
all over the U.S.
ISBN: 0-02-860580-2, 256 pp., 8
, $18.95 pb/$26.95 CAN/£14.99 UK, 1996
The Performing Arts Major's College Guide
Not simply a data book, this well-respected guide is divided into
3 sections--dance, music, and drama--and offers advice on
auditions, non-"name" schools, and career planning. With
author recommendations!
ISBN: 0-02-861913-7, 320 pp., 8
x 11, $19.95 pb/$25.95 CAN/£14.99 UK, 3rd ed., 1998