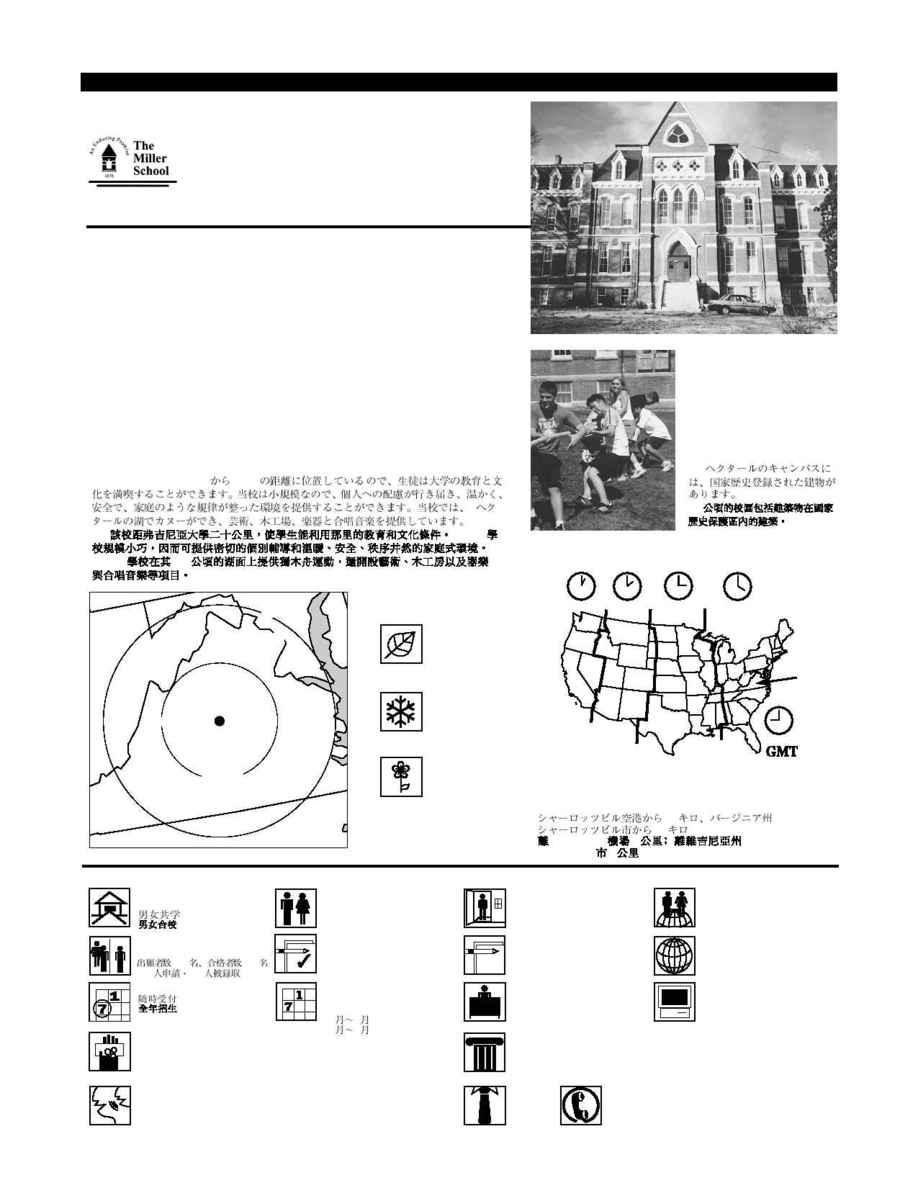 VIRGINIA
80 km
160 km
WEST
VIRGINIA
NORTH
CAROLINA
The Miller School of Albemarle
Founded 1878
The 1,400-acre campus includes
buildings on the National Historic
Register.
Las 567 hectáreas de terreno
incluyen edificios en el Registro
Histórico Nacional.
Le campus de 567 hectares
comprend des bâtiments figurant
au Registre National Historique.
40 kilometers from the Charlottesville Airport, 20 kilometers from
Charlottesville, VA
A 40 km del aeropuerto Charlottesville; a 20 km de Charlottesville, VA
A 40 km de l'aéroport Charlottesville ; à 20 km de Charlottesville, VA
Coeducational 5­PG / Mixto /
Mixte
170, 125 / solicitaron admisión,
fueron aceptados / candidats, admis
Rolling / Continuo / Continuelles
September­February /
septiembre­febreno /
septembre­février
9
University of Virginia, University of
South Carolina, Wake Forest University,
University of Pennsylvania
Egypt (15), Hong Kong (5),
Korea (20), Mexico (20),
Spain (5),
UNITED STATES
Twenty kilometers from the University of Virginia, the Miller School allows students to take
advantage of educational and cultural offerings. The Miller School is small enough to offer
close, personal attention and a warm, safe, structured home like environment. The Miller
School offers canoeing on its 16-acre lake, art, woodshop, and instrumental and choral music.
El estar situado a 20 kilómetros de la Universidad de Virginia, Miller School permite
a los estudiantes aprovechar las oportunidades educativas y culturales que se ofrecen allí.
Miller School es lo suficientemente pequeño para ofrecer atención personal estrecha y
un ambiente cálido, seguro, bien estructurado y hogareño. Miller School ofrece canotaje
en su lago de 6.48 hectáreas, arte, taller de madera y música instrumental y coral.
Les étudiants de la Miller School peuvent profiter pleinement des possibilités
éducatives et culturelles offertes par l'Université de Virginie qui est située à vingt
kilomètres. La taille réduite de la Miller School permet d'offrir une attention individualisée
et un environnement chaleureux, sûr et structuré comme à la maison. La Miller School
offre les activités suivantes : canoë-kayak sur un lac de 6 hectares, arts, travaux sur bois,
musique instrumentale et chorale.
James M. Slay Jr., Director of Admissions
1000 Samuel Miller Loop
Charlottesville, Virginia 22903
Phone: 804-823-4805 Fax: 804-823-6617