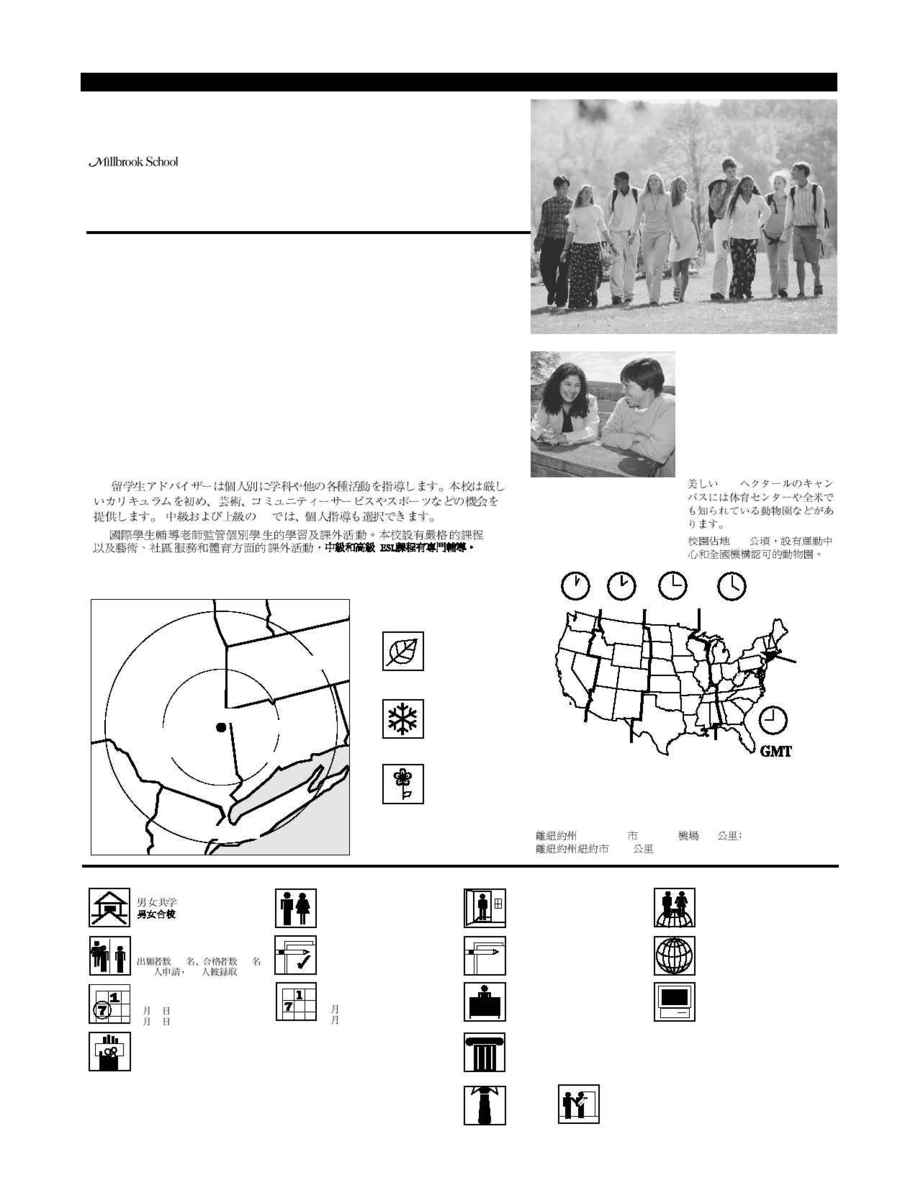 80 km
160 km
CONNECTICUT
MASSACHUSETTS
NEW
YORK
Millbrook School
Founded 1931
Beautiful 500-acre campus with
athletic center and nationally
accredited zoo.
El bello terreno de 202 hectáreas
con centro deportivo y un zoológico
acreditado a nivel nacional.
Un beau campus de 202 hectares
avec un centre d'athlétisme et un
jardin zoologique reconnu
nationalement.
64 km from Stewart Airport, Newburgh, NY; 145 km from New York City, NY
A 64 km del Aeropuerto de Stewart, Newburgh, NY; a 145 km de la ciudad de
Noueva York, NY
A 64 km de l'aéroport Stewart, Newburgh, NY ; à 145 km de New York City,
NY
Coeducational 9­12 / Mixto / Mixte
284, 173 / solicitaron admisión, fueron
aceptados / candidats, admis
September / septiembre /
septembre
9
9
Carnegie Mellon University,
Rensselaer Polytechnic Institute,
Middlebury College, Amherst College,
Bucknell University
Canada, Germany, Japan, Korea
UNITED STATES
International student advisor oversees individual academic and extracurricular
experience. Millbrook School offers a rigorous curriculum and extraordinary
opportunities in arts, community service, and athletics. Tutoring available in
intermediate and advanced ESL.
Un asesor para los estudiantes internacionales supervisa la experiencia
académica y extraescolar individual. Millbrook School ofrece un plan de
estudio riguroso y oportunidades extraordinarias en las artes, servicio a la
comunidad y atletismo. Se ofrecen clases particulares para los cursos
intermedios y avanzados de inglés como segundo idioma.
Un conseiller pour les élèves étrangers supervise l'expérience individuelle
académique et en dehors du plan d'études. Millbrook School offre un plan
d'études rigoureux et des opportunités extraordinaires dans les arts, le service
communautaire et les sports. Des cours particuliers d'anglais comme langue
étrangère sont disponibles pour les niveaux "intermédiaire" et "avancé".
Cynthia McWilliams, Director of Admission
Millbrook School
School Road
Millbrook, New York 12545
Phone: 914-677-8261 Fax: 914-677-8598
E-mail: admissions@millbrook.org
URL: http://www.millbrook.org
January 31 / 31 de enero/
31 janvier
1