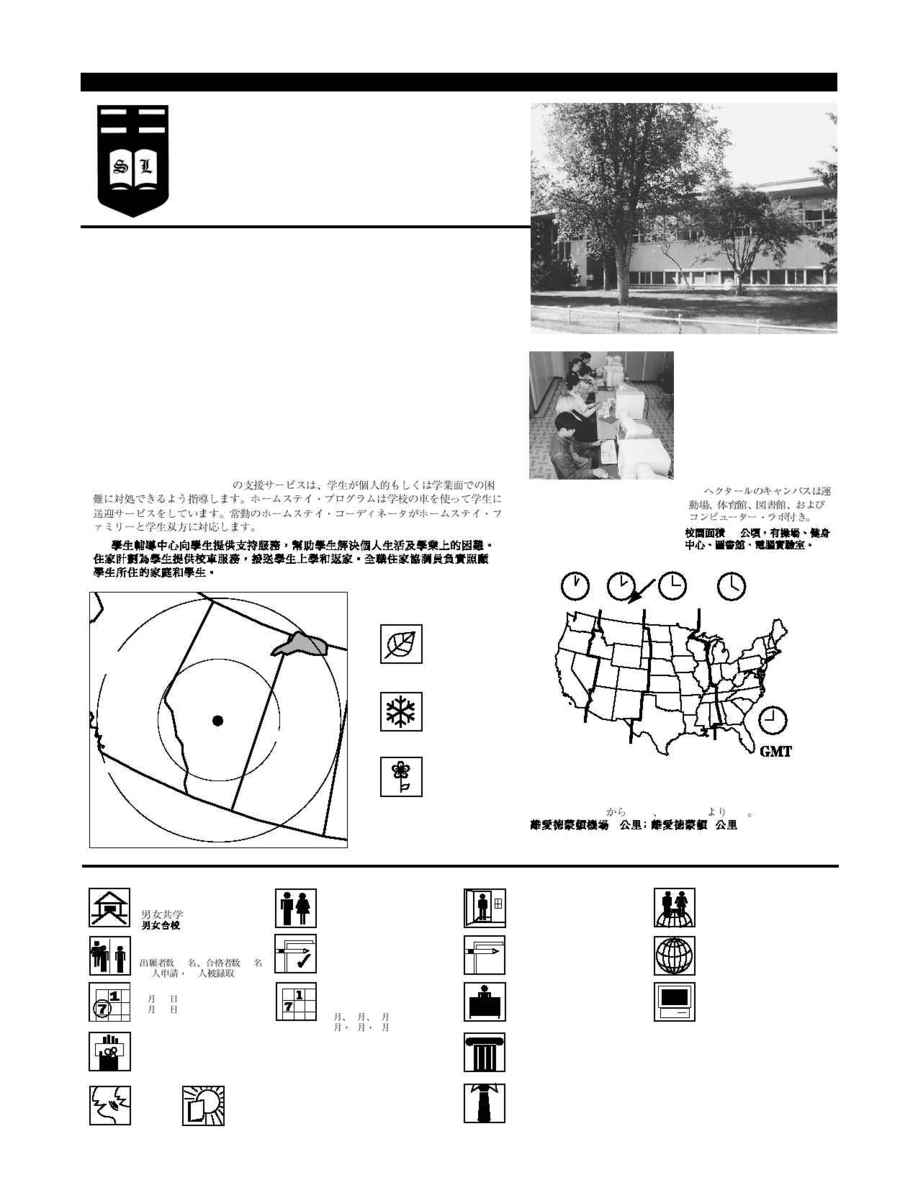 Lake
Athabasca
ALBERTA
80 km
160 km
BRITISH
COLUMBIA
SASKATCHEWAN
St. Luke's College
Founded 1986
The 3-acre campus has playing fields,
a gym, a library, and a computer lab.
Las 1,2 hectáreas de terreno tienen
campos de juego, un gimnasio, una
biblioteca y un laboratorio de
computación.
Le campus d'un hectare possède des
terrains de jeux, un gymnase, une
bibliothèque et un laboratoire
informatique.
40-km from Edmonton Airport; 5 km from Edmonton
A 40 km del Aeropuerto de Edmonton. A 5 km de Edmonton.
À 40 km de l'aéroport de Edmonton ; à 5 km de Edmonton
Coeducational 7­12 / Mixto /
Mixte
40, 30 / solicitaron admisión, fueron
aceptados / candidats, admis
August 15 / 15 de agosto / 15 août
8
September, January, April (ESL) /
septiembre, enero, abril (ESL) /
septembre, janvier, avril (ESL)
9
University of Alberta, Grant MacEwan Community
College, University of Calgary, University of Lethbridge,
University of British Columbia
China (5), Hong Kong (13 ),
Japan (10), Korea (10 ),
Taiwan (13 )
CANADA
The Student's Guidance Centre offers support services and is able to help students cope
with personal or academic difficulties. The homestay program provides school van
service to pick students up and take them home. Full-time homestay coordinator takes
care of both homestay families and students.
El Centro de Orientación de Estudiantes ofrece servicios de apoyo y puede
ayudar a los estudiantes a lidiar con dificultades personales o académicas. El
programa de alojamiento con familias locales incluye servicio de furgoneta escolar
para transportar a los estudiantes al colegio y llevarlos de vuelta a casa. El
coordinador de tiempo completo de alojamiento con familias locales atiende tanto a
las familias que alojan a los estudiantes como a los estudiantes.
Le centre d'orientation des étudiants offre des services de soutien et aide les
étudiants à gérer leurs difficultés personnelles ou scolaires. Le programme d'accueil
fournit un service de ramassage qui conduit les étudiants à St. Luke's et les ramène
chez eux. Un coordinateur d'accueil s'occupe à temps complet des familles et des
étudiants.
Student's Guidance Center
Robert W. Walder, Principal
13212 106th Avenue
Edmonton, Alberta T5N 1A3 Canada
Phone: 780-454-9366 Fax: 780-454-9323
E-mail: stlukes@campusmart.ab.ca
URL: http://www.campusmart.ab.ca/stlukes