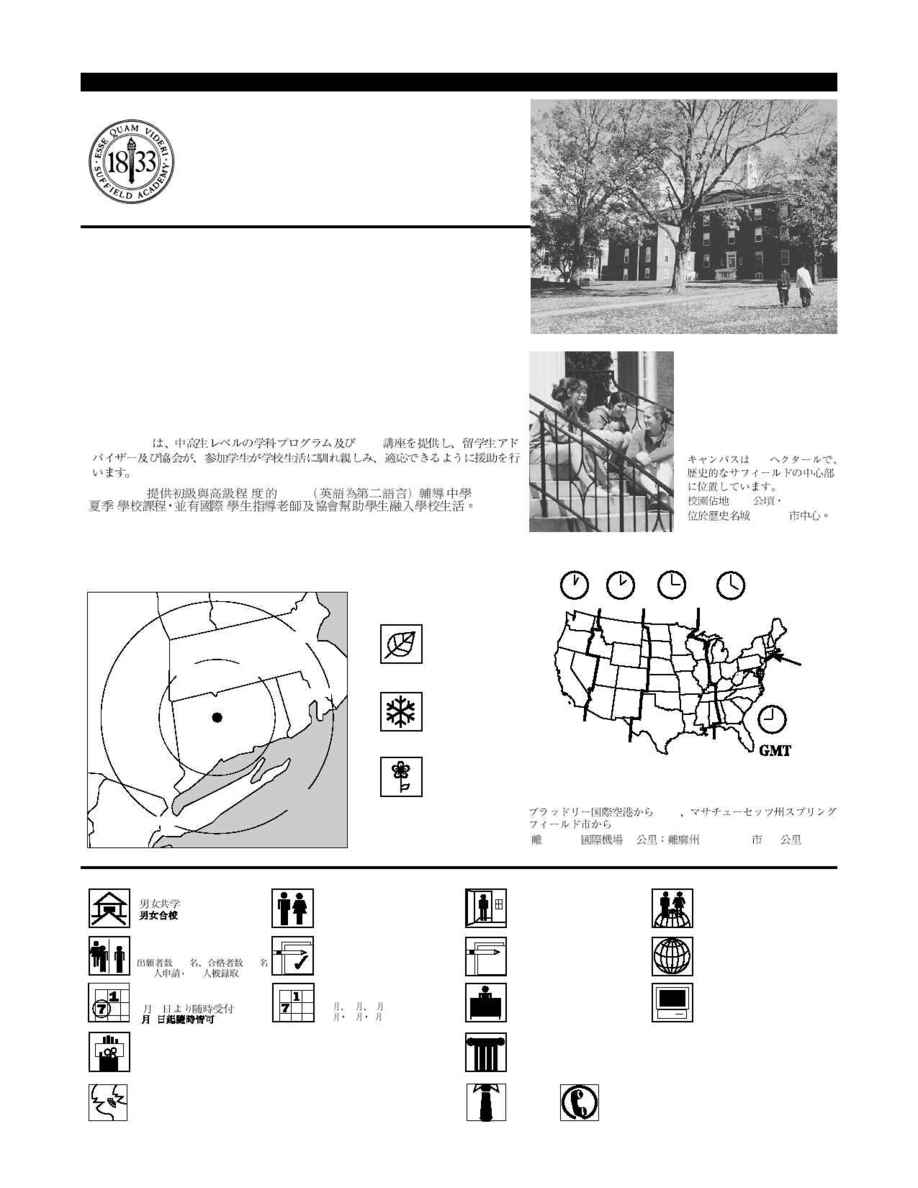 Charles Cahn III, Assistant Headmaster
P.O. Box 999, 185 N. Main Street
Suffield, Connecticut 06078
Phone: 860-386-4440 Fax: 860-668-2966
E-mail: saadmit@suffieldacademy.org
CONNECTICUT
NEW
JERSEY
80 km
160 km
MASSACHUSETTS
NEW
YORK
Suffield Academy
Founded 1833
Suffield offers introductory and advanced ESL assistance, secondary level summer
school, and an International Student Adviser and Association to help students
integrate into the school community.
Suffield ofrece asistencia en la enseñanza del inglés como segundo idioma
(ESL) a nivel principiante y avanzado, un curso de verano a nivel secundario y un
asesor así como una asociación para los estudiantes extranjeros para ayudarlos a
integrarse en la comunidad del colegio.
Suffield assiste les élèves dans le programme d'anglais comme langue
étrangère (ESL) de niveau débutant et avancé, et offre un programme d'été pour
les cours du secondaire, un conseiller d'élèves étrangers et une association pour
aider les étudiants à s'intégrer dans la communauté scolaire.
The 350-acre campus is set in the
center of historic Suffield.
Las 141 hectáreas de terreno están
situadas en el centro de la histórica
Suffield.
Le campus de 141 hectares est situé
au centre de la ville historique de
Suffield.
8 km from Bradley International Airport; 19 km from Springfield, MA
A 8 km del aeropuerto internacional de Bradley; a 19 km de Springfield,
MA A 8 km de l'aéroport international de Bradley; à 19 km de Springfield, MA
500, 250, / solicitaron admisión,
fueron aceptados / candidats, admis
Bermuda (20), Brazil (10),
Japan (30), Korea (15),
Thailand (15)
February 1, rolling / 1 de febrero,
continuo / 1 février, continuelles
2
September, December, January / septiembre,
diciembre, enero / septembre, décembre, janvier
9
Dartmouth, Cornell, Georgetown
University, Boston College,
University of Michigan, Bentley
College, Trinity College
Coeducational 9­12 / Mixto / Mixte
UNITED STATES