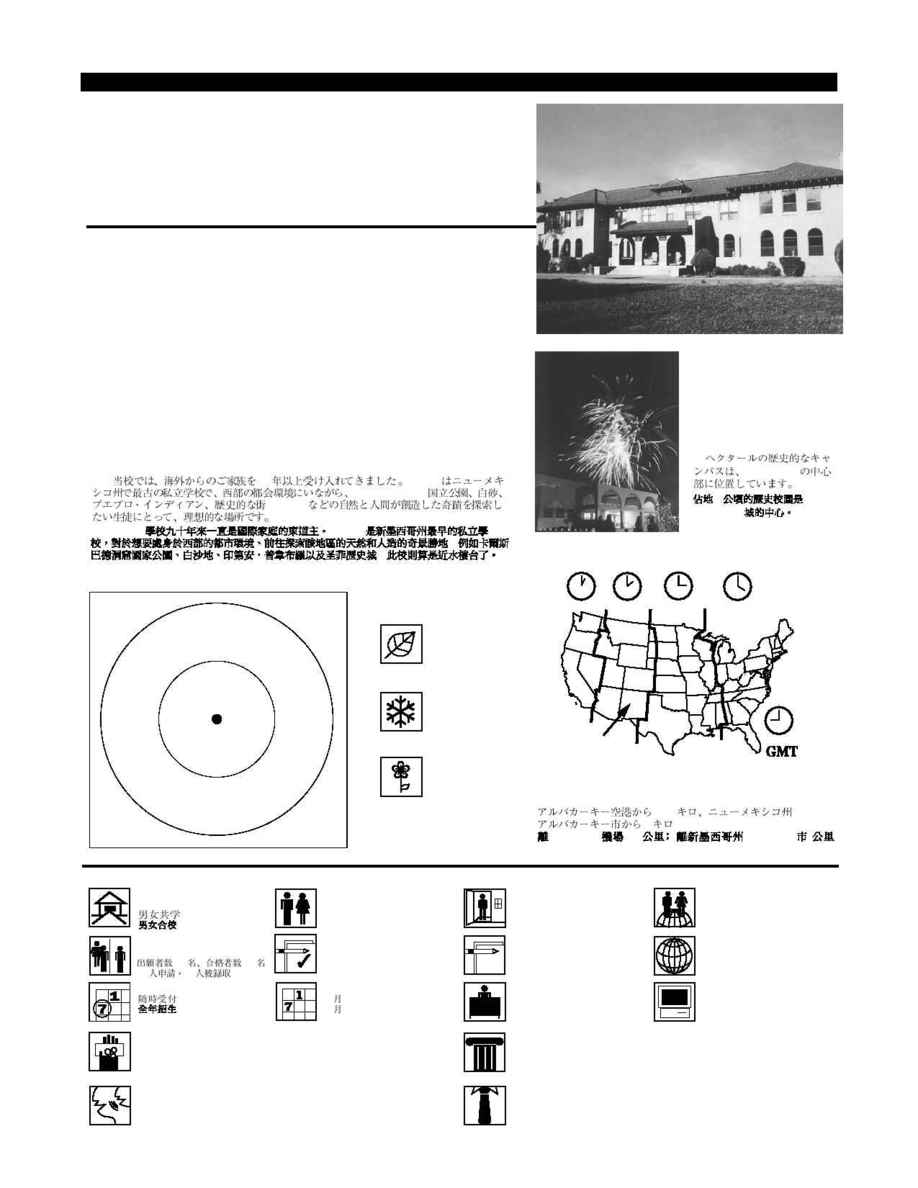 NEW MEXICO
80 km
160 km
The Menaul School
Founded 1881
The 50-acre historic campus is in
the heart of Albuquerque.
El histórico recinto de 20 hectáreas
se encuentra en el corazón de
Albuquerque.
Le campus historique de 20
hectares se trouve au coeur
d'Albuquerque.
10.5 km from Albuquerque Airport; 2 km from Albuquerque, NM
A 10.5 km del aeropuerto Albuquerque; a 2 km de Albuquerque, NM
A 10.5 km de l'aéroport Albuquerque ; à 2 km de Albuquerque, NM
Coeducational 6­12 / Mixto /
Mixte
70, 47 / solicitaron admisión, fueron
aceptados / candidats, admis
Rolling / Continuo / Continuelles
January / enero / janvier
1
1
University of New Mexico,
New Mexico State University
China (30), Germany (25),
Japan (30), Mexico (30),
Taiwan (25),
UNITED STATES
The Menaul School has hosted international families for more than ninety years. Menaul is
the oldest private school in New Mexico and is ideally located for students who want to
be in an urban environment in the West and to explore the natural and human wonders
of the region, such as Carlsbad Caverns National Park, White Sands, the Indian Pueblos,
and the historic city of Sante Fe.
Menaul School ha atendido a familias extranjeras por más de noventa años. Menaul es el
colegio privado más antiguo de New Mexico y su ubicación es ideal para estudiantes que
desean permanecer en un ambiente urbano en el Oeste y tener acceso a las maravillas de la
región, naturales y construidas por el hombre, tales como el Parque Nacional de las Cavernas
de Carlsbad, las arenas blancas, los indios Pueblos y el emplazamiento histórico de Santa Fe.
Menaul School accueille des familles étrangères depuis plus de quatre-vingt dix ans.
Menaul est l'école privée la plus ancienne du Nouveau-Mexique. Son emplacement
convient particulièrement bien aux étudiants désirant vivre dans un environnement urbain
de l'ouest, tout en ayant accès aux merveilles naturelles et à celles réalisées par l'homme se
trouvant dans la région, telles que Carlsbad Caverns National Park, les sables blancs, les
pueblos indiens et la ville historique de Santa Fe.
John B. Thayer, Director of Admissions
301 Menaul Boulevard
Albuquerque, New Mexico 87107
Phone: 505-341-7221 or 1-800-301-7727
Fax: 505-344-2517