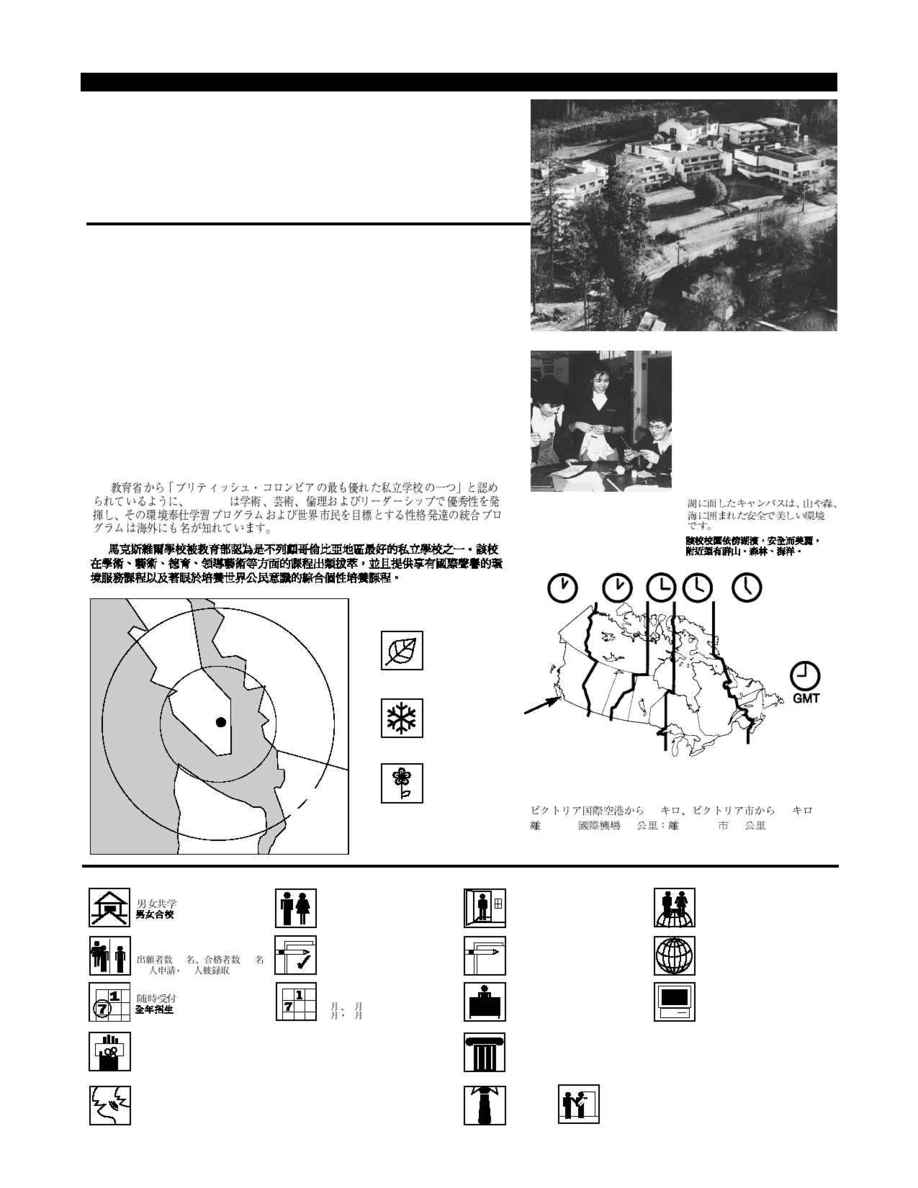 80 km
160 km
WASHINGTON
BRITISH
COLUMBIA
Maxwell International Bahaí School
Founded 1988
Lakefront campus located in a safe
and beautiful environment near
mountains, forest, and the ocean.
Los terrenos del colegio se
encuentran frente a un lago en un
ambiente seguro y hermoso, cerca
de montañas, bosques y el océano.
Le campus sur les rives d'un lac est
situé dans un environnement sûr et
agréable, près des montagnes, de la
forêt et de l'océan.
65 km from Victoria International Airport, 40 km from Victoria, BC
A 65 km del aeropuerto internacional de Victoria; a 40 km de Victoria, BC
A 65 km de l'aéroport international de Victoria ; à 40 km de Victoria, BC
25, 17 / solicitaron admisión, fueron
aceptados / candidats, admis
September, January / septiembre,
enero / septembre, janvier
9
McGill University, University of
Victoria, University of California,
University of British Columbia,
Wellesley College
Austria (3), Honduras (4),
Japan (8), Papua New Guinea (6),
Taiwan (7)
CANADA
Considered "among the finest private schools in British Columbia" by the Ministry
of Education, Maxwell delivers excellence in academic scholarship, the arts, and
moral leadership and has an internationally recognized environment service-
learning program and an integrated character development program focused on
world citizenship.
Considerado como "uno de los mejores colegios privados de la Columbia Británica"
por el Ministerio de Educación, Maxwell ofrece excelencia en sus programas
académicos, las artes, liderazgo moral, y tiene un programa reconocido
internacionalmente de servicio-estudios ecológicos y un programa integrado de
desarrollo del carácter orientado hacia el comportamiento como ciudadanos del mundo.
Considérée par le Ministère de l'Éducation comme l'une des meilleures écoles
privées de Colombie-Britannique, Maxwell est réputé pour l'excellence de ses
bourses d'études et de ses cours d'art et d'éthique de leadership. L'établissement
propose également un programme d'apprentissage sur les services de
l'environnement, reconnu dans le monde entier, ainsi qu'un programme intégré sur
le développement de la personnalité, axé sur le civisme international.
Ms. Sharon Jensen, Director of Admission
2371 East Shawnigan Lake Road, Bag 1000
Shawnigan Lake, British Columbia
VOR 2WO Canada
Phone: 250-743-7144 Fax: 250-743-3522
E-mail: admit@maxwell.bc.ca
URL: http://www.maxwell.bc.ca
Coeducational 7­12 / Mixto / Mixte
Rolling / Continuo / Continuelles