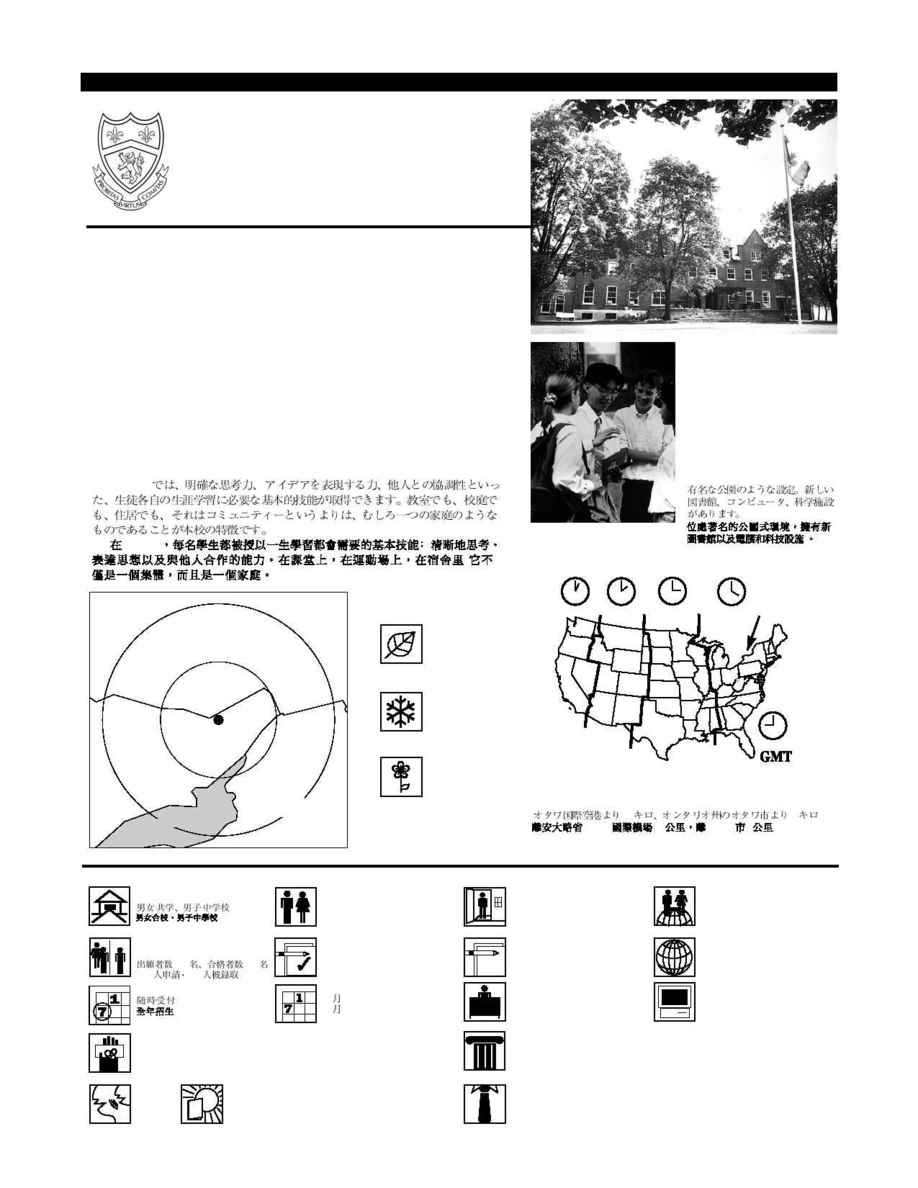 ONTARIO
NEW
YORK
Lake Ontario
QUEBEC
80 km
160 km
Ashbury College
Founded 1891
A prestigious park-like setting; new
library, computer, and science
facilities.
Un ambiente de prestigio similar a
un parque; nueva biblioteca e
instalaciones de computación y
ciencias.
Un cadre prestigieux qui ressemble
à un parc. Une nouvelle bibliothèque
et de nouvelles installations
informatiques et scientifiques.
20 km from Ottawa International Airport and 1 km from Ottawa, ON
A 20 km del aeropuerto internacional de Ottawa y a 1 km de Ottawa, ON
A 20 km de l'aéroport international d'Ottawa et à 1 km d'Ottawa, ON
Coeducational 9­13 , Boys 4­8 / Mixto 9­13,
Muchachos 4­8 / Mixte 9­13, Garçons 4­8
180, 150 / solicitaron admisión, fueron
aceptados / candidats, admis
Rolling / Continuo / Continuelles
September / septiembre / septembre
9
9
McGill University, University of
Toronto, University of Ottawa,
Queen's University
CANADA
At Ashbury, each student is equipped with the fundamental skills necessary for
lifetime learning: the capacity to think clearly, to express ideas, and work
cooperatively with others. In the classroom, on the playing field, in residence--
it is more than a community, it is a family.
En Ashbury cada estudiante adquiere las habilidades fundamentales
necesarias para el aprendizaje de toda la vida: la capacidad de pensar con
claridad, expresar ideas y trabajar en cooperación con los demás. En el aula, en
el campo de juego o en la residencia, es más que una comunidad, es una familia.
À Ashbury, chaque étudiant développe des compétences fondamentales
dont il se servira tout au long de sa vie : la faculté de penser clairement,
d'exprimer ses idées et de travailler en collaboration avec d'autres. En classe,
sur le terrain de sport, ou en résidence, Ashbury est plus qu'une communauté.
C'est une famille.
Director of Admissions
362 Mariposa Avenue
Ottawa, Ontario K1M 0T3 Canada
Phone: 613-749-5954 Fax: 613-749-9724