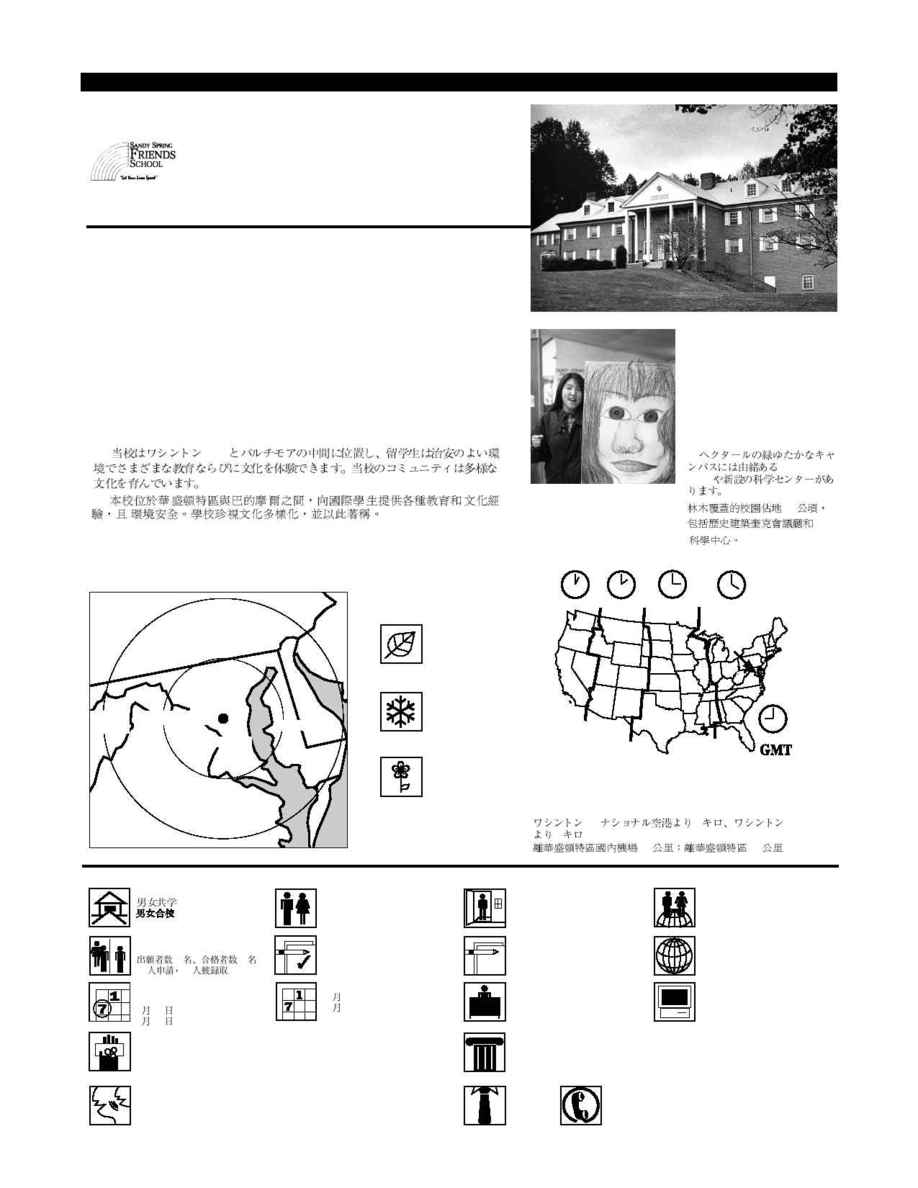 WEST
VIRGINIA
VIRGINIA
PENNSYLVANIA
80 km
160 km
DELAWARE
MARYLAND
Sandy Spring Friends School
Founded 1961
The 140-acre woodland campus has a
historic Quaker Meeting House and a
new science center.
Las 57 hectáreas de terrenos
boscosos tienen una histórica casa de
Reunión de los Cuáqueros y un nuevo
centro científico.
Le campus boisé de 57 hectares a une
maison historique qui servait de lieu
de réunion aux Quakers et un centre
scientifique.
57
56 km from Washington, D.C National Airport; 24 km from Washington, D.C.
A 56 km del aeropuerto nacional de Washington, D.C.; a 24 km de Washington, D.C.
A 56 km de l'aéroport international de Washington, D.C. ; à 24 km de
Washington, D.C.
Coeducational 9­12 / Mixto / Mixte
40, 15 / solicitaron admisión, fueron
aceptados / candidats, admis
September / septiembre / septembre
9
9
Georgetown University, George
Washington University, Syracuse
University, Rochester Institute of
Technology, Princeton University
China (34), Ghana (34), Japan (34),
Korea (34), Kosovo (34), Madagascar
(34), Rwanda (34), Taiwan (34),
Thailand (34)
UNITED STATES
SSFS is set between Washington D.C. and Baltimore, allowing international
students varied educational and cultural experiences in a safe setting. Cultural
diversity is celebrated and cherished by our school community.
SSFS está ubicado entre Washington, D.C. y Baltimore, ofreciéndoles a los
estudiantes internacionales unas experiencias educativas y culturales variadas
dentro de un ambiente seguro. La diversidad cultural es celebrada y protegida
por nuestra comunidad escolar.
SSFS est situé entre Washington, D.C. et Baltimore, ce qui donne aux
étudiants étrangers l'occasion, d'avoir des expériences éducatives et culturelles,
le tout dans un milieu sécurisant. La diversité culturelle est célébrée et nourrie
par notre communauté scolaire.
Victoria W. Garner, Director of Admissions
16923 Norwood Road
Sandy Spring, Maryland 20860
Phone: 301-774-7455 Fax: 301-924-1115
January 15/ 15 de enero /
15 janvier
1