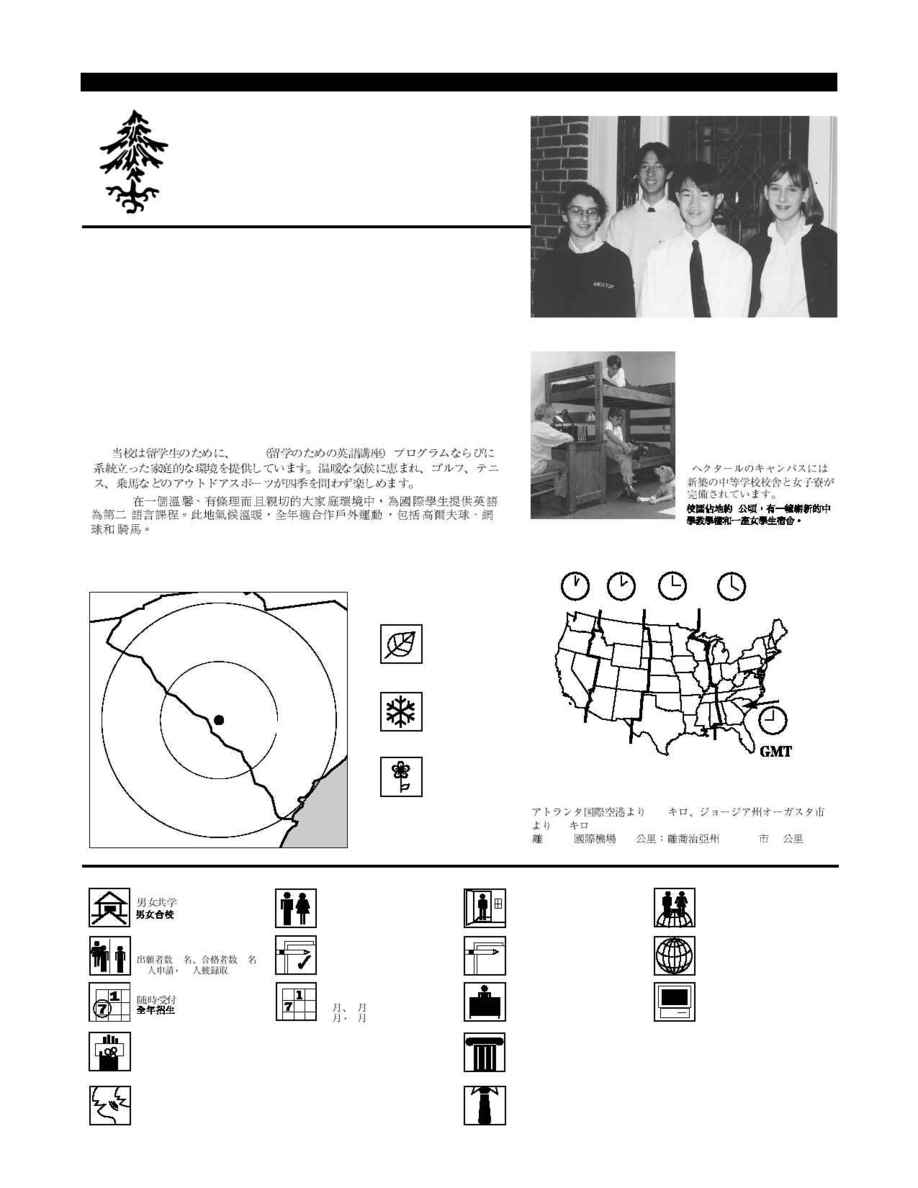 SOUTH
CAROLINA
GEORGIA
80 km
160 km
Aiken Preparatory School
Founded 1916
The 12-acre campus contains a new
middle school building and girls dormitory.
El recinto de 5 hectáreas incluye un nuevo
edificio de escuela intermedia y residencias
estudiantiles para muchachas.
Le campus de 5 hectares comprend un
nouveau bâtiment pour le 1er cycle du
secondaire et un dortoir pour les jeunes
filles.
190 km from Atlanta International Airport; 29 km from Augusta, GA
A 190 km del aeropuerto internacional de Atlanta; a 29 km de Augusta, GA
A 190 km de l'aéroport international d'Atlanta ; à 29 km d'Augusta, GA
Coeducational 4­9 / Mixto / Mixte
September, January / septiembre,
enero / septembre, janvier
9
The Asheville School, Kimball Union
Academy, The McCallie School,
Episcopal HS (VA), Phillips Academy
Japan (5), Korea (5), Mexico (5)
UNITED STATES
APS offers ESL classes and support for international students in an intimate,
structured, and caring family environment. A warm climate allows for year-
round outdoor sports, including golf, tennis, and horseback riding.
APS ofrece clases de inglés como segundo idioma (ESL) y apoyo para los
estudiantes internacionales en un ambiente estructurado, acogedor y familiar.
El clima cálido permite practicar deportes al aire libre como golf, tenis y la
equitación, todo el año.
APS offre des cours d'anglais comme langue étrangère (ESL) et du soutien
pour les étudiants internationaux, dans un cadre structuré mais aussi
chaleureux et familial. Le climat doux permet de pratiquer les sports en plein
air toute l'année, y compris le golf, le tennis et l'équitation.
Adriana Di Cecco
Director of Admission and Secondary Placement
619 Barnwell Avenue NW
Aiken, South Carolina 29801
Phone: 803-648-3223 Fax: 803-648-6482
E-mail: apsadmit@scescape.net
22, 22 / solicitaron admisión, fueron
aceptados / candidats, admis
Rolling / Continuo / Continuelles